Shorts
All of Our Shadows by Ruth Beni and Daniel Greaves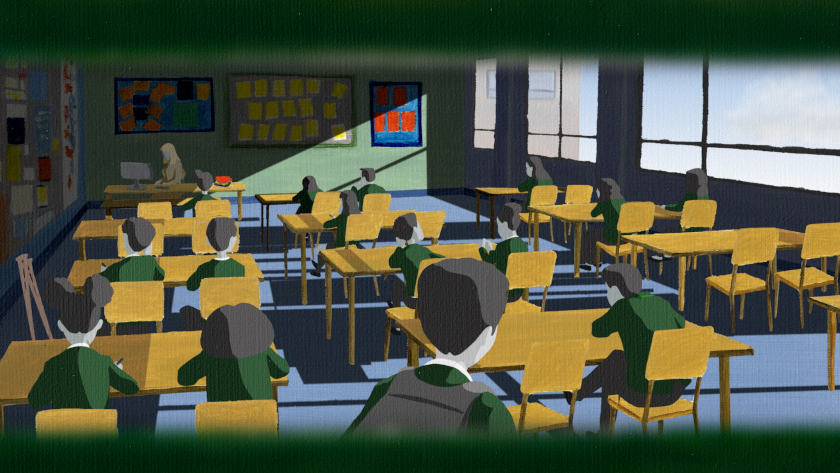 Animation directors Daniel Greaves and Ruth Beni have so far established a body of animation work dealing with issues of social concern, which desperately need our attention. Previous collaborations include 'Two Little Girls' – a film spearheading a campaign against sex trafficking, and 'Needlecraft' – a film dealing with the harrowing subject of Female Genital Mutilation.
'All of Our Shadows', the fourth collaboration between the directors is a second of a trilogy of short animated films revolving around young people, and the anxieties of today's world.
In these times of uncertainty and anxiety the film follows a day in the life of a young teenage boy as he faces his fears and concerns. Will he be able to confide in his school mates? Are they going to help him or ignore him? - Film Synopsis
"All of Our Shadows" has been selected for over 30 film festivals and has won a Sliver World Medal at the 2021 New York Festivals (TV&Film Awards). 'The film is a culmination of a long period of workshops and focus groups in London schools', the directors tell Zippy Frames. There discussions with children and teenagers (aged 12-16) revealed anxieties whose subjects were usually reluctant to show in public -ranging from body image to knife crime.
Watch All of Our Shadows:
The next step was to create a storyboard depicting a day in a life of a boy who believes that he is the only one experiencing these anxieties (only to find out that he is not alone).  The workshops involved drama improvisation; the children created their own scenarios and used their own voices to convey the story. All the children's voices in the film were recorded in such sessions.
Stop-motion was additionally used to match the authentic voices with the real drawings of young people, in a way bringing their self-portraits to life. Visuals and backgrounds (artist: Erica Russel) depict London neighborhoods, also influenced by the urban paintings of Edward Hopper.
"The most challenging thing" the directors explain, "was to create a piece that had truth and integrity that would encourage young people to share their worries with their peers and feel that they are not alone -without striking a condescending tone". The animation process itself was an evolving journey, like the character design of the monster by Daniel Greaves, while the pandemic somehow inspired a more optimistic ending ("young people are in need of hope").
Watch the Making of
'All of Our Shadows' will follow on the footsteps of the first film in the trilogy, 'All of Us'; in that case, an extensive campaign in schools (workshops etc.) were conducted exploring the subjects of racism and intolerance. The film (now endorsed by the Anna Freud Centre) will do the same, and will be available to download (with an education pack) as of December 2021.
As of the future, the third part of the trilogy, the fully stop-motion 'All Is Not Lost' is now in production; the film deals with empathy and creativity overcoming selfishness and aggression.
Film Review (Vassilis Kroustallis):
Warmness and anxiety alternate in this 2-part empathetic story of children anxiety and our own sources of (mis)information. We do first get a first-person view of a boy and his own fears; the camera follows the boy in his journey to school as if it were itself the monster to be confronted with  (not accidentally, CCTV cameras are also present); a shapeshifter monster (from a tag to a knife to a voracious bird) embodies all the fears of the boy on a single object. Even though the eerie music tells of the uneasiness which surrounds the boy's saturated but faceless surroundings, things are to change. Being participatory and sharing experiences will prove to be its own sort of medicine in the second part of the film -and the black-and-white world of drawings will help recovery. And the faceless people will soon acquire a face of their own -and a voice, and their own fears.
'All of Our Shadows' gives the information needed to assess that the boy's anxieties are not unfounded -and still works to show a possible way out. It is free from manipulation, and lets its characters act and talk as they wish, without taboos or authoritative guidance. It presents its issue, character and situation with dramatic resonance, lucidity and care.
CREDITS:
All of Our Shadows (2021)
Commissioned by: Women's Interfaith Network | Funded by: Dangoor Education of the Exilarch's Foundation |  Executive Producers: David Dangoor, Lady Gilda Levy | Animation Director: Daniel Greaves | Written and produced by: Ruth Beni | Created and directed by: Ruth Beni and Daniel Greaves
About the directors
Daniel Greaves
He is a Director and Animator of short films. Born in Buckinghamshire, England, he studied animation for 3 years at West Surrey College of Art from 1977. He has won around 80 awards, including 2 Bafta nominations for Flatworld (1998) and little Things (2005) and the Academy Award and the Cartoon D'Or for Manipulation in 1992. Daniel Greaves was 1 of 4 Directors of Simon's Cat Ltd along with Simon Tofield who is also the Creator. While being innovative, the films are always accessible, incorporating humour and original characterization. He continues to develop short film projects as well as directing commercials.
Ruth Beni 
She is an award-winning filmmaker and writer. Ruth co-founded Animage Films in 1992 with the artist and animator Richard Burdett. At Animage, Ruth has written and produced original TV programmes and films for national and international broadcasters including ITV and Channel 4. Since 2007 Ruth's work has focused mainly on a series of film campaigns tackling the many forms of violence against women, as well as other social issues. Many of the films spearheaded national and international awareness campaigns. Ruth's films have received a number of awards including the 2015 United Nations Gold Award for Social Issues.
SIGN UP: Want to read more free articles like this? Sign up for Our Newsletter
Read More About: