Shorts
Analysis Paralysis by Anete Melece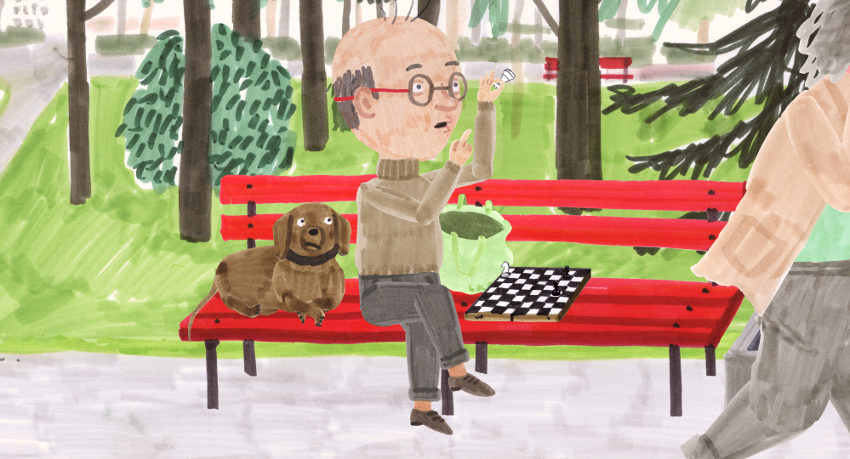 Anton's head is bursting with thoughts. The gardener is seething with anger: who has trampled her flower beds?
In the park Anton is looking for someone to play chess with. For someone who plays a better game than his dog. The gardener is looking for a mysterious serial vandal who has lost a yellow boot. But what if both of them are looking for the same thing?
Watch  Analysis Paralysis by Anete Melece:
Film Review (Vassilis Kroustallis):
If the bare necessities in life were chess playing and gardening, Analysis Paralysis would certainly fits the bill. But even if they are not, this idiosyncratically sweet film tells you that they had better be -otherwise you result with a head bursting with thoughts. With dialogue lines as beautifully timid as the digitally cut out sequences, and an abundance of saturated colors, the film looks more like a child's LEGO play, where you have to pick up all your precious mind contents -and start all over again. With an always suggestive soundtrack, and a nod towards our consumerist habits, Analysis Paralysis is like peeling an onion and learn to keep your tears away. A really gentle film in its unique, fragile way.
CREDITS:
Analysis Paralysis 2016 (9 min, digital cut-out, drawing on paper)
Script, Design, Direction: Anete Melece | Producer: Saskia von Virág | Animation: Stefan Holaus, Anete Melece | Music: Ephrem Luechinger | Sound design: Peter Braeker | Voices: Peter Braeker, Sabine Timoteo, Patrick Bonato, Isabel Peterhans, Uldis Mākulis | Editing: Fee Liechti | Script consultation: Frank Braun, Josy Meier | Production manager: Stefan Holaus | Sound mix: Jacques Kieffer | Colour grading: Timo Inderfurth | Animation and design assistance: Charlotte Waltert, Lea Pasinetti, Maryam Sangaré | Co-production: Schweizer Radio und Fernsehen, red. Gabriela Bloch Steinmann
Supported by: Bundesamt für Kultur BAK, Zürcher Filmstiftung, Migros-Kulturpozent, State Culture Capital Foundation of Latvia | Distribution: Interfilm
About Anete Melece
Anete is a Latvian illustrator and animation filmmaker currently based in Zürich, Switzerland.

SIGN UP: Want to read more free articles like this? Sign up for Our Newsletter
Read More About: