Shorts
Animals by Tue Sanggaard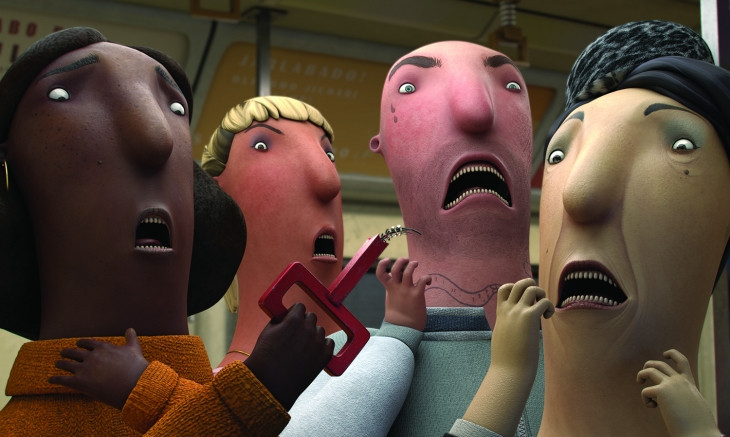 Produced by The Animation Workshop, Animals by Tue Sanggaard is the latest student offering about human relationship turned into something different.
Animals is an absurdist contemporary short film about the transformation of nine people stuck in a moving metro. What seems to be a normal day quickly takes a strange turn, when the metro doors refuse to open. The passengers failed attempts to get out, descends into frustrated chaos. Losing all sense of rationality, they go wild in order to ensure their own survival - Synopsis
With reminiscences of  other animated (Mr. Deer by Mojtaba Mousavi or The Bath by Niki Lindroth) and non-animated films (The Exterminating Angel by Luis Buñuel for example), Animals is a reflection on whether we are living for real or we just live in our mental constructions made by rules, stereotypes and latent hysteria. The characters in the film are very well known to us; they are the "normal people" with which we come across each day going to work, school or just being around. People living in their thoughts and trying not to make contact with the others -for the sake of everybody-, unless something extraordinary happens.  But it happens: the doors of the metro train refuse to open.
The paranoia and madness slowly take over; civilized people turn into animals trying to survive, and everything they thought they knew are obsolete concepts in a broken bag. All the rules of reason don't work anymore. It is just the jungle rule: kill or be killed. Sex, violence and strobe lighting make this film a remarkable final graduation effort.
The technical capabilities of animation achieve, in a fresh way, the black humor vision behind Animals. The film's narrative intention is to show in a direct way how people can act irrationally if their comfort zone or normal way of life has a small mistake, a small bug in the matrix. Is this just an excuse to bring out our inner animal nature? The metaphor of being trapped into a public transport qua being mind trapped works effectively by creating a claustrophobic atmosphere.
Just after their basic instincts are satiated and Animals reach their catharsis, the metro train appears in the middle of the nature, returning to the coveted world cherished by the Romantic movement: the wilderness
reviewed by: Mr. Kropka
CREDITS:
Animals by by Tue Sanggaard  (6'11'' - 3d)
And team Lamberto Anderloni, Maya Mckibbin, Jasmin Christoffersen, Anne Flarup Thomsen, Elisabeth Vahle Janerka, Kristina Silkjær, Erlend Hjortland Sandoey, Charly K. Mårtensson, Lasse Brændgaard, William Fullagar, Viljam Smed & Kathrine Amine Andersen
School: The Animation Workshop
Distribution: Miyu

SIGN UP: Want to read more free articles like this? Sign up for Our Newsletter
Read More About: