Shorts
7 Graduation Films from The Animation Workshop 2021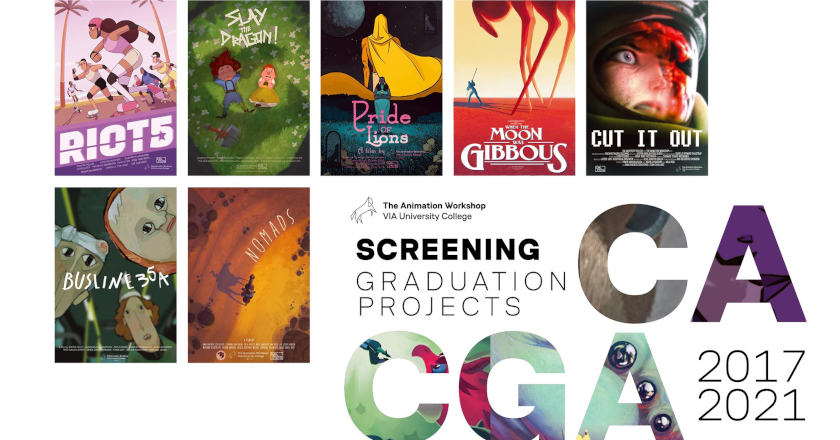 Seven graduation projects, to be unveiled online, are a culmination of 31⁄2 years of study at The Animation Workshop: VIA University College for the Bachelors in Animation: Character Animation and Computer Graphic Arts.
This year the premier is a wide range of projects from the Bachelor in Animation:

Slay the Dragon by Jonathan Amador,, a 3d isometric hack and slash game seen through the eyes of Maj a young girl intent on rescuing her brother.
RIOT5 by by Violeta Fellay, a series pitch telling the story of the Starboard City RIOT5 roller derby team, facing off against their heated rivals in a decisive match, when something goes terribly wrong...
BusLine35A by Elena Felici, a dark comedy witnessing bi-standers deal with their inner worlds, while overhearing a young girl finding her way to cope with an older overly friendly passenger.
When the Moon Was Gibbous, a sci-fi fantasy observing the life of a colorful ensemble of beasts, when they are abruptly interrupted by the arrival of a small group of humans, that are determined to subdue the largest one of them.
Cut It Out, by Inez Kristina Baldacchino, a psychological drama follows Tara as she is being guided to defuse a bomb in a school, which leads her into a surrealistic situation she has to escape from.
Pride of Lions by Symeona Maria Kanellou, an homage to a joyful gay friend who passed away a bit abruptly, giving him a few more minutes and a proper goodbye hug.
Nomads by Anna Rueskov Schleicher,  a drama following a loyal pack animal from a nomadic tribe as his courage is tested, when taken down a challenging, unfamiliar path by his ailing human. – Oddly pitched and developed prior to COVID19, though reminiscent of the times we find ourselves in through 2020.
I am truly impressed with the graduating class of 2021's determination to finish these beautiful projects amidst the pandemic – COVID19. It was undoubtedly hard work filled with trials and lessons beyond what any would have dreamed to set out to conquer, yet their resilience prevailed in the end! - Michelle Nardone, Head of Studies at The Animation Workshop: VIA University College.
The graduation projects of 2021 will join the ranks of the many successful projects from earlier years, who have already garnered attention both in Denmark and across the world, such as Deepness of the Fry and  100.000 Acres of Pine
PRE-RELEASE EVENT:
5 February (7pm CET) A A pre-release LIVE STREAM sneak peek of the graduation projects from the Bachelor in Animation class of 2021 (hosted by Kasper Kruse, Head of TAW and Anja Perl, 3rd year Production Supervisor) will occur .The projects' directors will be participating for a Q & A. Event details here
SIGN UP: Want to read more free articles like this? Sign up for Our Newsletter
Read More About: