Shorts
Any Instant Whatever by Michelle Brand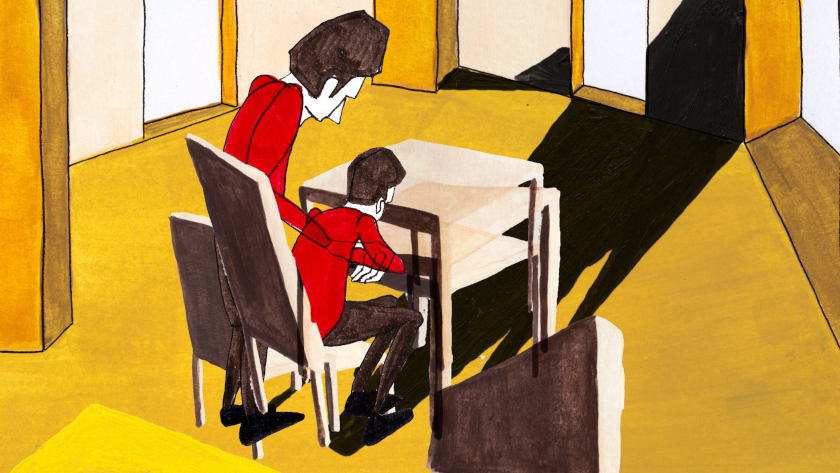 The 2D animation short Any Instant Whatever by UK-based animation director Michelle Brand is self-described as "the beginning of something and simultaneously becoming in itself". The man in a room is the sole setting for the film, which has won Raindance Film Festival Award (Best Animation Short) and Rhode Island International Film Festival Grand Prize for Best Animation.

Michelle Brand was always fascinated between the connection of philosophical theories and animation theories. The French philosopher Henri Bergson and his term "any instant whatever" provided the perfect link. "It describes the idea that time is made out of indivisible moments, interchangeable instants, that are all equally important to create the bigger picture, each of them flowing into each other, and each moment being a state of change in itself – hence they become indivisible instants of time, sort of like how you can't cut a tune out of a melody".
Watch Any Instant Whatever
Another French philosopher, Gilles Deleuze came afterwards to use the same concept referring on Muybridge's work, and denoting a fluid non-stylized, movement pose to pose. "These equidistant, sequenced movements Deleuze are exactly the basis of traditional animation" Brand concurs. "That's why I believe that animation is such a fascinating medium to talk about all of these kinds of ideas".
The solitary setting of a man sitting on his desk won't go unnoticed for the whole duration of the film. "I mainly wanted the man to be a pure embodiment of the concept, basically an empty canvas" Brand will elaborate. " No backstory, no real emotions, no personal items in the room, nothing. It's just a body in a room". All added ingredients here would focus the attention on the character - to be avoided.
Creative decisions were backed up by careful preparation during development and pre-production. Brand had to follow a very rigid structure in composing her shots to give the impression of an animated timelapse; "I made all kinds of graphs to help me figure out the order of shots – when and how much do things begin to accelerate, when does abstraction come in, how static or fluid is the image etc". As a result, there was not a single or a final storyboard, but everything came out in the edit.  
In the animation process itself, the film was animated in 2D computer animation and then printed and painted ("either on paper or cel frames, sometimes with acrylic paint and sometimes with pen"). The animation process itself here came in to support the concept of fluidiity. "the animation also becomes the content of the film itself when the film begins to deconstruct: We see peg bar holes, frame numbers and frames being played next to each other". Movement and fluidity is here king in the world of so-called solid objects.
The color palette is a tribute to artists like Malevich, Kandinsky and Lissitzky. "I feel like their world of colour, their compositions and shape language all connect somehow completely naturally to the idea that any object we believe to be solid, still and recognisable, is actually just made up of loads of little shapes and colours moving and changing all the time". Once more, Brand ties her choices to her overall aim and vision. Her main character, on the other hand, is passive, and he becomes part of the whole movement.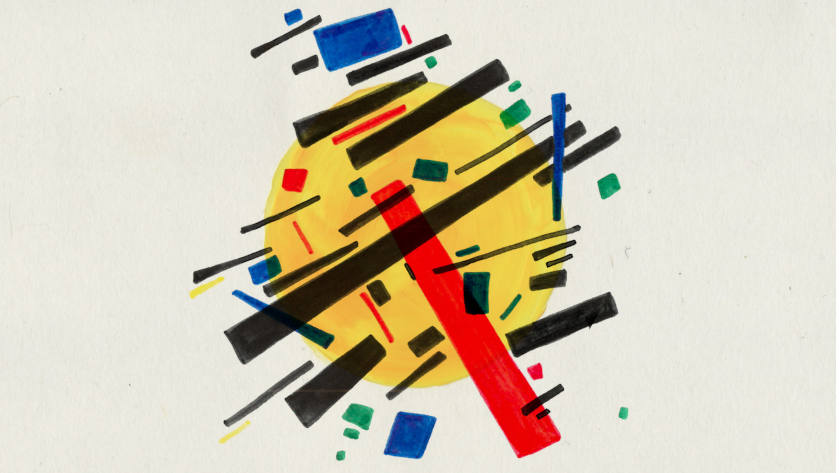 Being an RCA student film, the film still had the creative control that Brand wished for. "From the beginning I knew this film would be quite experimental in the way it was made too, half the time I was discovering things as I was making them, so any other production process would have been too difficult".

The 5-minute film has traveled to many festivals (" I could have easily added or removed shots, as long the order still made sense and the acceleration still came through – but at some point you just have to call it done"). Brand is enjoying the (online) festival world, and, apart from freelancing, she hopes to go back to her questions of time in a similar visual world. " I think all of those things could be explored forever", she rightly concludes.
Film Review (Vassilis Kroustallis)
Pieces, colors and shapes take turn to create a swirling universe and a human black (or, more appropriately, colored) hole in Any Instant Whatever. Michelle Brand coordinates her elements of disintegration from small shadow changes to pieces doing a martial dance in the room of the rather surprised protagonist. The sense of security is completely absent from the film -accelerated by the elliptical but coordinate sound design. The main character will need to feel the changes himself, as if his body parts are parts of the surface peeled off and now needed to join the other surfaces in this 'dance of time' moments. The film is suspenseful in its accelerated tempo, resourceful in its many manifestation of visual changes and bright enough to suggest that the passing of time is not always a dark and moody thing -it is only a reason for colorful reflection that would otherwise go unnoticed. An intelligibly crafted animation short.
CREDITS;
Any Instant Whatever (UK, 2019)
Director, Animator, Editor, Producer: Michelle Brand | Sound Design & Music: Michelle Brand & Ed Rousseau  | Sound Mix: Ed Rousseau | Additional Colouring: Jiaqi Wang, Leo Metcalf, Agata Leniartek, Paige Anderson, Jordan Brunton, Megan Earls, Liang-Hsin Huang
About Michelle Brand
Michelle Brand is an animation director and sound designer based in London, who enjoys discovering new ways of expressing complex ideas visually. She studied animation at the Royal College of Arts in London and the University for Creative Arts in Farnham, UK. Her films attempt to visualise philosophical concepts, with a special focus on time, movement, and change. Playing with many different structures and aesthetics, she keeps blurring the lines between theory and practice.
SIGN UP: Want to read more free articles like this? Sign up for Our Newsletter
Read More About: