Shorts
Bjork's Animation Music Videos, Ranked (Animator of Love and Fungus)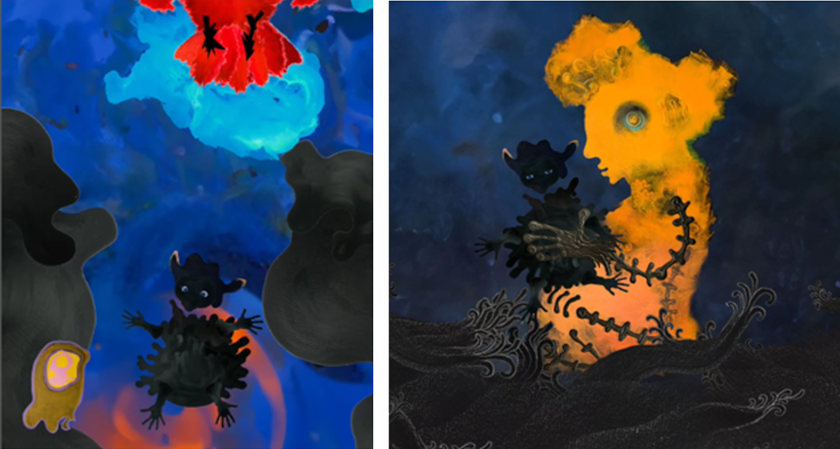 Icelandic musician and artist Björk has a hugely influential catalog of music videos that test the boundaries of live-action, animation, and uses of interactivity. Artistically, Björk has repeatedly explored the human/Nature interface. Her work process operates like a rhizome, sprouting offshoots between sensuous experience, biological function, fungal networks, and intense emotional states. Zippy Frames has selected her key groundbreaking creations, which test out alternative animation applications.
9. 'Human Behaviour', directed by Michel Gondry, 1993
Björk inhabits a cottage in a forest, a nursery rhyme world inhabited by a human-sized toy bear and a wandering hedgehog. This video feels imbued with childhood wonder, and in a dreamlike way revisits fairytale worlds in parallel with a growing sense of how the adult world works. Björk plays the lead as a child/adult living in her forest cabin, as she muses on the complications and illogicality of the adult world. In one great shot, we see multiple Björk rolling around as chicks in a bird's nest, high in a tree in the forest, and Björk flying high above the forest. Later, Björk and the bear walk through the forest, stalked by an adult, a male human hunter. Showing a strong influence of early stop motion artists, such as Yuri Norstein's Hedgehog in the Fog of 1975, the video embodies an enchanted tactility, suggesting the butting up of childhood innocence against the harshness of the adult world.
8. 'Hyperballad', directed by Michel Gondry, 1995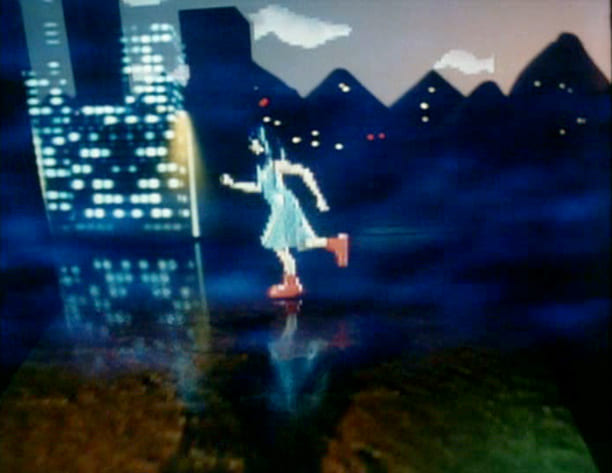 This video is set within an 8-bit gamescape: featuring the repetition of geometric forms constituting the urban landscape, Björk 's face forms part of the landscape as she dreams, revealing her ongoing obsession with body/landscape and human/animal duality. She sings about living on a mountain with her lover, who sleeps whilst she throws objects off a nearby cliff.
As Björk runs through the virtual 8-bit cityscape, she is transformed into a game avatar running and switching poses as she traverses an array of pylons, framed by distant tower blocks. She jumps or falls off a cliff, beautifully textured through scrunched-up paper, and falls to the ground where she breaks into pieces. The gameplay animation element is key in suggesting the concept of endless second chances, in contrast with real life -where relationships end and actions cannot be undone. The song reaches a climax with Björk pondering the sensations of being broken, and singing that she goes through this, the throwing away of one's possessions and identity, perhaps herself in order 'to be safe with you', her lover?
7. 'Crystalline', directed by Michel Gondry, 2011
This great quirky video fuses enchanting stop-motion of crystals forming with tactile hand-drawn connecting systems – organic roots, relationships, underground networks which form into crystals over time. As is evident in his other collaborations with Björk, Michel Gondry brings his trademark tactile odd-ness. As Björk's face hovers singing in the sky, a Clangers-like planet beneath her erupts with freshly formed crystals. The sandy surface forms into expanding concentric circles, becoming a new cosmos of circles. Perhaps this is suggestive of how people in a new relationship form a new world to inhabit, organically growing offshoots and feelings. With Gondry directing, the issue of technology feels secondary to handmade qualities, including wonky drawings and sweetly jumpy stop-motion of crystals forming. Bjork sings from above, caught within her own network radiating light strobes, a cosmic glitter ball shining down.
6. 'Björk's Biophilia app', 2011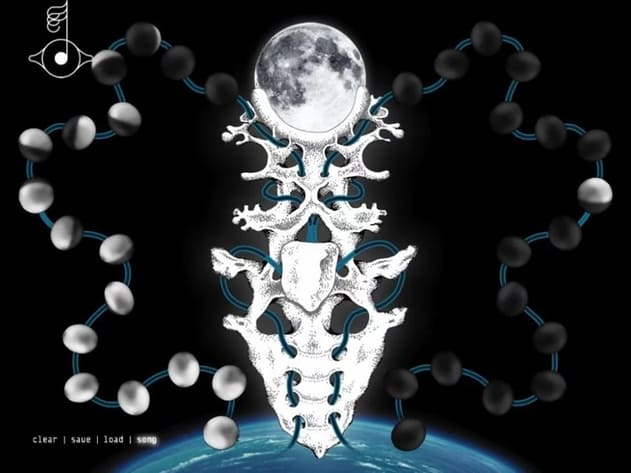 This was a significant development in Björk's cross-platform thinking, leading to a fusion of animated visuals, music, and interactivity. The home screen is a cosmos that functions as a menu through which the user can go to one of 10 planets, each of which contains one of the songs and a distinct interactive animated experience. The Biophilia app showed a radically ambitious use of interactive animation in relation to each song. Underpinned by a paganistic sense of bodily consciousness, the songs and animations explore the human connection with Nature and rootedness to physical and emotional existence.
5. 'Mutual Core', directed by Andrew Thomas Huang, 2012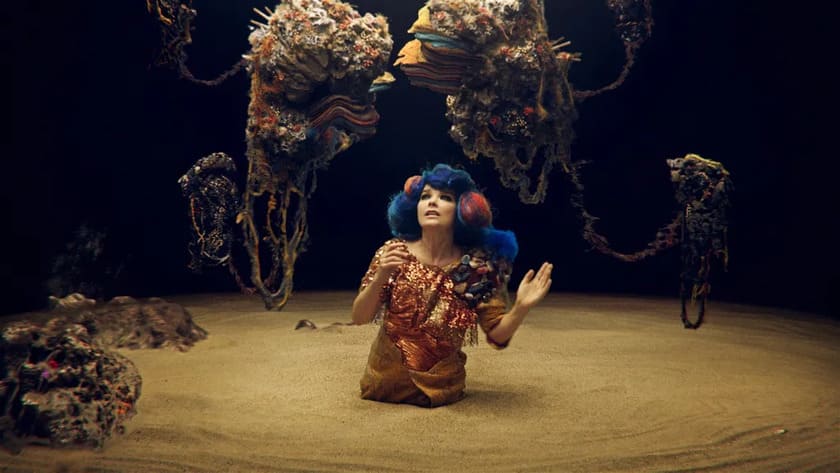 This highly inventive video features Björk standing in quicksand, holding rock fragments that become larger and acquire a life of their own. Transforming into messy tactile tectonic creatures, they dance and weave around each other in the air, developing tongues of layered rock to tease, kiss, and connect, as they hover above Björk. It's a deeply creative approach, deploying animistic beings to entangle and entwine. Björk's work often explores sexually and emotionally charged worlds, and there is a deeply erotic impulse running through this landscape. The tectonic creatures, covered in weeds and barnacles, are consumed by mutual lust, leading to a sense that the landscape itself is lost in an endless cycle of love, destruction, and transformation, with Björk standing at the center as a sorceress.
4. 'Wanderlust', directed by UVPhactory, 2014

This incredibly complex video took 9 months to make from initial conception. It was initially intended as a stereoscopic video, with a separate camera operating as each eye to film the action. This focus on the sensory connects on a primal level with Björk's obsessive exploration of bodily experience and our connection with Nature. A river of hair, a body of water leading to an end and a beginning – rebirth. It fuses a multitude of processes, live-action, 2D and 3D characters, animatronics, and people dressed in animal outfits. Björk is a cosmic jester, carrying her other self in slow rotation, a clay-formed other with whom she traverses the cosmic waterway. The biggest challenge, according to the directors of UVPhactory, was compositing all the separate elements together as one entity. The water in the fast-flowing river, which has a kind of Van Gogh streakiness, was made using a hair simulator plugin. UVPhactory describes how they wanted the river to feel otherworldly and unreal but retain a lot of realistic elements.
3. 'Fossora', directed by Björk, Viðar Logi, m/m (Paris) and Futuredeluxe, 2022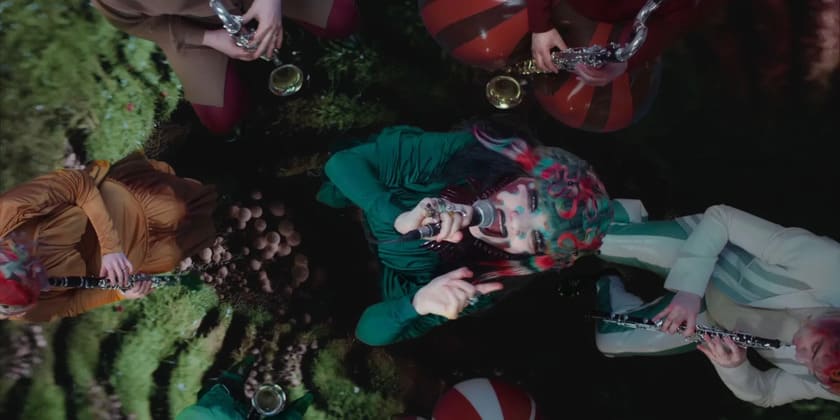 This technologically slick video, features Björk and her band like a group of jesters, cheekily dancing and playing against a backdrop of animated microscopic plant life, a vegetal landscape that dances in microscopic Brownian motion. The gigantic vegetal cosmos creates a fantastical and psychedelic backdrop, swirling against the band as the view rotates. Björk's obsession with nature manifests in underground mycological networks, as fungal spores are emitted into the trippy landscape.
'Her nerves spread like wings
At mycelium speed
Into the atmosphere
There's spores everywhere'.

Björk embodies a fungal network, digging deep and emitting spores.
'Her fossorial claw
Digs downwards
Dissolves old pain, dug down to rot
Decomposes debris
Degrades
Sorrows, hair and hooves'
The lyrics conjure a sense of bodily landscape, with emotions functioning like ever-changing weather systems. Fossora is Björk's own word, which translates as female digger or deliver, a hero at the heart of an ever-changing fungal underground.
2. 'Notget VR', directed by Warren Du Preez & Nick Thornton Jones, 2017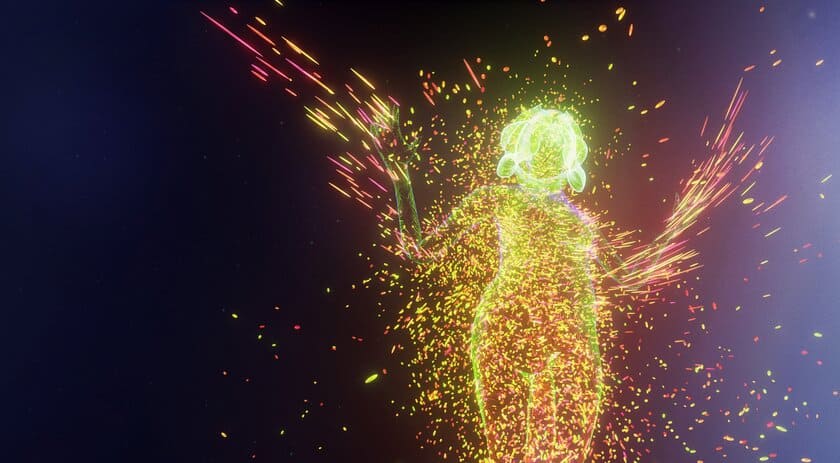 The track Notget explores issues relating to a relationship break-up and trying to survive and move forward. As Björk dances hypnotically, she transforms from a dark body into a light-emitting entity. The production design echoes themes of decay and body parts, made up of bonelike structures and disintegration in a shapeshifting landscape. This highly ambitious video was made by fusing motion capture of Bjork onto her avatar and tools such as Z-Brush to sculpt a highly organic environment. The final animation was assembled in Unity.
1. 'Victimhood', directed by Gabríela Friðriksdóttir & Pierre-Alain Giraud, 2023
In conversation with the director, Björk has described how the song seemed to follow a structure from a personal sense of being storyline of the 'echo of the echo of the echo …of self-pity….of blues…'. She describes how the song has a kind of melancholic self-pity and consists of two sections – starting with self-pity and the second section is trying to work through problems and get a life and the music reinforces this narrative shift. In the animation, we first meet the main character above ground, almost floating in the air. She then falls down through layers – like a platform game- into an underground universe, and eventually is cradled and safe. Bjork states that after discussions with Friðriksdóttir, she felt that the director really understood the feelings and narrative of the track. When she first viewed the animation with the song overlaid, it felt that it connected all the dots. The film's world contains many life forms, all animated without the use of live action which is usually present in Björk's videos. Friðriksdóttir and Pierre-Alain Giraud have crafted an enchanting, bewitching world, partly due to the tactile methods of animation leading to a stop motion sensibility enhanced through the types of motion and expression, giving the video an overarching sense of childlike wonder.
As an artist, Björk straddles the diverse forms of high-tech production but keeps one foot in a more low-fi, stop-motion-oriented workflow. Regarding music videos as a shortcut to a song, she has relentlessly tested the boundaries of visualizing the imagination and exploring human experience in relation to Nature, leading to groundbreaking and inspirational works.
(central image: 'Victimhood' by Gabríela Friðriksdóttir and Pierre-Alain Giraud) 
Contributed by: Joseph Norman
SIGN UP: Want to read more free articles like this? Sign up for Our Newsletter