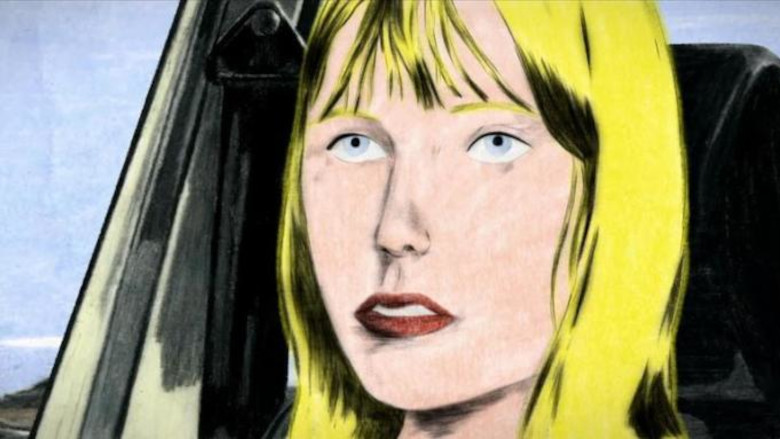 A feminist animation story out of an ordinary situation. Watch Blue Fear (Filles Bleues Peur Blanche) by Marie Jacotey and Lola Halifa-Legrand.
A couple on the roads of Provence. Nils is driving Flora to his parents for the first time when they get ambushed. Whilst she's made prisoner, he flees. During a night in the pinewood, she has to face her doubts - Film Synopsis
This is the premise behind the Cannes Festival 2020 premiered Blue Fear by Marie Jacotey and Lola Halifa-Legrand (production: MIYU Productions). Screenwriter  Marie Jacotey  and graphic artist Lola Halifa-Legrand give a twisted turn out of a couple story -and a woman's fear of acceptance
Watch Blue Fear (contains violent scenes)
Marie Jacotey wanted to give a less than conventional narrative turn to the problem of overcoming one's own fears. The feminist aspect of the film was there all along, but wasn't prescribed as a given and a detailed roadmap from the beginning; the two directresses coordinated in their own, creative way, step-by-step.
The cinematic aspect of Marie Jacotey's designs is evident in the film, which borrow a lot from the exploitation film tradition -yet the film (aided also a lot by its soundtrack by The Coward) rises above its influences to tell a story of a quiet subversion -and thunderous retribution.
Here's the making of Blue Fear, via My French Film Festival
CREDITS:
Original title: Filles Bleues, Peur Blanche (Blue Fear) Directors: Marie Jacotey, Lola Halifa-Legrand Animation: Léo Schweitzer, Jean Da Ros, Augustin Guichot, Kévin Manach, Elie Martens, Simon Duong Van Huyen, Ugo Bienvenu Animation interns: Tamerlan Bekmurzayev, Chloé Van Becelaere Scenario, Script: Lola Halifa-Legrand Image: Marie Jacotey Film editor: Albane du Plessix Color: Lénaïg Le Moigne Color interns: Lilia Lagrifoul, Alban Ploix, Manon Tacconi Compositing: Florent Morin Soundtrack: The Coward Year: 2020