Shorts
The Cadence by Luca Dipierro: Trailer Premiere for the Cut-Out Film (Exclusive)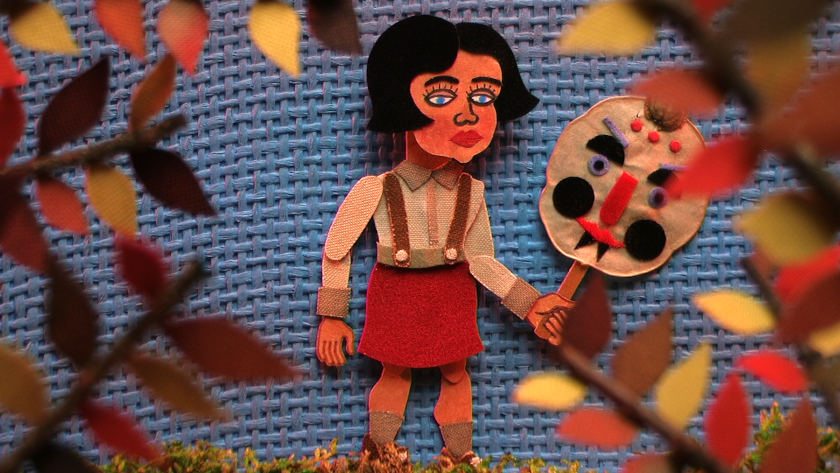 'The Cadence', a 33-minute film by US-based animation director Luca Dipierro, is a film that invites both an immersion to the world of our children's books and their dark nature hidden underneath the pages. The cut-out animation film will premiere at the 56th Karlovy Vary Film Festival.
The Cadence tells the story of a boy, lover of silence, and the journey toward his own beginning. It's a tale made of tales, populated by bizarre characters
who enter and exit swiftly, as on a puppet theatre stage.
Inspired (oddly enough but justifiably) by the Czech live-action film 'Valerie and Her Week of Wonders' by Jaromil Jireš, 'The Cadence' director wanted to both plan and leave room for improvisation. 'I have written a sort of canovaccio, like for the commedia dell'arte, a summary of scenes, actions, and situations spread across a narrative arch', Dipierro tells Zippy Frames. Cut-out marionettes were then created but during the shooting process, the material acquired a life of its own. 'When you work with textures, there is life in the materials that you use, a specific story inscribed in them, and you have to pay attention to that. It would often take several attempts to find a dynamic between figures that felt right, that felt like the only possible one. In a way, there was nothing free about it, it was like trying to read a destiny'.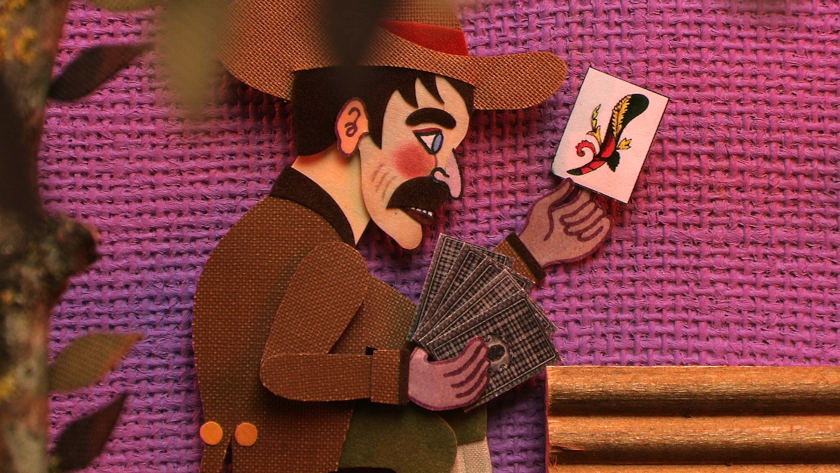 Further detailing his own influences (Robert Walser, Antonio Delfini, Henri Michaux among them), Dipierro elaborates on the ever-present notion of death, bones, and skeletons in 'The Cadence'. 'Churches are filled with relics in Italy, where I was born: shinbones, skulls, even tongues. All this death, it seeps into you. It's a sensibility that culminates in the memento mori of the Baroque era, the imagery of hourglasses, coffins, skeletons, and wilted flowers'.
Even though he himself identifies more with the pre-Christian world that he says 'he never really disappeared, and are evident even in nature. But bones are part of our own bodily structure as well. 'While our bodies are perceived as a whole, skeletons are made of pieces, they are discontinuous. To me, skeletons are like marionettes, with their joints and movable parts. A marionette hidden inside of us'.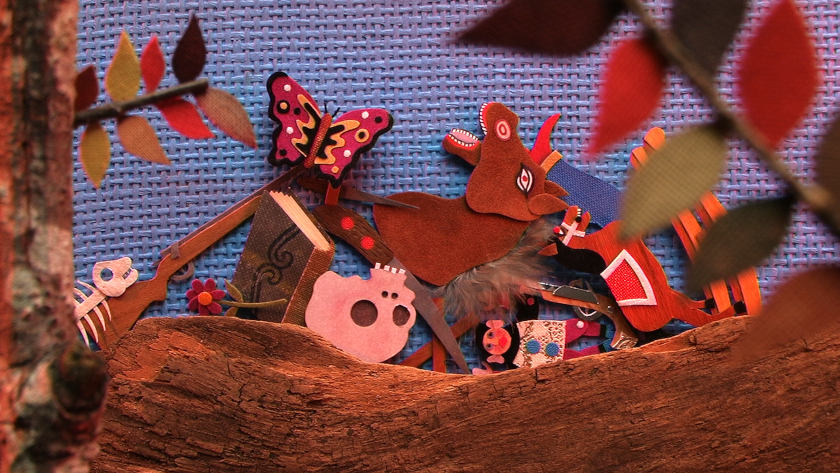 How did this dialectic between the human person and the body within transfer into the material conditions (the 'nuts and bolts of) in the film's production? 'The film took six years to make', Dipierro notes. 'I work all by myself, except for the music. The way I approach animation is more like drawing or writing than the collaborative effort that usually goes into filmmaking. Creating the cut-out marionettes, and building all the textures was the most time-consuming part of the process'. But he won't regret it, and he even endorses a practice of  'doing things the wrong way'; the journey matters in making art.
Time has put its own sign in the literary and book culture Dipierro was raised with. 'I love books. Reading has always been a vice, a pleasure, a way of making sense of the world, of silencing the noise around me'. He adores fairy tales (his favorite, 'The Pentamerone' by Gian Battista Basile (1643), in Neapolitan language, 'a feast of baroque metaphors'). 'Pinocchio' (Collodi's Pinocchio, not Disney's version) has played its own part: 'it is an extremely dark book, one of the few Italian gothic novels of the 19th century'. He distances himself completely from the Disney version ('nothing left of the dreamlke, nightmarish tone of the book'). And his main character in 'The Cadence' still faces some of the obstacles the Collodi hero faced.
Yet Pinocchio was also inventive, as Dipierro as a self-taught animator had to be. 'I had no training when I started. It kind of happened by accident. I had watched the work of experimental animator Larry Jordan,  who used cut-outs from old engravings to make his films, and it gave me a sense of freedom and possibilities'. He started experimenting with texture, cutting out the cloth of old hardcover books. 'The Cadence' is immersed in the flat book world, but there's a twist: 'if you look closer at the book and bury your nose in its pages, they reveal unsuspected depths, shadows, creases, and layers. I am interested in small, delicate, frail things'. Citing the 19th-century illustrator Lothar Meggendorfer and his movable books for children as one of his influences, he wants to ensure a playfulness feeling in an otherwise really sober story indeed.
For a 33-minute film with no dialogue, music needs to be important -and it is. 'I have been a fan of freddie Murphy and Chiara Lee's music for years. I admire the rigorous way they approach the sound. There is a spareness and delicacy in what they do that is rare in contemporary music'. His shooting during production was complemented, in a segment-like way by bits of musical ideas by the duo, without the director giving exact indication ('I wanted them to work in absolute freedom'). His conception of the music as the counterpoint or underground river translates into the self-described 'a sense of something far away, both present and lost'.
Music has always accompanied Dipierro's 'Paper Circus' show, his screening of short films in cinemas and galleries with a live soundtrack. 'We performed with freddie and Chiara the music to the film live, sitting in the dark next to the screen. The audience could not see us but sensed our presence. We were like black-clad puppeteers'. Also utilizing elements of theatre and singing, the whole experience was more of a performance.
'The Cadence' will have its world premiere in a more traditional way (but still an onsite screening) at the 56th Karlovy Vary Film Festival, 1-9 July 2022; Luca Dipierro comments that the festival programme there is 'never predictable'. A fitting choice for 'The Cadence'.
Watch 'The Cadence' trailer:
Film Review (Vassilis Kroustallis)
'The Cadence' has a side title, 'A Tale of Paper and Cloth'. It is certainly a tale, clothed in the uneasy but somewhat familiar sensations of childhood and growing up. Old tales had the educational function of making their kids readily aware of the immediate dangers when they venture out in the world; 'The Cadence' exploits this to the fullest, via stories told -and mostly depicted on screen. The stories themselves are ripe with dismemberment (fun to watch in cut-out animation), and the imminent loss of agency and movement; Italy's 20th-century past is also here explored as another character, while the main character needs (literally) to navigate his surroundings in order to go back to its beginnings. The soundtrack's eerie repetitiveness underlies the film's cyclical premise and the sound design that brings you in contact with the world outside the books. Suggestive and unashamedly honest in its assertions, 'The Cadence' works as a constant (and inviting) reminder of your own personal need to bring back the dead.
CREDITS:
The Cadence (2022)
Written, directed and edited by Luca Dipierro | Art and animation by Luca Dipierro | Original soundtrack by freddie Murphy and Chiara Lee | Sound design and mix by Tommaso Barbaro | Produced by DML
About Luca Dipierro
Luca Dipierro is an Italian artist, animator, and writer living in Portland, OR. His cut-out animations, filmed in stop motion with marionettes made out of paper and old book cloth, have been called "a perfect balance between creepy and charming" (The Huffington Post), 'weirdly charming and unerringly unsettling' (The Quietus), and "sad and beautiful" (L Magazine). His work has been shown in theaters, galleries, and film festivals in the USA and Europe. He's also the author of two books of short prose, and a translator. His latest animated film, The Cadence - A Tale of Paper and Cloth (2022) will premiere in July at the 56th edition of the Karlovy Vary International Film Festival.
Luca Dipierro on the web, Instagram, and Vimeo 
freddie McMurphy on the web

SIGN UP: Want to read more free articles like this? Sign up for Our Newsletter