Shorts
Drifting by Sam Ripman & Freddie Griffiths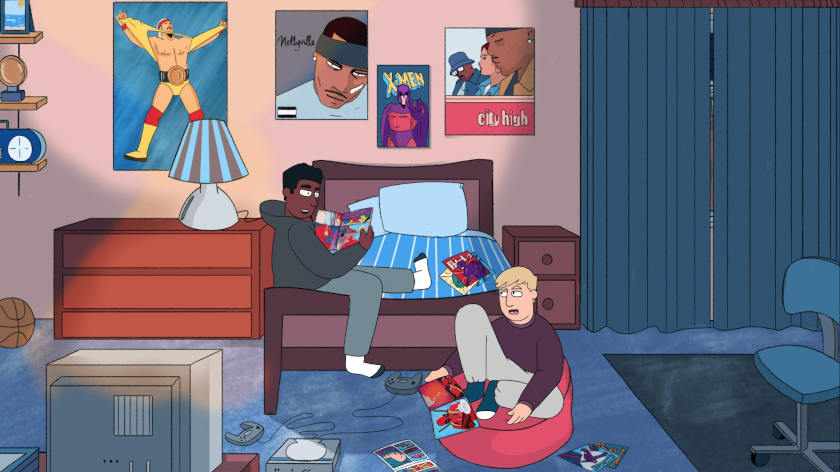 Why do our mixed cities so often feel divided? Drifting is a personal take on how best friends from different backgrounds grew apart, and what it says about our too-often disconnected communities
Zippy Frames caught up with Sam Ripman & Freddie Griffiths the creative team behind 'Drifting':
Writer Sam Ripman explained how the film's story came from direct personal experience, of growing up in South East London.
The story started with a reflection on my first friend in life…the two guys at the start of the story, seeing their friendship drift over time…and then seeing a similar pattern as I was growing up and going through those teen years in school'. The story started from a personal perspective and then expanded to explore a bigger picture of social issues.d Sam explained that from the start of the project, he ensured that 'any experience that was referenced was true to lived experience that he saw and was part of - Sam Ripman
Watch Drifting by Sam Ripman and Freddie Griffiths

'With any documentary type subject that is difficult to explain, it makes sense to use animation to tell that story'; and against the backdrop of the Black Lives Matter movement, it is really positive to tell these type of stories: important dialogues about society open up through representation - Freddie Griffiths


Freddie explained that in conversation with Sam, they wanted to have a sense of a continuous line, to signify a flow and transformation process occurring over time. Sam felt that in developing the story, he realized that there were two separate narratives. Firstly, a super-personal story of the two main characters, and how their friendship dissolved over time. Secondly, the wider context of how groups of people separate over time.

Sam explained that having lived the majority of his life in London, he feels that the film depicts an authentic experience of how in growing up, people retreat into social groups largely determined by demographic and background. He feels that the film highlights this social situation, and he feels apprehensive at how the film will be received. These are highly sensitive issues, tackled bravely and with confidence in fluid and dynamic filmmaking.
This was Sam's first time writing for animation; he is predominantly a director and he has been involved in a range of writing for film; he and Freddie had known of each other's work for a while, having previously planned another collaboration. They collaborated mostly via email in developing the project.

ZF: What were the specific creative and aesthetic challenges in developing the film?

Freddie described how he was 'wary of using cliches to negatively represent the issues', and to ensure that the visualization authentically represented the original storyline. He found that the   subject matter was both highly personal, but also the cultural references, such as the use of slang, made the story feel 'like a poem, true to its time period'. In terms of the cultural references, Sam and Freddie had detailed conversations about areas such as the choice of posters to go on each boy's bedroom walls at different stages of growing up. This authenticity was echoed by the real-life person on whom the friend-character was based, who confirmed that the animation and especially details such as the posters brought memories back to life.
The film was made predominantly in Photoshop and using Flash for more complex motion sequences. Freddie's previous film, 'My Dad's Name was Huw', was screened at a range of festivals; this was based on poems written by his father, meshed together as a form of narrative. On Drifting, through collaborating with Sam, Freddie found working with a separate writer to be a thoroughly positive experience, allowing him to focus purely on the visualization and animation processes. Sam pointed out that the film depicts the problem of friendships dissolving through cultural fragmentation, and he hopes that watching the film will open up conversations about how society can support communities to avoid such drifting and disconnection occurring.

Sam is currently working on music videos and live action short films, as well as some writing projects; he is also considering what new types of story to tell through the medium of animation. Freddie continues to work as a director and animator on music videos. They intend to release 'Drifting' through the festival circuit. Zippy Frames will look forward to seeing future documentary animations from both Freddie and Sam in future.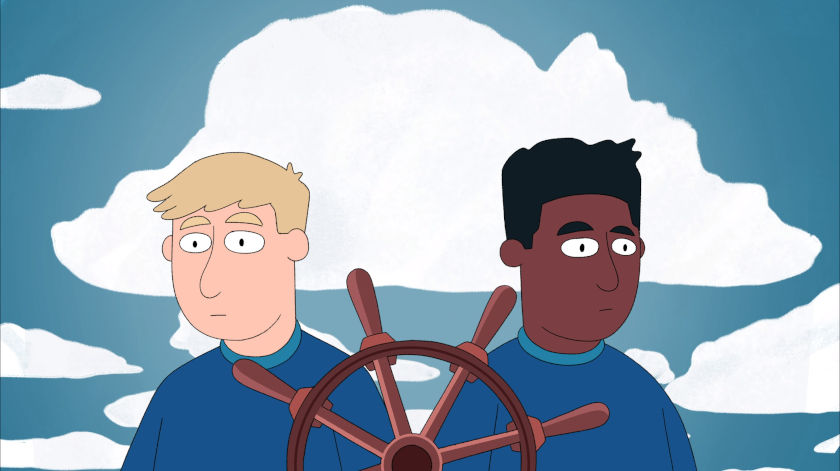 Film Review (Joseph Norman)
A moving short film, depicting the friendship between two boys from different ethnic backgrounds as they grow up. Inseparable when they first become friends starting at secondary school, when they get into their teens they start to drift towards separate identities.
Using fluid transformations and a continuous-line approach, the film sensitively explores how the boys grow gradually apart, and ultimately form new friendship groups with people from similar ethnic backgrounds. As the boys reach their mid-teens, their bedroom walls reflect their changing identities, and the production design here authentically captures key cultural reference points through WWF, Hip Hop and X Men posters adorning walls. This key scene powerfully evokes the widening gap between the boys, and the compositional symmetry becomes discordant as the boys grow ever distant. The narrator, voiced by writer Sam Ripman, tells how they each felt a sense of disconnect, until they only saw each other once a month, and then once a year. But this was not just about the boy's drifting friendship: instead, the narrator sets it against the wider context of how children readily interact when they are younger, but by the time they reach the final years of school, their friendship groups are largely dictated by their own ethnic background, excluding other friendships.
Towards the end of the film, a powerful scene depicts the narrator, in a group of 'more or less doppelganger' friends, surrounded by friends from near identical backgrounds. Lamenting the loss of childhood friendships, he remarks sadly that 'amidst all of that colour, we drift into mono'. Scored with a haunting and ever-shifting soundtrack by Daniel Brangwyn, there is a sense of the innocence of children being lost to the pressures of a fragmented society. This is a very thoughtfully produced film, exploring difficult topics of social and ethnic fragmentation which are often ignored due to their sensitivity. Deploying beautiful transformations to signify the loss of friendships into racially and ethnically fragmented groups, there is a sadness to the recognition of losing friendships, and the film questions this drifting process and the resulting disconnection,delving authentically into this social context.
About Freddie Griffiths
Freddie Griffiths is a London based animation director specialising in narrative driven story telling. He found his feet as a director after studying at the Royal College of Art creating his first short film 'My Dad's Name Was Huw', which had a successful run in the festival circuit including being short listed for a BAFTA. Now working freelance in the industry, he continues to create and assist on short films and productions for a range of companies and creatives.

About Sam Ripman
Sam Ripman is a writer and filmmaker from London. As co-founder of Alleycat Films, he has made a number of short films, with his most recent - "all good man" - released on Dazed. Alleycat Films collaborate with a range of organizations, creatives and artists on short film projects.
SIGN UP: Want to read more free articles like this? Sign up for Our Newsletter
Read More About: