Shorts
Drop by Drop (Água Mole) by Alexandra Ramires (Xá) and Laura Gonçalves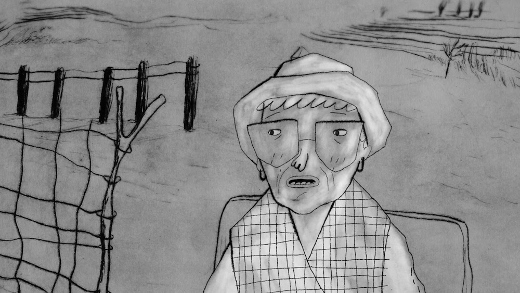 Drop by Drop (Água Mole)  is the first joint film by  Alexandra Ramires (Xá) and Laura Gonçalves as a team (The last habitants of a village refuse to let themselves sink into oblivion. In a world where the idea of progress appears to be above all, this home floats.
A delicate and melancholy procession, led by a "careto" (mask) – a typical carnival figure in Trás-os-Montes and Alto Douro, which results in a unique setting honoring our rural countryside, now almost extinct. "It is the treatment of texture and rhythm and that makes this object so unique - Vanessa Ventura 
Watch Drop by Drop 
Film Review (Vassilis Kroustallis):
There is a welcome sadness in Água Mole, as if we already know what's becoming of the unhappy residents -yet we still want to hear tell their own story. It could be the accordion music, perhaps the carnival figure (overpowering but ultimately helpful). Yet all residents move their stories and they themselves move as if linen hanging out dry and ready to be attached to something else. Tree roots, ship anchors and the engraving itself speak a lot about the need to feel connected to home - but all interviewers are brave indeed to accept the future. What matters in this dainty and remarkable film is the way personal stories almost complete and weave the community's single story -inevitably limited, but still united.
CREDITS:
Água Mole by Alexandra Ramires (Xá) and Laura Gonçalves, 2017
Director: Alexandra Ramires (Xá) Laura Gonçalves | Producer: Rodrigo Areias, Bando à Parte | Script: Alexandra Ramires (Xá), Carolina Freitas, Laura Gonçalves
Editing: Alexandra Ramires (Xá), Laura Gonçalves | Music: Nico Tricot, Ricardo Santos Rocha | Sound: Pedro Marinho, Pedro Ribeiro | Animation: Alexandra Ramires (Xá), Cátia Vidinhas, Inês Teixeira, Laura Gonçalves, Pedro de Almeida | Animation Technique: Computer animation 2D, Engraving, Digital Paiting | Voice Over: Conceição Esteves, Diamantino, Fernando Escaleira, Horácia Alves
SIGN UP: Want to read more free articles like this? Sign up for Our Newsletter