Shorts
Dwell With Me by Eric Leiser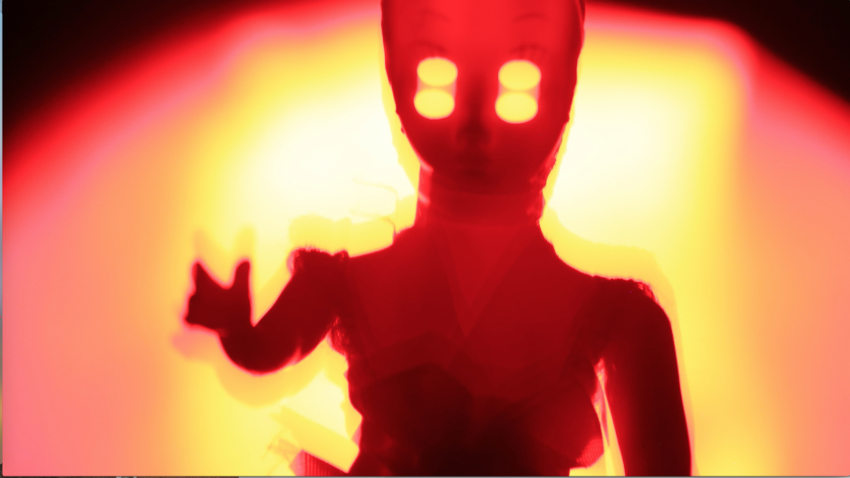 Puppets are the tangible material most fitting for all kinds of nightmarish situations. In Dwell with Me,  NY-based experimental filmmaker Eric Leiser animates a track by MJ Dorian, visualizing the ever-popular story of Stingy Jack and his tricking the Devil.
Eric Leiser met MJ Dorian on Instagram;  MJ Dorian was looking for a music video for his Dwell with Me song. With a Quay Brothers inspirational vibe, the music video borrows freely from Street of Crocodiles, and also Leiser's version of Jack O' Lantern the Irish Folktale.
Leiser had already used some of the puppets for his own, New York, Jack O' Lantern puppet show (2018 Halloween). Other puppets in the video were junk shop finds in City Island and Pine Tree branches. Dwell with Me was shot in camera, with a few additional lighting techniques explored in fall 2018. One month shooting was followed by few months in post (editing etc.)
Eric Leiser moves between personal confrontation, a primordial red soup and an environmental lament in his Dwell with Me animated music video. The ratio between stillness and movement, the puppet dance and the elements flow all give you the feeling of a old film being shot and developed, curiously abandoned and somehow rediscovered. The music's eerie feeling is juxtaposed with fast cuts, repetitions and a view from the (red) clouds. The power of the film lies in presenting supernatural horror (in both visuals and music) as a precious archival item, to be presented and perhaps forever lost.
About Eric Leiser
Eric Leiser is an award-winning artist, experimental filmmaker/animator and holographer working in New York City. Born in California, he is an alumni of CalArts Experimental Animation and Art Programs. He creates intricate works of film, sculpture, holography and painting along with film installation integrating animation, painting, sculpture, holography and live performance.
His most recent solo exhibitions include the recent Horse Hospital London exhibition, Galerie Entropia in Poland, MaRS Gallery in Los Angeles, Galerie du Haut Pave in Paris, Sound of MU Gallery in Oslo, Holocenter Museum and Flux Factory in New York City,  and the Central Academy of Fine Arts in Beijing. His films have screened in the world's top film festivals most recently at the Cannes Film Festival, Annecy International Animation Festival and the Hiroshima International Animation Festival. His recent 4th feature film Apocalypsis was released by Lionsgate in 2018. A retrospective of Eric's work is available online through art film distributor kinoscope.org,
About MJ Dorian:
MJDorian is an underground music composer based in NYC who collaborates with fellow independent artists on dark pop & trip hop music. His LP release, CATHARSIS, has garnered wide acclaim and features songs with several prominent NYC singers & rappers: Starvin B, L'FREAQ, Carolyn Monroe, RedBaren907, and Shelley Thomas.
Each song on CATHARSIS has been released with its own original cover art and music videos, with the unified vision of a multi-medium experience. Many of the music videos feature a notable lofi style which is always achieved by using authentic VHS equipment, often from 90's camcorders.

SIGN UP: Want to read more free articles like this? Sign up for Our Newsletter
Read More About: