Shorts
Face Recognition by Martinus Klemet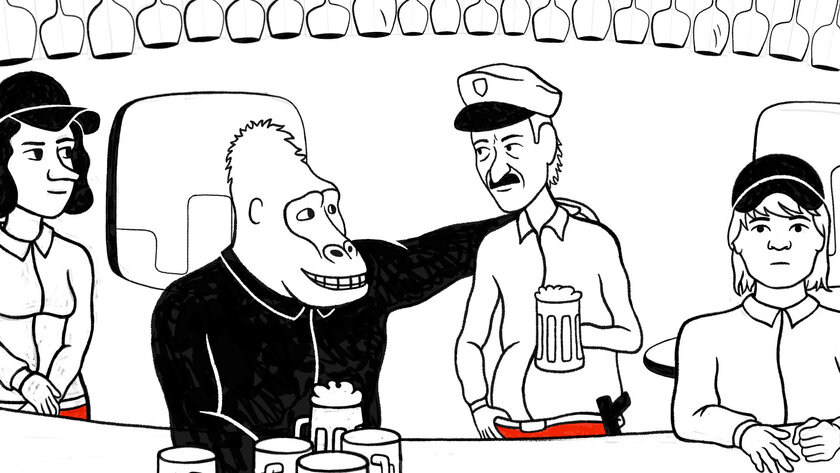 Estonian animation filmmaker Martinus Klemet has progressively crafted his own path in the avenue of arthouse Estonian animation. With his proclivities more to parody, horror, and the graphically grotesque) and his insistence on bringing a lot of different animation techniques to the mix of his film, he has gotten into a recognizable style. Films like 'In the Air' (2009), and 'Fatcula' (2016), both illustrate this. His latest, 'Face Recognition', a film that screened in 40+ festivals, is a story of surveillance turned into a happy hour for everyone involved, and one in which people turn into wild animals (the main character into a gorilla) is now released online.
The theme of surveillance here would stem from Estonia's Soviet Era (which ended in 1991). "The Soviet Union was very much a police state", Klemet mentions. "There are countless stories about the soviet secret police KGB intruding into people's personal lives". This found its way into the police characters wearing red trousers, a reference to an old Estonian children's song [in Russian] from that era: "The policeman in red trousers tells me 'go home'".
This dystopian vision of a police-led state enhanced by technology is what Klemet had in mind. This tenet was easily transferred to the film's own aesthetics, which looks a lot like pages from a graphic novel. "The hand-drawn 2D animation part strictly uses only 3 colors - red, black, and white", Klemet mentions. "It's the most aggressive color combination and it was used a lot by totalitarian regimes in the past". Even though Klemet has afterthoughts on his limited color palette choices ("some audiences take it that the film visuals are unfinished without any further textures and shading"), it definitely expresses the satirical tone of the film.
Watch 'Face Recognition:
On the other hand, all surveillance camera shots were executed in Pixel Art style, a low-resolution digital animation and gaming technique, which captures a specific feeling. "I used a lot of shading there. Minimalism in the surveillance camera short was there realized by the usage of a limited amount of pixels and monochrome color palette". It is still the pixelated gaze of the camera watching the scene.
Animals and animation are a pair that goes well together. Here, all wild animals were more thought of as a group of ultimate drunkards rather than individualized characters and personalities ("it would be too much to pursue individuation in a 7-minute film"). But still, their middle-act scene, in which they play games and athletics outside the bar -and body joints change owners, and shapes are inflated/deflated- registers.
"It was all scripted and storyboarded", Klemet notes. "Animatic, layout, animation, coloring, post-production, I like the traditional workflow". The surrealness of the scene was there implanted from the first impression ("being drunk is a surreal experience"), and then everything followed into place. Which doesn't imply that everything was smooth sailing. "The hardest part was animating characters. I really didn't expect that it would take so long. Although the style is quite simple the film has so many shots where all 5 characters are present in the shot. It increased the amount of work a lot".
Yet Klemet, apart from independent films, is versed in commercial work (commissioned work, TV series, feature films), so he definitely knows his craft. 'Face Recognition' benefited from being part of the CEE Animation Forum. "These sessions helped me to fine-tune the animatic of the film. CEE also gave me an award to participate at ASF to develop the next project". Now participating in the 3rd module of his Animation Sans Frontières training course (in Viborg, Denmark), Klemet thinks of his next film.
"I'm developing a short called 'Yummy' about dog food taster Julia". Produced by AAA Creative (Sander Joon's 'Sierra') and already got a development fund from the Estonian Film Institute, it is described as a tragicomedy with grotesque elements -even though Klemet promises a more colorful environment and less graphic violence. The project is now in pre-production.
Klemet was lucky to participate live in many European festivals with 'Face Recognition', but he also had a friend, a life-size sculpture of Igor-503. "I managed to exhibit it at four festivals. It's quite realistic and often it got more attention than the film itself". People were sometimes frightened by Igor (a real person that needs help?) but they definitely took selfies with him -another case of DIY surveillance.
Film Review (Vassilis Kroustallis):
'Face Recognition' is ostensibly about surveillance, but more importantly, about what happens when you manage to escape your surveillance mentors. Its characters are fittingly the everyday John and Jane who just need a break, and power relationships are obliterated in the process. More optimistic than its graphic style would look, 'Face Recognition' is a zoo party in which all human animals are left in the wild to drink and have fun. Some reminder of the powers-to-be external presence is implied, but it is a well-constructed escape and one that makes you feel not guilty at all afterward. A straightforward and graphically pertinent view of being related -instead of being watched.
Credits:
'Face Recognition', 2D/3D animation, 2021 (06'45", Estonia)
Script, direction, and design: Martinus Klemet | Music and sound design: Sander Põldsaar | Animation: Kadavre Exquis, Martinus Klemet, Noemi Ribic, Kaia Sinilaid | Production company: Animartinus | Funding: Estonian Cultural Endowment, Estonian Film Institute
About Martinus Klemet:
He studied fine arts (BA) and animation (MA) at the Estonian Academy of Arts. He has directed animated short films which have been screened at many international film festivals and won national and international awards. For example, 'In the Air' (2009) and 'Fatcula' (2016) both won the "Animation of the Year" award from the Cultural Endowment of Estonia. 'In the Air' also won "Best of Fest" at the Melbourne International Animation Festival (2010). Besides directing animated films he works as the head of the animation BA curriculum at the Estonian Academy of Arts.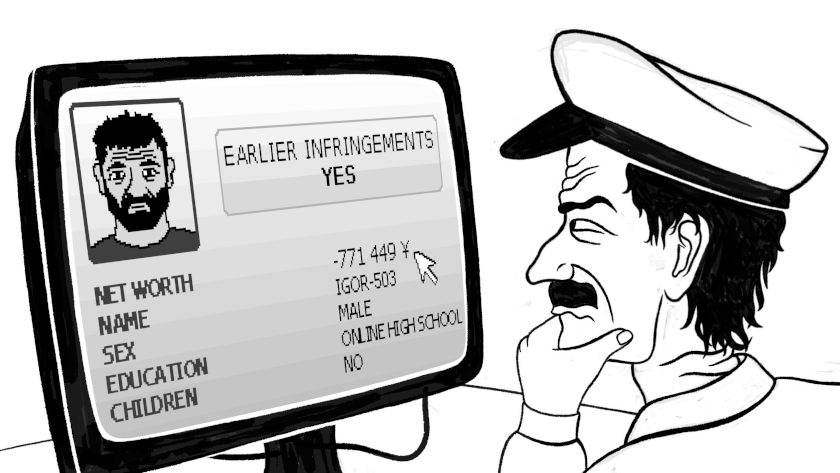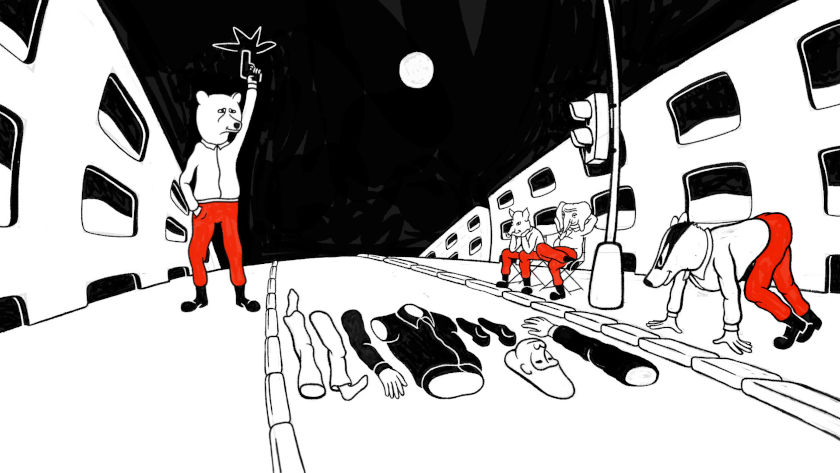 Face Recognition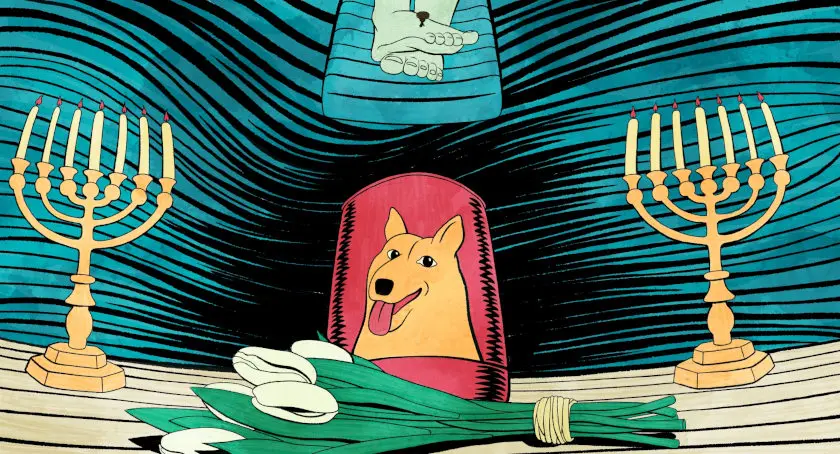 Yummy, the new film by Martinus Klemet
Contributed by: Vassilis Kroustallis
SIGN UP: Want to read more free articles like this? Sign up for Our Newsletter