Shorts
#FlattenTheCurve by Studio Desk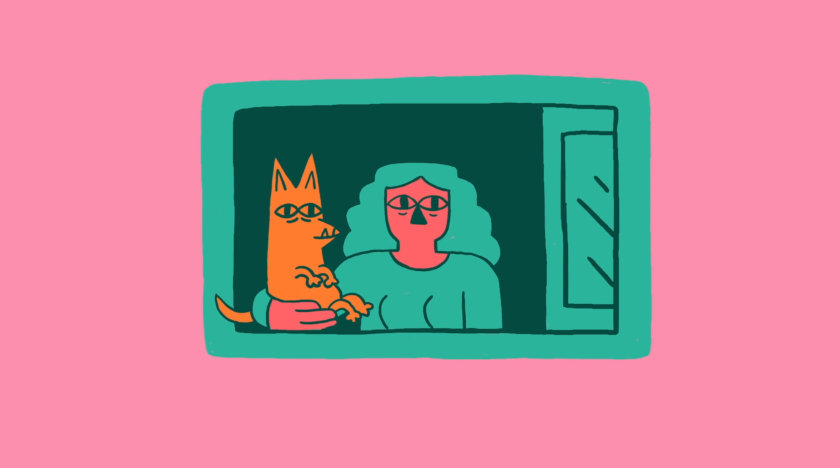 Daniela Sherer
After the outbreak of COVID-19 and the beginnings of global lockdown, Studio Desk people (Kathrin Steinbacher & Emily Downe) sent out a call to animators from around the world to send a short animation depicting something positive they have experienced, seen, or thought in the midst of this strange time.
Over 140 animators from around the world signed up, and Studio Desk received over 90 final clips of animations in the end. 
Seeing how many artists and individuals were responding creatively to combat that and encourage others through it. We thought it would be great to make a collaborative film and see people connect from all over the world by telling their own experiences of COVID-19 through animation. Also, as a lot of people have freer diaries, and for some no work, we wanted to have a project to work on, and thought others might too. We hoped it would encourage people to stay home and see that there are still some positives to come of it. So we sent out a call on social media to any animators who wanted to send to us up to 15 seconds of animation depicting something they have experienced, seen, or thought in the midst of this strange time.
This started as a little fun project and we wanted to give everyone as much creative freedom as possible. We directed the film and worked on the editing and animated sections ourself.  There were only two rules: We provided the colour scheme and it had to be something positive they experienced during quarantine.  We created an google drive folder. And a google sheet list where people could sign up.
Watch #FlattenTheCuve 1
The challenge was trying to make it work as a whole series of three films. Initially we were planning on making one film and were completely overwhelmed with the amount of submissions - something we never expected. That's the reason why we decided to make a series of 3 films in total which we will release within a break of 1-2 weeks in between. Our sound Designer Jan Willem de With did a great job tying the clips together though.  The highlight was to connect with other filmmakers from around the world. This is was a wonderful opportunity for us to find new amazing talents, especially now that we have just started our own studio (studio desk animation).
It really is a celebration of a wonderful and diverse industry and we want to celebrate collaboration and show that supporting each other in this industry is so important, especially in more difficult times. Secondly,  a lot of us right now are confined to one space and it could be quite uninteresting and repetitive, but through animation you can be transported anywhere and you can re-imagine the space you are in.  
Animation also in itself is expressive and so the animators telling their stories can tell you not only what lockdown looks like for them, but what it feels like.  They can make their plants talk, or humans turn into dogs, travel to the mountains, or imagine what it would be like to shave their hair off.  The audience gets to see a little of the animator's internal thoughts and experiences where a camera would just show them sitting in their bedroom. Also not to mention the great thing about animation is you can make a film from indoors, which unfortunately a lot of live action crew are unable to do at the moment.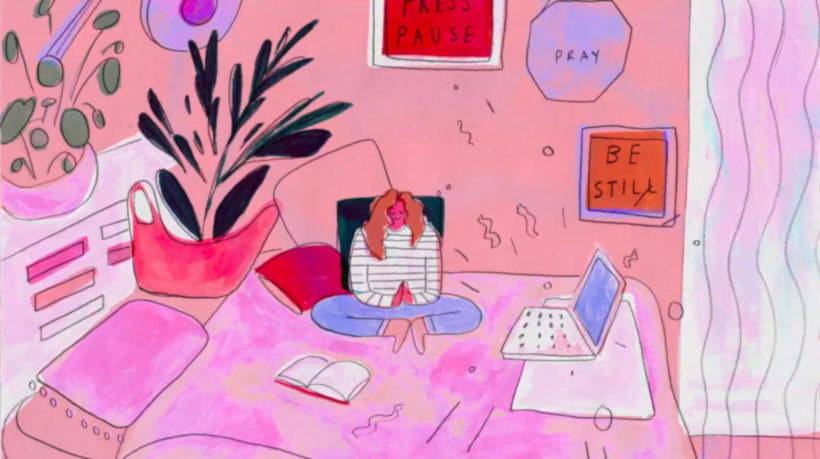 Emily Downe
CREDITS:
Directed By studio Desk / Kathrin Steinbacher & Emily Downe | Music & Sound Design By: Jan Willem de With
animated/directed by:
00:13 Animation & Sound: Angela Stempel
00:24 Animation &Sound: Trang Nguyen
00:39 Animation: Bela Unclecat / Sound: Mikhail Gavrilov
00:50: Animation & Sound: Laura Jayne Hodkin
01:01: Animation: Magdalena Kreps, Sound: Eneko Ezquerro Gómez
01:11: Animation & Sound: Lewis Heriz
01:18: Animation: Magali Garcia
01:24: Animation: Bryan Lee
01:29: Animation: Gabriella Marsh
01:39: Animation & Sound: Daniela Sherer
01:51: Animation & Sound: Anna Smirnova
01:58: Animation: Elisabetta Bosco, Sound: Francesco Maccario
02:06: Animation & Sound: Gabriela Sibilska
02:17: Animation: Iulia Voitova
02:31:Animation & Sound: Kyle Xuereb Cuningham
02:40: Animation & Sound: Kiana Naghshineh
02:54: 03:04: Animation &Sound: Hannah Brewerton
03:08: Animation & Sound: Nofar Schweitzer
03:19 Animation & Sound: Jenny Jokela
03:28: Animation & Sound: Rachel Gutgarts
03:38: nimation & Sound: Jodi Lai
03:53: Animation &Sound: Good Golly
04:03: Animation: Lydia Reid
04:12: Animation: Amanda Bonaiuto, Sound: Alex Toth
04:19: Animation: Amit Cohen, Sound: Siamese Twins On Acid
04:35: Animation: Emily Downe
04:44, Animation & Sound: Liang-Hsin Huang
04:54: Animation & Sound: Alexander Gratzer
05:11: Animation & Sound: Louisa Kohlhoff
5:20: Animation & Sound: Anna Valkanou
About Studio Desk
Kathrin Steinbacher and Emily Downe met at University studying BA Illustration Animation at Kingston School of Art  in 2014 and then continued studying MA Animation at the Royal College of Art and  started collaborating when we were still at uni. We loved it and immediately decided to continue collaborating after we graduated  and started our own studio this year, being the only female animation studio in London. Their films have been screened at animation festivals around the world (Annecy, Zagreb, LIAF, Edinburgh Animation Festival, Sundance ....) and Kathrin Steinbacher's graduation film (In Her Boots) got nominated for a Bafta this year.
SIGN UP: Want to read more free articles like this? Sign up for Our Newsletter