Shorts
Flocks by Mangoosta (Online Premiere)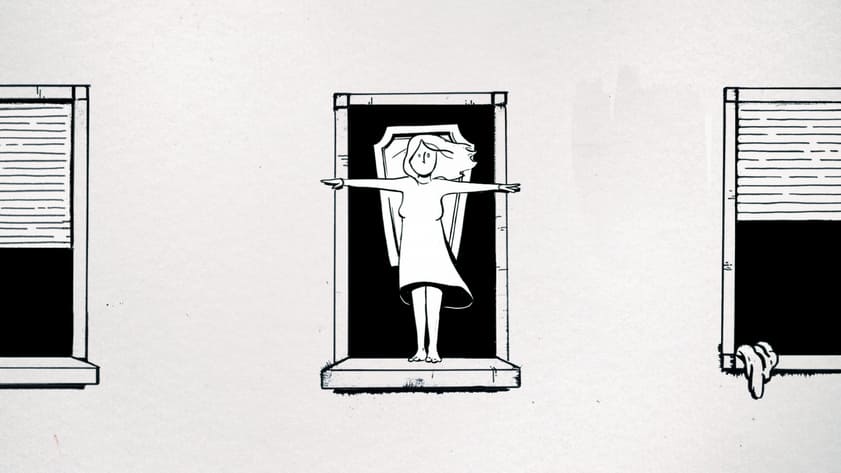 An Italian chalk and blackboard feeling in the 2D animation short 'Flocks' by Mangoosta creative duo.
In an ordinary building, life goes on like in a beehive. Suddenly the geometry is broken by a leap into the void - Film Summary 
We talked to the Mangoosta duo on the occasion of the online premiere of 'Flocks'.
ZF: Why do you choose the title 'Flocks' here? What it signifies for all those women present, and your main character?
M: Flock is a collective identity with gregarious behavior, that seems a unique form of life but they are a multitude. We talk a lot about identity, collective behavior, multiple personalities, and the hive mind. The women who live in the building, in the film, are part of a flock. It happens that the flock loses its uniformity when something external breaks in, like a hawk for example. Our protagonist breaks the pattern, and escapes from the uniformity of the group, with her eccentric behavior she undermines the reality of the flock and makes a revolution.
ZF: The film has two parts, separated by the leap into the void. Was this a conscious decision to make already thought from the start at the script/storyboard stage? 
M: The idea for the film came from an illustration we sent to Cheap Festival for their street poster art festival. The theme was 'sabotage': there was a woman standing on the ledge of her window, while the others were locked in the houses. We liked the idea of sabotage as an act of sacrifice. When we decided to make it an animation, the idea of the dive came by itself. The difficult thing was to decide what would cause the plunge, and try to figure out what ghosts would evoke to sabotage that balance. We made various hypotheses, we drew them, almost a sequence of fixed pictures, that we animated as tableaux vivants and we came up with the idea of the ending just a few days before finishing the film. We were studying the movement of murmuration to try to represent it on paper and a bug in a video, uploaded on youtube by a birdwatcher, suggested to us the last image of the film, a sort of optical interference in the sky.
ZF: Color is here only sparingly used, in just one scene. Tell us more about the film's b&w aesthetic. Also, we'd like to know how this immaculate design was achieved. Was it hand-drawn, did you use the computer or both?
M: The black and white aesthetic comes from our love for engravings and printings of the XIX and early XX centuries, but above all from our passion for graphite. The black pencil on paper is our most powerful tool. Only after comes the computer. We started to animate with a pencil on paper using the light table. Then we digitalized it, cleaned up the image, and digitally colored it. We used textures in etching, monotype, and cyanotype, which we do on rainy days. We often do motion tests on the computer in order to not waste too much paper, but we realized that using a pencil makes us more confident, and therefore braver. Freer, and therefore happier.
ZF: How were the surroundings in your first part influenced by your own experiences and the places you have lived/traveled? These blocks of flats have a very specific character on their own.
M: The backgrounds of the film come from our direct experience and they refer to the Italian urban periphery, characterized by high-rise buildings built during the economic boom: hive-like neighborhoods with a monotonous rhythm, where families spend most of their time indoors. Specifically, the antennas on the buildings and some of the views are the panoramas we see from our studio window in the first periphery of Bologna. The perspectives and geometries of the buildings, in which our story is set, are often deliberately wrong, and forced, in order to create a sense of disorientation. A kind of vertical labyrinth in which only crows wander, which we like very much because they are solitary animals that in the film represent a kind of counterpoint to the greyness of the pigeons and the uniformity of the flock.
Watch 'Flocks':
ZF: The sound design looks as if it already prepares us for the space trip of the second part. Please let us know more about it.
M: We had in mind the idea of an initial score made from the concrete sounds of the life in the building. These sounds were found and processed by Michele Pedrazzi, aka Bob Meanza, an Italian artist and sound designer (and a friend) living in Berlin for many years. Michele treated the sounds in a non-naturalistic way and composed them in a crescendo: the repetition of the women's actions in the palace causes the sounds to stratify into a rhythmic base until the entrance of a chorus of female voices. The leap into the void is a prolonged pause of silence as if holding one's breath for a moment before the irruption of the imaginary. The chorus is the aural representation of the flock, of the women living in the palace; it comments on the story as the chorus in Greek theatre, following a climax till the final image when it takes on almost mystical overtones. And at the end, there is a ballet - after all, this film is a little musical.
ZF: Is your main character an ordinary (and hard-working) woman who becomes a superhero? How do you describe your character?
M: That woman is all of us, locked in our flats, chained by our habits, shivering in fear. She is certainly not a superheroine, she does not perform a gesture that could be called heroic, but she finds the courage to interrupt the inevitable repetition of daily actions that are reassuring before they are boring. This form of rebellion against conformity is what we should all do, risk our lives to overcome spiritual death. Then we can transform ourselves, live many lives and, as Juan Rodolfo Wilcock (an outstanding Argentinian-Italian writer that we love) quote at the end of the film says, measure the diameter of the cosmos.
ZF: In terms of production, was this a completely indie film from beginning to finish? No commissioning editors harmed?
M: Yes absolutely. We were working on the development of another film and we needed to do some tests to make sure our technique worked, but we didn't want to do exercises for their own sake. So, so we decided to tell a story and we made it together with Maud, Lilou, and Paul (then intern and also a collaborator in subsequent projects). Seiperdue, which put up the little money needed for the little film's expenses, is our production company with which we produce commercials and commissioned animations. It's a small structure and the traditional production chain is certainly a good experience, but very long for a studio like ours. In exchange, now Seiperdue has nice work to put in its portfolio. This film made a few and in a short time, has the freshness of a run down a hill. We came down breathless, with tears in our eyes, and much lighter.
ZF: I realize this was your first film, but it's not the only one. Can you tell us more about your other animation work (completed or in progress)?
M: La Mangoosta began to take its first steps in the shadows about six years ago and has taken us by storm: in these years we have made posters, record covers, advertisements, cartoons… We do at least one drawing a day. A few months ago, we finished our second film, which is called 'The Angst and the Bliss' and is about Raymond Roussel, a French writer who died under mysterious circumstances in Palermo in 1933. Roussel was a visionary, who lived locked up in his imagination, inventing useless machines and chess moves, and using an automatic writing system to write novels, poems, and theatre scripts. We spent many many nights with him. The film was produced by IKKI FILMS and is now touring festivals. From this film, we are now developing a VR experience, together with Michele Pedrazzi and Mads Vadsholt, a Danish game designer who works and lives in Viborg, which we will present in Paris in April at New Images Festival. We are currently in development for our third film, which will be about two explorers who get lost in the Amazon rainforest, and this time we will use a lot more colors. In short, we keep moving tormentingly, all you have to do is chase La Mangoosta somewhere, online or offline.
Film Review (Vassilis Kroustallis):
Birds of a feather sometimes cause great distress; in 'Flocks', they act (come and go) as reminders of individuality lost, a very prominent feeling experience in the Mangoosta film. Women of all persuasions are cleverly aligned in indistinguishable apartment flocks -we only see their facade- until the question of the superheroine becomes a more pressing one. It is pertinent that the only way to escape a dreary environment is to attempt the impossible, and the second half of the film shows that even this leap of faith is saddled with a lot of unsolved possibilities. Feeling its graphite to the core of its design materials, and working with a soundtrack that echoes and adds every palpable acting detail, 'Flocks' is a stirring reminder of our own precarious, gravity-less predicament, detailing ably both the dangers and the opportunities that this implies.
Credits:
'Flocks', 2D animation, pencils and marker on paper, 2021 (5'30'', Italy)
Story and design: Mangoosta | Animation/clean up: Lucia Malerba, Niccolò Manzolini, Maud Faverjon, Lilou Connes, Paul Cazals | Music/sound design: Michele Pedrazzi aka Bob Meanza | Editing and compositing: Niccolò Manzolini | Production: Seiperdue
About La Mangoosta:
La Mangoosta is a two-headed identity that devotes itself to the imaginary because our everyday life needs an exit strategy. So, we practice freehand drawing as a ritual to reinvent reality. The Mangoosta's identity comes from Alister Crowley's story about an imaginary mongoose that serves to ward off imaginary snakes. They are sketchers, animators, and explorers, looking for a lift to Amazonia where we will start the production of our next short film. In the meanwhile, they work on 2D animation and other projects, paid and unpaid, and they organize meetings for Tecnica Mista, a series of screenings and debates about animation and drawing sessions in Bologna, where they live in Italy. All of this, always keeping an eye on the Cobra.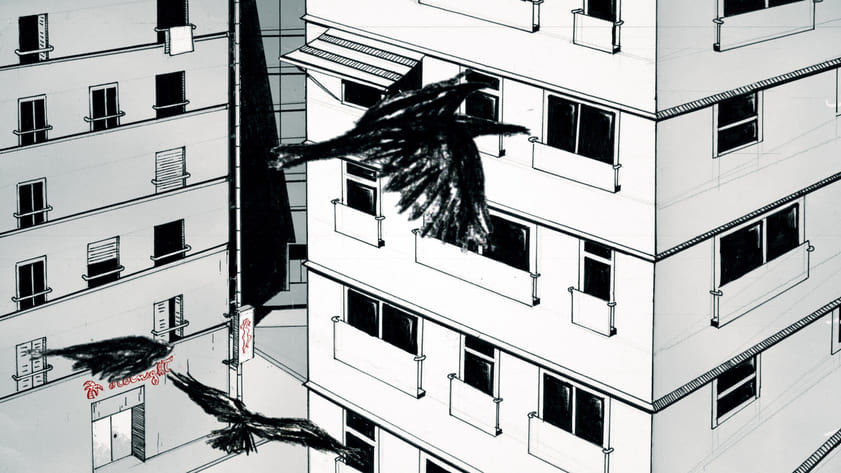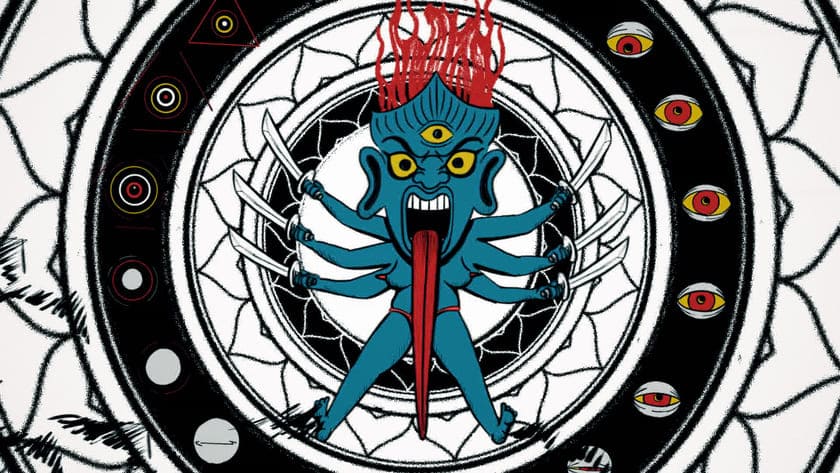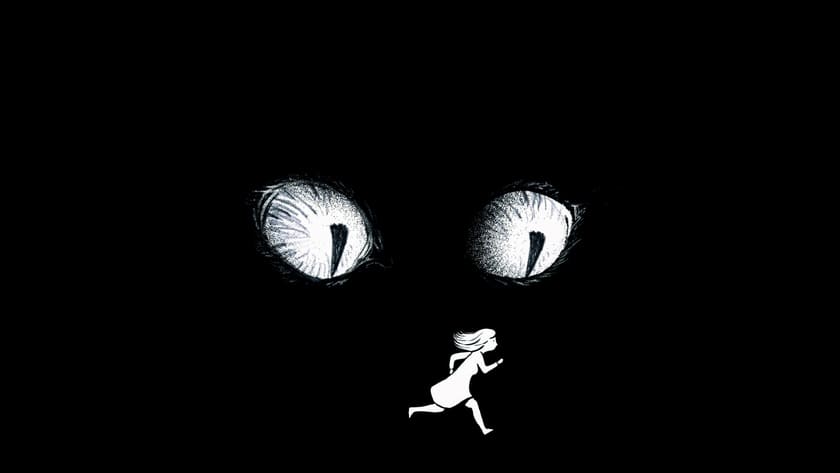 Contributed by: Vassilis Kroustallis
SIGN UP: Want to read more free articles like this? Sign up for Our Newsletter