Shorts
French 79- The Remedy by Daniel Stankler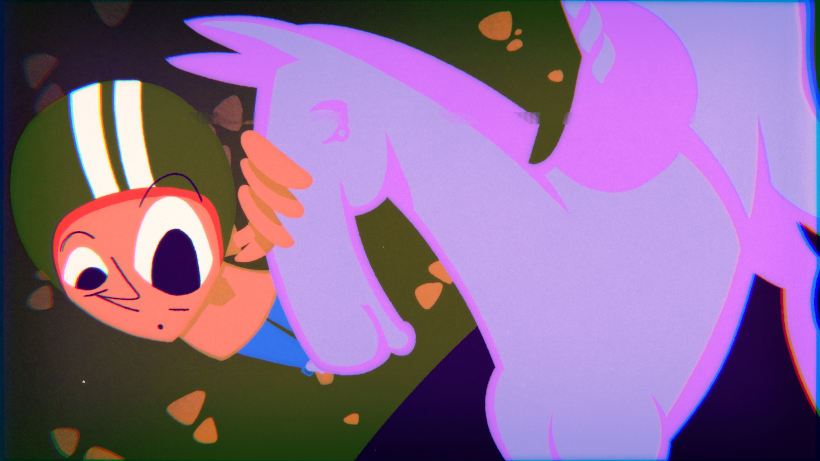 A boy explores an abandoned fairground one night in Marseille. This is the premise behind the music video French 79-The Remedy directed by UK-based animation director Daniel Stankler.
Daniel Stankler talked to Zippy Frames about the work.
ZF: You have experience with working with texts before, like The School of Life - Intimacy and Closeness. How would you describe the difference here? 
DS: The difference is huge! I think part of what draws me to animation is world-building, and this film was a real opportunity to absorb myself in an entire, self-contained universe. I really enjoyed the School Of Life animation, but working so closely, directly animating what is being spoken in the audio is a very different experience, in some ways easier because you're much more limited in your scope. Here, the lyrics and the audio were sort of like a jumping-off point, but I was essentially able to go from that point wherever I chose - so long as it fitted tonally with the themes of the song.
ZF: Was the fairground idea in Marseilles your own or suggested by French79? How did they find your (or you found them), and how did you develop the film in collaboration with them (brief etc.)?
DS: French79 and Alter-K, the record label, had a specific tone in mind for the film - something upbeat and nostalgic, in keeping with the themes of the French79 album Joshua. Joshua is partly autobiographical, about the artist's life growing up in Marseille, so it made sense for Marseille to feature heavily in the film. Setting the film in a fairground though was my idea - I feel like everyone has a childhood memory of exploring a fairground at one time or other.
Watch French 79- The Remedy
Initially I reached out to French79, and he forwarded my work to Alter-K. It seems to me that a commission is partly a matter of emailing at the right time, especially in the music industry, where there just isn't a commission until the artist has new work being released soon - so I think I was quite lucky with this commission in that despite it not being the right time when I first reached out, French79 and Alter-K kept returning to my work and we had been in talks for a while about the possibility of doing an animation for them when this commission finally came along. 

ZF: There are a ton of films with fairground scenes. Did you use any of them or perhaps you relied on your own experience / research?
DS: I actually didn't see any films with fairground scenes, but I did do a lot of research into old photographs of fairgrounds, from the Victorian period until the 80s. But I do think you're right in that, even if I couldn't directly point to a fairground in a film, I've probably absorbed a huge number of fairgrounds in films, so I sort of could imagine the aesthetic I was going for half by memory - which is exactly what made me pick a fairground for the setting in the first place.
ZF: Fairground topics can be very haunting and scary. What was the tone you wanted to achieve in this film?
DS: I'd love to make a haunted fairground someday as I'm a huge Gothic horror fan, but this one was definitely intended to be mysterious and magical rather than scary. We wanted to capture that youthful, excited Spielberg-esque 'anything can happen' optimism that kids feel when they go exploring. There's a lot of dark, muted tones in the film, but the intention behind them was always to make the lights of the fairground seem brighter in comparison, rather than create a sense of foreboding or horror.
ZF: How did you go on with the schedule in this project? People who helped you?
The film is 4.30 which is quite long for a music video, so the 8-week deadline was super tight. I was much more organised than my previous films, working shot-by-shot, to the extent I began to be worried the film might come across as formulaic. Thankfully I think it turned out okay - and I had a great team of people helping me, from producers Carla and Delwyn of Cardel Entertainment who were constantly there to hash out ideas, to Natasza Cetner on additional animation and colouring.
ZF: Any particular circumstances surrounding the film? I imagine it was made during the lockdown period. And what has been your artistic response to all this covid madness?
DS: Yes, this was a lockdown film! I think that does inform the tone of the film quite a lot - the client was very clear about creating something escapist, that the viewer can disappear into, which I hope I managed here. Personally I feel very grateful this film came about at the time it did, because the scope of it ensured I was occupied through the worst of the lockdown. I've been so impressed by some of my fellow illustrators' and animators' artistic response to covid and to the ways in which society has been forced to adapt, and in many ways I often feel like my own response has been pretty minimal. There was a point where I felt like I ought to have something to say. But I think fundamentally, I've always used animation as a form of escapism in the same way that immersing myself in a book is a form of escapism, and I think that's okay as well. I do hope that when the time comes that I feel I do have a response, I make it through my favourite medium - but in the meantime I'm just grateful I have profession I can immerse into, not one that I need to escape from.
Film Review (Vassilis Kroustallis)
Fairgrounds seem to be one of the most fitting places for Daniel Stankler to unfold the story of  a lost and found love. Using mirror reflections, split screens, image blur, repetitions and multiplications, his pointed and sharp angles invite (rather than prohibit) to a path of love and salvation. There is a calculated and well-placed amount of figures and shapes in an environment which is both playful and somehow unknown -waiting to be discovered. Tuned it to the soothing music of a person looking for their own remedy,  French 79-The Remedy becomes a journey both relatable and exciting.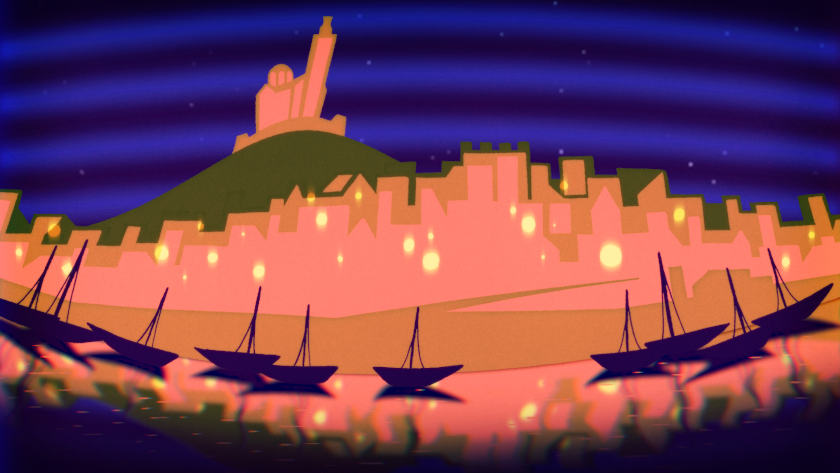 CREDITS:
Director: Daniel Stankler | Production Company Cardel: Producers Carla Mooney, Delwyn Mooney | Animation Assistant Natasza Cetner
About Daniel Stankler
Daniel Stankler is an Illustrator and Animator based in London, United Kingdom. (Although he's more than happy to travel). His illustrations and animations draw on themes from folklore and myth to psychology, history, cultural traditions and human behaviour. A recent graduate of the Animation MA at the Royal College of Art, London, when he's not doodling Daniel spends his time eating.

SIGN UP: Want to read more free articles like this? Sign up for Our Newsletter
Read More About: