Shorts
Ginevra by Tess Martin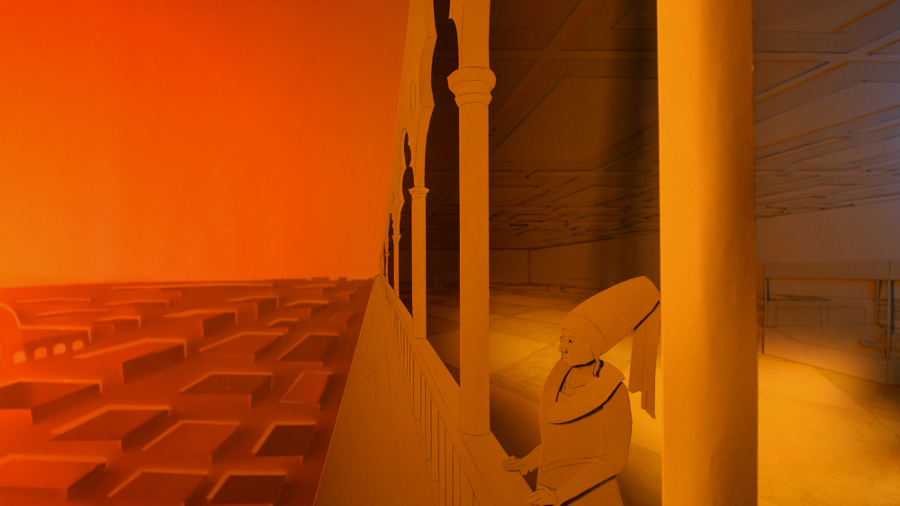 Ginevra short by Rotterdam-based US animation artist Tess Martin  and produced by Monticello Park Productions (Mark Rothman) explores the themes of death and loss through a futuristic fantasy lens, using as a basis an unfinished poem by Percy Shelley.
The poem The Dirge itself has a story of its own. It is based on the urban legend of Renaissance-era Florence of Ginevra degli Almieri, who is rumored to have woken up a full day after her death, and mistaken for a ghost by her parents.
Shelley did not live to complete the poem. His wife Mary Shelley (and author of Frankenstein) published posthumously (in 1824) the first two stanzas as its own work (the full poem here).
What Tess Martin adds to the poem is a strong, omnipresent, Blade Runner-inspired sense of lighting, as if the world of Ginevra and her mother is a place to be always lost and never found.
Cut-out figures (inspired from bas-relief paper sculptures) bring gravitas but not unnecessary grandeur. The third act (Ginevra transformed into a bird) gives a painstaking, step-by-step, close-up process of angels leaving the mortals and the longing of the latter, in an updated version of Wender's Wings of Desire - highlighted by the soaring riffs of Jeremy Lloyd-Styles.  
With 6 weeks in production, Ginevra was animated with stiff paper cut-outs, which would cast shadows when lit. Martin used a multi-plane animation stand with top lighting in her own Rotterdam studio. Lighting was created by clip lamps, combined with gels and colored (cream) paper. Ginevra was finished in January 2017.
{gallery}galleries/tess-martin{/gallery}
Tess Martin is a Rotterdam-based US animation artist. having created 12 short films and gallery installations since graduating from her BA of Fine Art in the UK in 2007, and the mastermind behind Hapticanimation.com. Her film Ginevra  had its first pubic screening at the Bellevue Arts Museum in Washington, USA, and its first festival screening at the Animation Block Party in Brooklyn, USA in July. It has since screened at numerous festivals such as the KLIK! Animation Festival in Amsterdam and the StopTrik Festival in Maribor, Slovenia. The film is part of the Campfire Poetry project, a series of short films based on late 19th and early 20th century poems produced by Max Rothman for Monticello Park Productions.

Credits:

Director:Tess Martin
Producer:Max Rothman
Composer & Sound Designer: Jeremy Lloyd­-Styles
Narrator: Alexana Ryer
Read More About: