Shorts
Grand Bassin by Héloïse Courtois, Victori Jalabert, Chloé Plat and Adèle Raigneau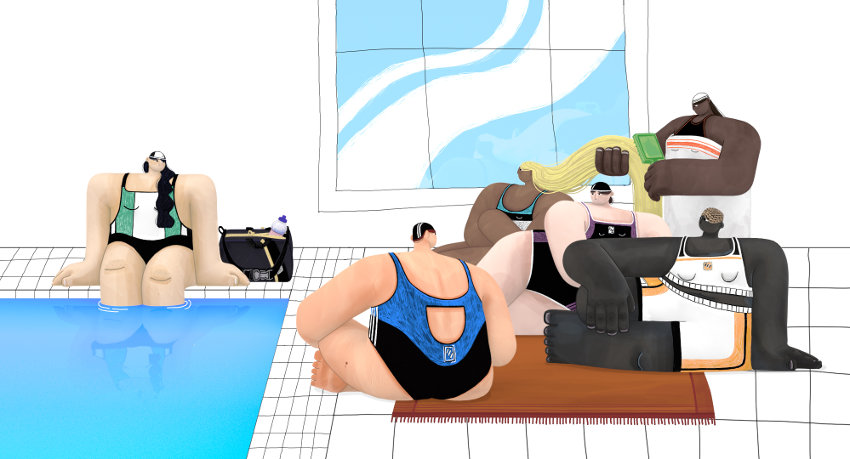 Grand Bassin is self-described as 'an afternoon at the pool'. It is the collective work of 4 directors and students at École des Nouvelles Images, Héloïse Courtois, Victori Jalabert, Chloé Plat and Adèle Raigneau. 
An episodic story with a lot of connected incidents, it got 64 festival selections and 6 prizes and distinctions, including the prize for best animated short film at the Warsaw Festival and the prize for creative revelation at ANIMA Festiva, and an Oscar eligibility for the 2020 Academy Awards (short film)
We talked with Héloïse Courtois at Zippy Frames to tell us more about the film:
Idea:
Some of the team members used to go to the pool and observe many fun and unique situation there. This is simply how the idea was born. This public place is fascinating. You find yourself naked in front of lots of people you don't know and yet everyone goes about their own activities.Most of the time you can relate to familiar scenarios : the two girlfriends who talk more than swimming and block the swimming line, the sportsman who splashes and passes everyone thinking he's at the Olympic Games, those who hang out on the stands watching others, or those who are modest and don't dare take off their towels... All these little situations are specific to this daily life place where all these characters find themselves for a moment, in a bathing suit gathered in the same pool.
Setting: 
We enjoyed the world of the swimming pool because it has a special atmosphere. It is a rather cold place, sanitized by its architectural geometric rigour, but also by the very recognizable sound atmosphere where all sounds are amplified.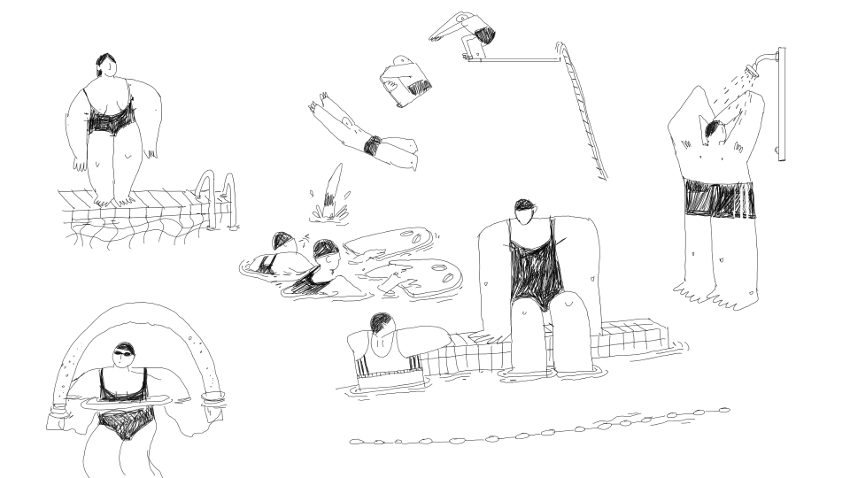 We found the contrast amusing : this small microcosm of life can be found in a place that seems so refined. We wanted to give life to these characters, by amplifying them, giving them body, amplifying them in the same way that sound amplifies our movements in the pool, representing those little moments of everyday life that we finally find poetic.
Story Development and Directing:
We  all worked on the development of the story. But it is true that we had a fairly defined aesthetic, based on many illustrations and concepts (Heloise and Adele) inspired by the pool and its characters. Inspired by a lot of classical painting for framing, we developed a story from a situation based on observation. Chloé Plat worked on the storyboard and was able to stage the film's progress while Victori worked on the transition from 2D to 3D illustration. It was definitely a challenge, because we wanted to find a balance in our image, to ultimately create a hybrid rendering. When the lookdev was finished, we almost all worked on the different stages of the film.  Victori did the rendering, compositing and animation, Chloé did the storyboarding, mainly all the animation of the film, modeling and texturing. Adele of the concept, modeling and texturing as well as 2D fx, and Heloise of the concept, texturing modeling, 2D fx and 3D blendshape.
Animation:
3D has been a real tool to put in volume the bodies, which we wanted imposing and graceful at the same time. The 3D volume information was very important to us, because we wanted to make the characters palpable by contrasting with the 2D backgrounds and sets. We approach the bodies' work as sculpture each pose and even each frame were re-sculpted using 3D blendshapes to give them the desired shape. 
For water, we used 3D to be able to have character reflections, but also 2D effects for all waves, and other water movements. Finally, 3D has been a real tool for animation management.
Sound Design & Music:
The sound played a major role as we had in mind to make the pool speak for itself by emphasizing its characteristic resonances and sounds. It was also important to sound these imposing bodies in a logically more amplified way. The sounds effects were made with recordings taken in several places, such as the school, recording studio etc. (trying not to get the microphones wet:) the ambient sounds were directly made at the swimming pool. Regarding the music, we had collaborated with the MAAAV school in Lyon. We had the chance to work throughout the year with two talented composers, Valentin Capdevila and Rémi Fay. After several exchanges, feedback and test together, we came with the final result of our music. They managed to capture our universe and transcribe it into music.  We are proud to have taken the opportunity  to make a film all together, to share this experience as we also share strong friendship In life. Furthermore, making it as part of Ensi students was pleasant, being surrounded by all the promotion was an asset. Even though everybody was busy working on their own film, the vibe remained nice.
Victori Jalabert and Héloïse Courtois are now working on a new short film, while Chloé Plat and Adèle Raigneau are working in Paris and Montréal respectively in animation studios.
Film Review (Vassilis Kroustallis)
Grand Bassin is the type of film that tells you more about what it doesn't disclose than what it actually shows on screen. Yes, swimmers of all kinds are ready to show off their bathing / athletic skills, and essentially their loneliness and inability to community in an environment which actually necessitates communication. The acute silent satire of community norms is an entertaining piece, but also filled with understanding about individuals; social pressure becomes harder when you dare show your body in public. Speaking of bodies, their sheer volume dominates the screen in a context where faces and thoughts suddenly become less important. The fight of individual bodies amongst themselves still gets its eventual battle with the water, a catalyst for all kinds of social interactions. With all the attention to minute story details and staccato singing voices, Grand Bassin a fine example of animation making a greater thing out of seemingly insignificant parts. 
CREDITS:
Grand Bassin, 2018Directed by Héloïse Courtois, Victori Jalabert, Chloé Plat, Adèle Raigneau
Original music by Valentin Capdevila and Rémi Fay Distribution: École des Nouvelles Images & Miyu Distribution
Thanks: Luce Grosjean (Miyu Distribution), Pierre Francois Renouf (L'ecole des Nouvelles Images)
SIGN UP: Want to read more free articles like this? Sign up for Our Newsletter