Shorts
The Village by Stelios Polychronakis: Greek Anatomy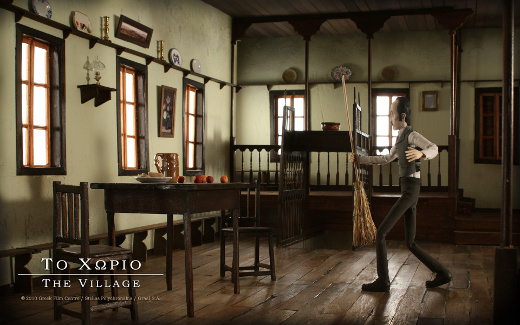 The awarded short The Village (To Horio) originates from 2010, and has now become available to view in HD. It is the story of a doctor, who mysteriously discovers that he is required urgently at the village. He arrives there after a long and difficult journey, only to find that the village is deserted.
The Village participated in the competitive section of the 50th Annecy Film Festival (2010), and has been screened in many international animation festival worldwide.
The film blends visual poetry for the long-abandoned Greek countryside with a sense of professional responsibility, and the need to heal the many scars visibly open in an otherwise beautiful country.
Stelios Polychronakis is a Greek 2D and stop-motion animator (also active as art director in big-budget productions). He is currently in pre-production of his next hybrid stop-motion/3D computer animation film, A Night at the Cemetery, an upbeat comedy.
 Here's the making of The Village:
CREDITS
Written, Directed and Animated by Stelios Polychronakis
Cinematography: Dimitris Horianopoulos
Original Music: Giannis Psaroudakis
Sets by Stelios Polychronakis
Puppet by Mackinnon & Saunders
Sound Design by Stelios Koupetoris
Produced by Stelios Polychronakis and GRAAL S.A. with the support of the Greek Film Centre.
Awards
Best Animation (London Greek Film Festival 2011)
Best Music (Drama Short Film Festival 2010)
Special Mention of the Jury (Drama Short Film Festival 2010)
SIGN UP: Want to read more free articles like this? Sign up for Our Newsletter
Read More About: