Shorts
Happy Ending by Eunju Ara Choi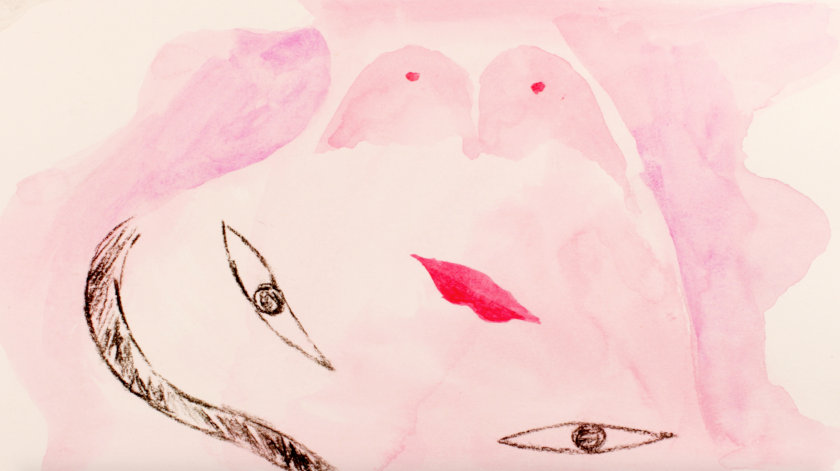 Happy Ending by Korean animation filmmaker is a poetic documentary animation based on an anonymous online testimony of a Korean prostitute. This watercolour animation explores what it is like to be the subject of other people's pleasures.

The film has been selected in International film festivals including Annecy International Animation Festival 2019 and BFI London Film Festival 2018 among others. It also got awarded with a Special Mention in Student Film Competition at Animafest Zagreb 2019. 
Watch Happy Ending:
ZF: The film is based on an online testimony of a Korean prostitute. How did you happen to find it?
EAC: The idea of making a film about a prostitute started from my childhood memory. When I was a child, I grew up in the red light district near the USA army base in Busan, South Korea. The fascinating red neon colours and people's giggling sound that I saw had stuck in my memory. In 2011 in Korea, many Korean prostitutes protested against the prohibition on sex trafficking, which led to intense controversy. All these things encouraged me to make a film about prostitution.
My initial idea was about drawing the Korean prostitution state with a political perspective. However, while I was researching, I realized that this subject has engaged in complicated situations. I considered how to make this film simplified with this controversial topic. But, co-incidentally, I found one Korean sex worker's diary on social media, who has been talking about her job and her clients. One of her episodes revealed how she portrayed her feelings when her clients objected to her body and desire. I was quite inspired by how she struggled to recover her real feelings/voice and body against the violence/ stigma. So I wanted to illustrate how she can uncover her objectified pleasure.
ZF: Did you actually have to change a lot in the testimony in terms of script to make it your own?
EAC: To protect my protagonist's security, I did not want to bring her actual testimony and real voice. Therefore, I adapted her text and wrote an English monologue with the poetic style. And I hired a professional actress in London for the official voiceover.
ZF: What are the diffrence in prostitution in Korea, unlike say, London,Berlin, Amsterdam?
EAC: Prostitution in South Korea is illegal, unlike in Europe. But the sex trade in Korea has continued to flourish in various places such as karaoke, massage shop, spa, studio flat, etc. Nowadays, a severe issue is that online sex trade brings brutal sexual crime. Most of the sex workers in Korea are not legally protected, so they are exposed to increased risks like sexual assault by their clients and their pimps. This discrimination happens not only in Korea but also in Europe. During the pre-production, I interviewed an English former prostitute through the sex workers community in London. In the interview, she spoke that when they face risk in the brothel or on the street, they are treated like criminals by police. And most of the sex workers in London are related to the immigrant issue. So she and her community are working on a campaign for the decriminalisation of sex work.
ZF: What are the main stylistic choices you had to make?
I would like to visualise the flow of female desire engaging in a body. However, my challenge was about illustrating her battle with fragile emotions and sexuality. I didn't want the audience to have offensive feelings when she narrated her sexual experiences with her clients. So I focused on drawing abstract images to raise poetic expression. And then, I set the main character was in the confined space where her desire was forced. That space coexisted with exterior space, but she was not allowed to leave the inside space. I would like to show her solitary struggle with a woman's body and desire.
In terms of colours, pink and red indicated the red light district where she was, and using green was for her desire. I would like to bring all of colours having an erotic atmosphere.
ZF: The shell that covers her body and glows is a protective shell -or an attraction shell to lure clients but keep her safe as well?
EAC: The 'shell' means an objectified body. The protagonist in my film was forced to feel her pleasure when she was selling her body. She felt that her body was built in filling with sexual desire for men. So she believed that her body was just a shell that had to seduce clients rather than keeping her safe.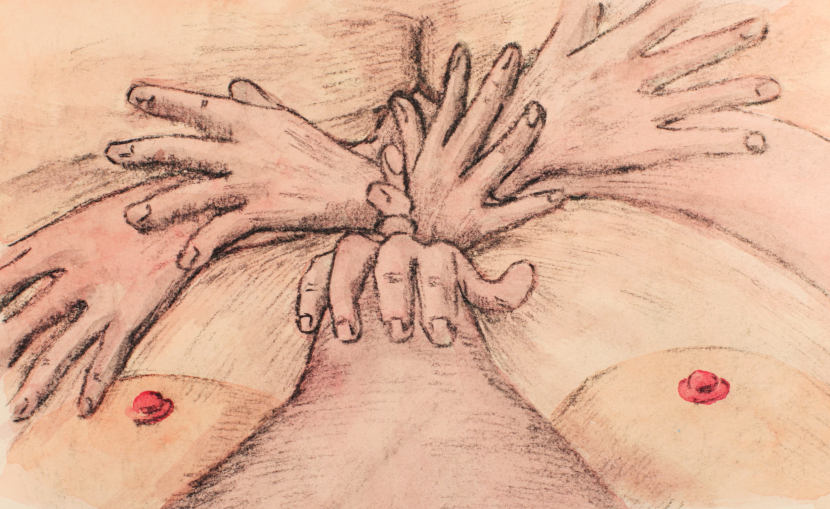 ZF: Did you animate on paper or you used a tablet?
EAC: This film was for my graduation project at RCA(Royal College of Art). My production schedule was time-limited. So I animated mainly on TV Paint for time management. But some scenes showing the character's emotion climax did directly on paper. Animating on paper can be led by my instinct and emotions, which can create an abstract visual style.
After finishing animating on TV paint, I printed every frame; my assistants and I coloured on each paper with watercolour and charcoal. The colouring process was quite time consuming. Without my assistants working very hard, I couldn't make it. I cannot be grateful enough for them. Once colouring was done, each frame was shot by a rostrum camera with Dragonframe software. I tried to scan each paper, but the scanned image couldn't work the attraction of watercolour. I could edit them on photoshop, but it took a lot of time. So I switched to use the rostrum camera that could show the watercolour effects. During the post-production, I used Adobe Premiere and After Effects for editing and composing.
ZF: Do you work with a storyboard and an animatic first or you went directly to animation here? What about other people that helped you.
EAC: I worked with a storyboard after finishing the script. First of all, I composed the first scene and the ending scene. And then, I added the middle scenes on the storyboard, but for a few scenes, I directly animated without the storyboard. While I was working on this film, it was hard to translate the prostitute's tough experience into a storytelling for the film. My tutors and classmates at RCA gave me a lot of advice about how real personal experiences can engage in the storyline of the film.
ZF: Loved the balance between music and sound design here. How did you choose the film beats to use the music, for instance?
EAC:  I worked with a sound designer, Benjamin Goodall, and a music composer, Rachael Philip, from the NFTS. Both of them are so talented and fantastic. My sound designer, Benjamin Goodall, created exteriors and interiors about her body and desires. He made sound corresponding to the slightest of her body and pleasures like an orgasm to evoke sensuality.
In terms of music, my composer, Rachael Phi/,lip, created a beautiful melody. While the sound was erotic and brutal, the role of music was very important to bring out femininity. The music tried to express her fragile beauty, so can help audiences get into the story.
ZF: Would you call your film against prostitution or against objectification of the female body?
Talking about prostitution is very controversial. Even feminists and prostitutes have different perspectives regarding this subject. In this film, I want to talk about how sex workers are objectified, and they lost their real voice and pleasure by force. My protagonist wishes she could recover her own pleasure and have confidence and sexual liberty to fight social prejudice and violence about prostitutes.
I believe that this film is not only for a sex worker's story. This film is also for a woman's story. I hope my film can encourage women to feel happy with their bodies and desire.
Film Review (Vassilis Kroustallis):
Happy Ending is an ebb and flow of human emotions, forced and released; without being a condemnation of anything in particular, A first-person narrative and viewpoint, sometimes it almost stares at the camera viewpoint, while at other times is preoccupied with its own, angular-shaped worries. Delineating almost completely the interior from the exterior -one of the film's pertinent subjects- it arranges even its sounds as a sea trip, with waves sometimes falling on rocks and other times enjoying the calm sea. Happy Ending is neither judgmental nor denunciatory; it simple seeks to understand, in its waves of colors and floating lines, the nature of desire -and its enforcement. It is like an open personal question, full of empathy and wonder.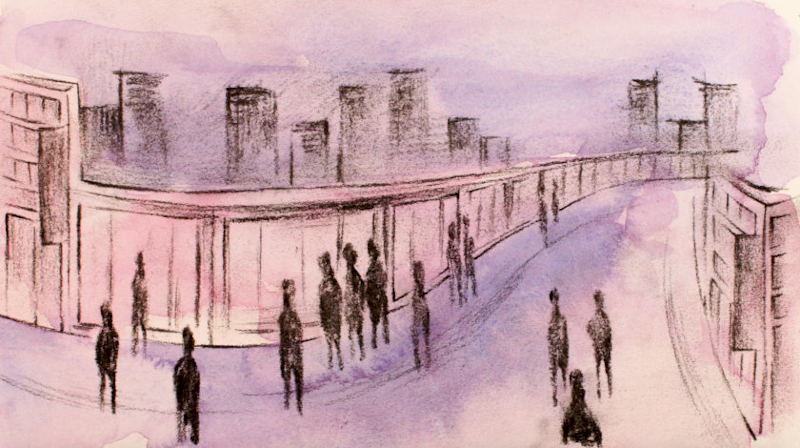 CREDITS:
Happy Ending, 2018
Director-Animation: EunJu Ara Choi | Additional Animation: Ansso An | Voice over: Yuna Shin | Music Composer: Rachael Philip | Sound design: Benjamin Goodall
Editor: EunJu Ara Choi, Sean Koo
About EunJu Ara Choi:
She studied MA Animation at Royal College of Art. Her works are 'Narcolepsy; in the between' and her graduation film 'Happy Ending'. She got an award of Special Mentions Student Film Competition at Animafest Zagreb 2019 and Special Mention Short Film Competition at Animaphix International Animated Film Festival 2019. She is currently living in Berlin, Germany. She is working as an independent documentary animation director.
SIGN UP: Want to read more free articles like this? Sign up for Our Newsletter
Read More About: