Shorts
'Have A Nice Dog!' by Jalal Maghout: Online Premiere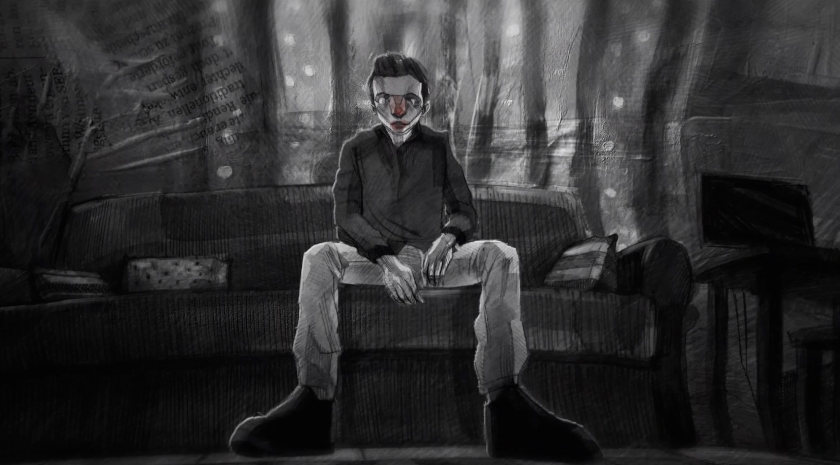 Syrian-born, German-based animation filmmaker Jalal Maghout has made a testament to the ongoing Syrian Civil War in his new animation short 'Have A Nice Dog!' (2020), now premiering online. Submitted as his Master's Thesis film in Animation Directing at Babelsberg Film University, the 2D animation short filters the war through the main character and his dog Baroud.
"In the film, I tried to deconstruct the complex feelings I experienced during my last days in Damascus (September 2013)", Maghout tells Zippy Frames. "The city, once so familiar, suddenly morphed into an alien landscape, causing me to seek a new personal space elsewhere". The film was based on both his own experiences and other people (first-hand witnesses of war situations).
"Damascus is a city where there exists a surrealistic contrast between an act or semblance of life, and the battles that are seen and heard just in the nearby countryside", he eloquently describes. " We lived in a safe district, but the helicopters and military jets flew over our house every day and bombed the surrounding areas. Just two or three kilometers away, people are bombing their homes, while at the same moment in Damascus, you can be sitting in a café. A surreal situation".
Baroud ("gunpowder') is the name of the dog in the film, and Jalal Maghout's own dog that lived with his parents; the dog experienced first-hand all those events, and being scared was the most natural reaction. "Unlike human characters, a dog cannot hide its feelings". But, as surreal and exaggerated its reactions might be, they do reflect in contrast a human defense mechanism that needs to adapt to new and unusual situations, and just 'go on'.
The danger, though, was still there both for the director and countless people who wanted to flee the country or risk dying staying there. " When I met someone during my last trip to Syria, this one thought came to me: this could be the last time I see them". Maghout wanted to use the element of freedom of movement ("a fundamental human right") in his film, at the same time acknowledging that it might be a pipedream for millions of people around the world ("countless people have been trapped in politically imposed quarantine-like conditions for decades"). And this is reflected very vividly in the film's own story -Maghout still keeps family ties to Syria.
Those harrowing events get transformed directorially into a similar yet even more distorted image in the film. "I do believe that the same event can be different according to the perception. In fact, reality undergoes a sort of multiplication every time it is perceived". Yet Maghout's own predicament (he still keeps family ties to Syria) makes this fictional situation not too far removed from reality -even if artistically modified to deliver it emotionally.
In terms of preparation, most of the main elements were already on storyboard. But his working with a limited crew number made him explore both spontaneity and the guidance of creativity, something that he enjoyed ("This flexibility allows my imagination to introduce unexpected details into the work").
Jalal Maghout feels a continuous thread with his earlier film 'Up Here, With the White Gods'. But he identifies as the crucial element in 'Have A Nice Dog!' to find ways to realize "a surreal spatiality. "The main character traverses a landscape defined by his delusions and imaginations. The mixing of different techniques was the way to create the spaces that oscillate between fluidity and groundedness, facilitating spatial transitions".
Watch 'Have A Nice Dog!':
In turn, this translated into pencils, ink, aquarelle and paper collage as the main techniques of animating in 'Have A Nice Dog!', both hand-drawn and digitally (Moho, After Effects), and in harmony with Jalal Maghout's Fine Arts background. The film has a 3D feel, but no 3D software was used. "I created the three-dimensional feel in some scenes by manipulating 2D layers. In some shots for example, the face of a character consists of about 15 2D layers painted on paper, by combining them together and animating them separately you even get that 3D feel of the face".
A fact that cannot be missed by watching the almost cubical faces of the dog and the main character. "Most of the film is mainly how the main character perceives the world, the rather disrupted world, and the way how he sees the faces that are trying to be normal; the way how he tries every day to escape these faces to finally reach his sofa, his safe shelter, where he starts to dive in his episodes of introspections and imaginations, waiting for a chance to escape the whole place".
The visual design and animating were done by Jalal Maghout himself, with Karsten Matern as a producer, Dascha Dauenhauer as a composer, Oscar Zöllner as a sound designer, and Nicolas Voss as a sound supervisor and mixer, and his supervisor Christina Schindler, and he enthusiastically acknowledges everyone's contribution.
War representation is a tricky film; sometimes, we want to simply get away from these events. At other times, a definitely closer look is mostly needed. "I have employed both approaches at various points in my own work.  I always like to get reminded that there are unlimited ways of telling a story. For instance, a still-life painting of a flower pot has the capacity to showcase the beauty of nature, evoke a sense of calm and refreshment, and exude warmth. However, it can also take on a contrasting tone, imbuing the viewer with a sense of harshness, unease, and anxiety. Art is a blank canvas for exploration, and there's no singular path that artists must follow".
Jalal Maghout is currently working on the post-production of his short animated film 'As I Was A Tree', and is developing his next project, 'The Heaviness of Absence', presented at the Drama Pitching Forum and in the upcoming CEE Animation Forum. The latter project will be further developed during his NEF Fontevraud residency (starting October 2023). He's also working on his first feature-length animation film script 'metavitrina'. He believes in the power of the animation medium to mediate both dreams and memories, but also personal realities and individual perceptions of the world. Both are evident in his work.
Film Review (Vassilis Kroustallis):
War is a harrowing affair, and so does it feel the animation short by Syrian-born Jalal Maghout 'Have A Nice Dog!'. A distorted 2D version in grayscale, it won't eliminate faces and bodies -but will simply alter them in ways that the animated medium can accomplish. Between reality and hallucination (and an inventive scene of animating in toilet paper), the film concentrates on the ones who have been left behind; the passive recipients of the war rather than its active makers. By focusing on the young (using at the same time all related social media accounts), Maghout succeeds in giving an image of semi-normalcy amongst the chaos; and whenever normalcy is not enough, hallucination will follow. The eponymous dog as the character's alter ego is everything the young man won't allow himself to be: greedy, shameless, and needy to the core. By focusing directly with his camera shots on the characters' walking or running trajectories and providing a background environment that could easily be the computer game screen, 'Have A Nice Dog!' makes it more realistic and daunting at the same time. The film won't just show how bad war is but tell you that being undecided, being jealous, and being a frail human being still operates during the worst conditions. There are no heroes here, and this identity crisis is all the more clear and present in 'Have A Nice Dog!'.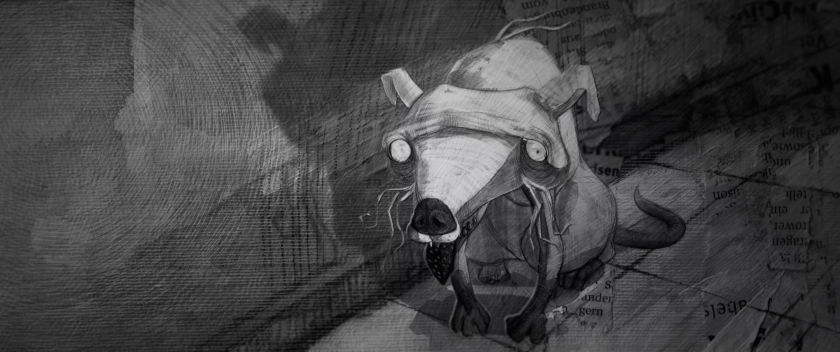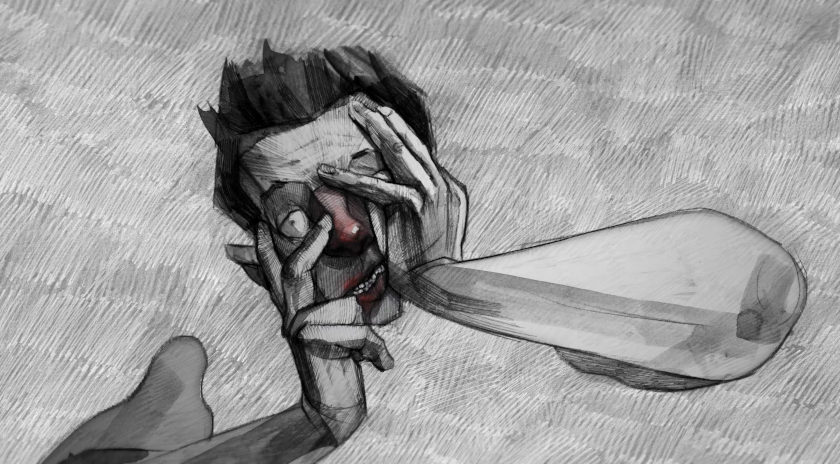 CREDITS:
Have A Nice Dog! A film by Jalal Maghout
Music & Music Recordings: Dascha Dauenhauer | Vocal: Anne-Kathrin Meyer |  Violin & Violoncello: Benjamin Schneider | Piano: Dascha Dauenhauer | Sound Design: Oscar Zöllner | Foley Artist: Peter Sandmann | Voice Recording: Oscar Zöllner | Voices: Husam Chadat, Eman Dwagy, Bassam Hashem | Sound-Supervision & Mix: Nicolas Voss | Line Producer: Anne-Kathrin Seemann | Production: Karsten Matern | Consulting: Prof. Christina Schindler
About Jalal Maghout
Jalal is an animation filmmaker from Syria. He started his film career in 2010 with "Creatures of Inexistence", which was his bachelor's project at the University of Damascus. Upon graduating, he worked at the university as a Visual Arts lecturer. In 2013, his short film "Canvas on Mixed Media" was presented in Annecy and screened on ARTE. Soon after, he left Syria for Berlin, where he started working on his animadoc "Suleima", which premiered at the DOK Leipzig 2014. It was also the first ever Arabic entry to be selected for the short film competition at Annecy 2015.
Jalal premiered his film "Up Here, with the White Gods" at ITFS 2020. In the same year, he completed a master's degree (with honors) at the Film University Babelsberg. His graduation film, "Have a Nice Dog!", premiered at Filmfest Dresden and has since screened at numerous festivals, winning multiple awards. Most notably, the film qualified for the Animation Short Film Oscar 2020 by winning the Grand Prix in Uppsala. In addition, Jalal also served as a jury member at the ITFS, Annecy, and other festivals. 


SIGN UP: Want to read more free articles like this? Sign up for Our Newsletter
Read More About: