Shorts
Heatwave by Fokion Xenos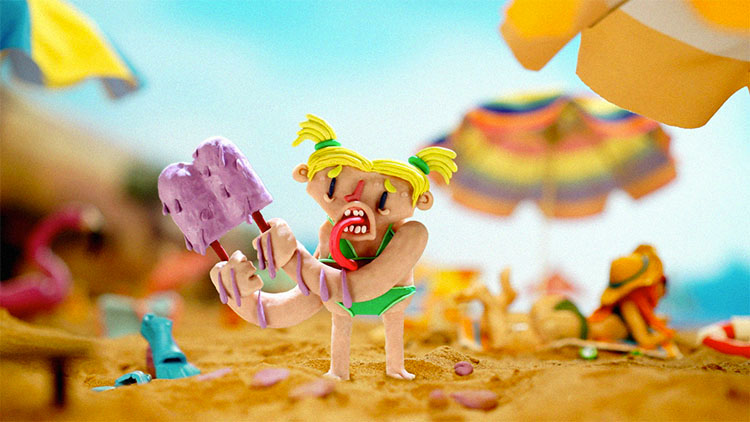 "Ι wanted to make a vibrant, colourful film that is unapologetically fun and optimistic". Fokion Xenos is a Greek animation filmmaker studying in UK. His Heatwave, 7-minute claymation short became one of the selected stop-motion films to compete at the graduation section of Annecy Festival 2019.

Grown up in Athens (he graduated from TEI  of Athens /Graphic Design Dept. 2014), Fokion Xenos'  Heatwave is a product of his post-graduation studies at National Film and Television School (NFTS).
In the summertime a quirky crowd occupies a Greek Island beach. As the sun gets increasingly hotter people get lost in their petty personal problems. Despite that a little girl and boy dare to show everyone how to have fun! - Film Synopsis
The film itself is more than fun and optimism; it presents a accelerated journey, finely tuned both in storytelling and directing, which tells about fake community troubles and their eventual resolution.  
Watch Heatwave: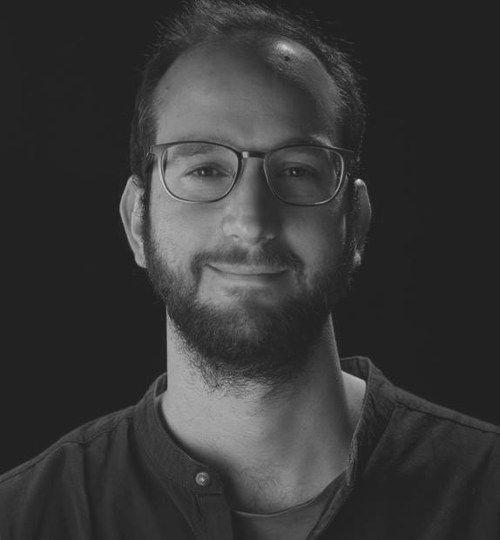 ZF: What Heatwave means to you as a dramatic choice?
FX: What we tried to explore with Heatwave is how we tend to get lost in our own problems and anxieties and lose focus on what's good. At first, I wanted to pay homage to the greek summer of my childhood and the playfulness that I still find lingering in this season. The swimsuits, the gear, the transport, the complains, the best spot for the umbrella, the gossip etc. etc
Traveling abroad much older I found that these repetitive themes take place in every busy beachside and it is a universal and timeless behaviour rather than a Greek thing. A beach can be the microcosmos of a society, I guess, and human behaviour is not that different. The heat came afterwards as a catalyst to tell the story.
ZF: How you worked with clay in the project?
FX: The main material used in Heatwave is oven baked clay, Super Sculpey and Fimo. There are two stop frame techniques that I used. On wide shots with the crowd, we used a replacement animation technique. Once we get closer to the characters, we used a combination of rostrum camera cut out and miniature photography.
I had worked with plasticine before, but the oven baked clay materials opened up brand new possibilities for me. On the rostrum, I found that I could maintain a drawn, squash and stretch look for my characters while preserving their physical tactile quality and detail. Baked clay was used for the details in a cut out fashion and the unbaked for the more flexible bits.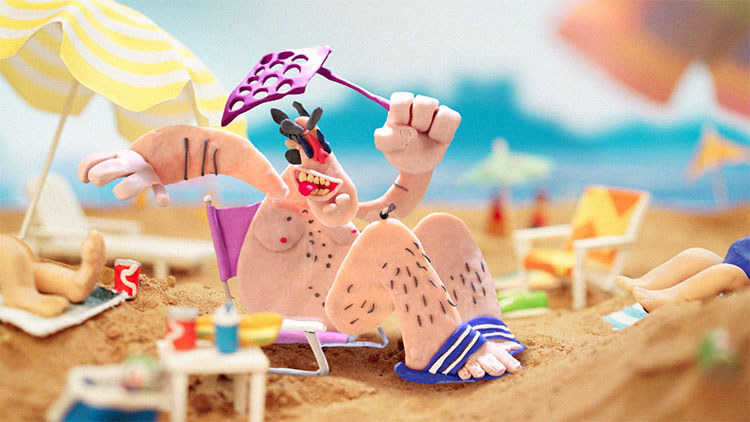 For the replacement animation part, we made over a thousand individual models to convey this aesthetic of a stream of people. Each character was pre animated with at least three replacement models.
A lot of preparation and coordination made the shooting really fun. I worked very closely with my team and I never could have experimented that much without their support and contribution. My friends Thanos Katzavelos (Lead Model Maker), Brenden Freedman (Cinematographer) and Alexandros Apostolakis (2D Animator) were all part of this process. We figured out how to streamline the process and give the film its unique look in an efficient way.
ZF: Tell us about the NFTS experience
FX: The NFTS is an amazing place for aspiring filmmakers, being mentored by the amazing animation department and collaborating with some of the most talented people.
It is an overwhelming amount of work and stress, don't get me wrong! But it in the end the course allowed me to challenge myself and solidify my vision as a director. The school's focus on storytelling in combination with the all student teamwork definitely gave me an insight in what truly interests me and how to communicate that with other people.
The hardest part of the process for me was to nail down this more observational way of storytelling that is featured in HEATWAVE. It was hard to communicate the physical comedy in script form and even more so when the film is relying on rhythms and receptions. Luckily I had an excellent team in post production that helped me grow the idea organically in to what I envisioned. I worked very closely with my editor Stella Heath Keir in order to tell the story in the most efficient way while keeping the film fun and exciting for the audience. Music (Andreas gutuen Aaser) and sound (Kevin Langhamer) where brought in the mix really early on as the audio had to work hand in hand with the visuals.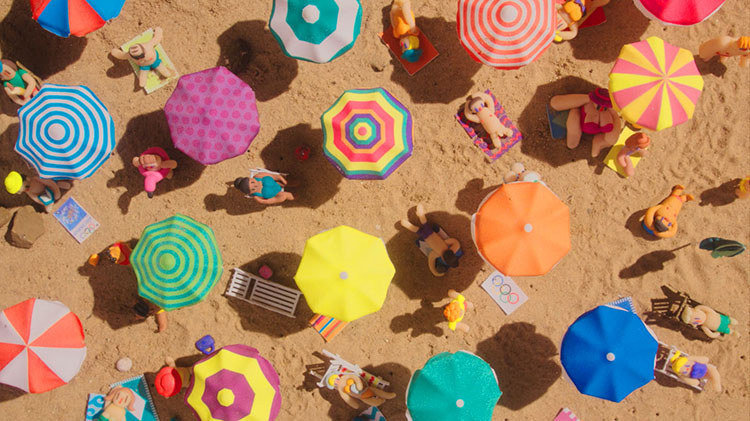 ZF: What is it to be a Greek in London?
FX: I have worked in Greece for pretty much all my life and with great benefits. The dire circumstances in Greece in the field of design and filmmaking provided me with a "jack of all trades" approach that really prepared me to be vigilant about self improvement. However I think there is a vast amount of things for me to learn from the UK professional world. I feel comfortable looking for commercial work for the time being as I am developing my next film. When the time comes I don't mind making it either in Athens, London or wherever as long as I get the chance to work with my team and new creatives. I am interested in Animation as it scratches all my itches, giving me the opportunity to play, learn and work with amazingly talented people no matter the place.
I am interested in playful stories that involve bold humour but preserve their humanity. Experimenting with old fashioned techniques in combination with modern day technology is a delight. I am eager to animate in any techique that will help deliver the story that connects with the audience.
Heatwave had its premiere at the 2019 Annecy International Animation Film Festival (graduation film), and has won the 30thh McLaren Award (Best British Animation) at the 73th Edinburgh International Film Festival.

Heatwave (2019, 7')
Directed and Animated by Fokion Xenos
Produced by Priya K. Dosanjh / Production: National Film and Television School
Story by Fokion Xenos & Stella Heath Keir / Cinematography by Brenden Freedman / Edited by Stella Heath Keir
Music Composed by Andreas Gutuen Aaser / Sound Design by Kevin Langhamer / Production Design by Antonio Niculae
Production Managment Joseph Phillips
Modelmaking Lead by Thanos Kantzavelos / Character Design & Animation by Alexandros Apostolakis / Colour by Liz Glennard
Production Assistants: Amy Veracombe Pia Kaiser / Sets and Props by Harry Saxon Thanos Kantzavelos / Animation & Modelmaking Assistants: Georgie Beattie George Carman Lottie Buchanan
Matte Paintings by Stefanos Pletsis / Graphics & Titles Christos Panagiotou / Keying & Compositing Max Murray Daniel Quirke
Production Co - Ordinator Alessandra Gonella / Marketing & Publicity Executive;  Alexandre Ermakov / Additional Props & Models: Evan Nyack Gemma Byrne
Voice Cast: Frida Bradbrook Luka Bradbrook Yiannis Lanis Kostis Lanis Orestis Georgakopoulos Iasonas Georgakopoulos Fabio Mota Matthew Lee Robin Whalley Ines Adriana Lisa Ott Rhenaldo Pelle Fokion Xenos Jose Pablo Ramirez Kevin Langhamer
Special Thanks to OUT. THERE Studios Lydia Rhynne Connor Keane Yiannis Rallis Michael Filocamo Odd Bleat Animation ASIFA Hellas Deep Green Sea Yorgos Tsouryiannis Joan Zhonga Irida Zhonga Effie Pappa Electra Fotopoulou
Key Partner Sponsors 2018:  British Broadcasting Corporation / Film Distributors' Association / /ITV / Sky / UK Cinema Association
Key Partner Funders 2018: Creative Skillset Film Skills Fund Department for Digital, Culture, Media & Sport Office for Students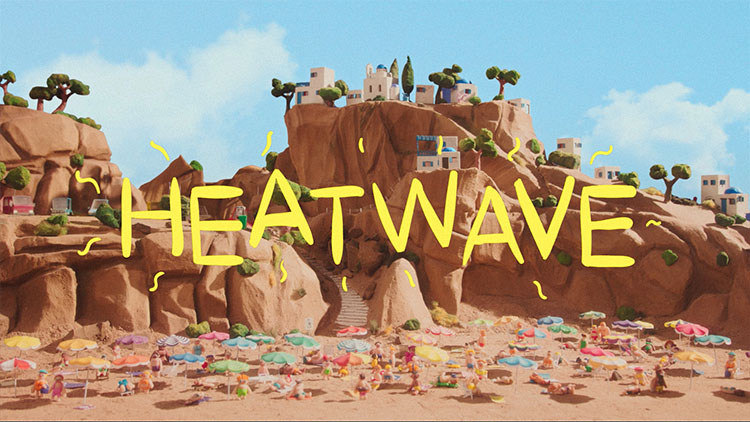 SIGN UP: Want to read more free articles like this? Sign up for Our Newsletter
Read More About: