Shorts
Hide by Daniel Gray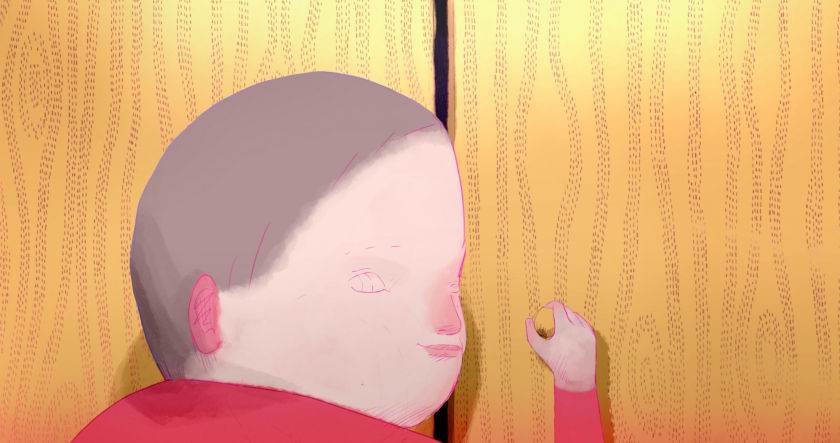 UK-born, Hungary-based animation filmmaker Daniel Gray ('t.o.m.', 2006; 'teeth', 2015, co-directed by Tom Brown), has certainly made a name for himself for combining the familiar with the horrific.
In his latest, multiply awarded animation short, 'Hide', produced by La Cellule Productions, CUB Animation, and The National Film Board of Canada, he has two brothers interacting and some years in between passing by.
Two brothers entertain themselves with a joyous game of hide and seek while their parents cook dinner. As one boy counts, the other quickly hides in a small cabinet full of glasses, stubbornly determined to win. Seconds pass… then minutes… years… and decades. Every so often the boy peeks out of the sideboard. What he sees is strange and unfamiliar. With each glance, everything and everyone he once knew changes and fades, until he is left alone - Film Synopsis
Gray has definitely a knack for the visceral, even if here subdued. The color of blood and all its purple variations, protruding fingernails that attempt to reach the outside, and veins that seem to want to leave their owners are here treated as part of a very time-consuming, hide-and-seek game.
More poignant than scary (rain patters gracefully both in the beginning and the film's end), and more closeted than probably intended, 'Hide' is an all-prominent declaration of what you leave out when you decide to withhold life, and let it unfold without your participation. The film is masterful in giving us all the various angles and shots inside the boy's closet as if we are inspecting him via a CCTV camera; on the other hand, life in the apartment looks more prosaic in comparison, but still more secure and fulfilling. The character's oversized head looks like a receptacle of memories unlived (but only watched), and the frequent opening and closing of the cupboard door become a reminder that a peephole is only a substitute for watching unimpeded.
Time is obviously the key parameter in Gray's 'Hide', yet space in the film is either thwarted or rendered inconspicuous as well. With dialogues that simply record the experience of now family outsiders, 'Hide' becomes a masterful representation of missing out - without the courage to actually get out.
Watch 'Hide' by Daniel Gray:
SIGN UP: Want to read more free articles like this? Sign up for Our Newsletter
Read More About: