Shorts
Hedgehog's Home /I Love Creating Worlds: Interview with Eva Cvijanović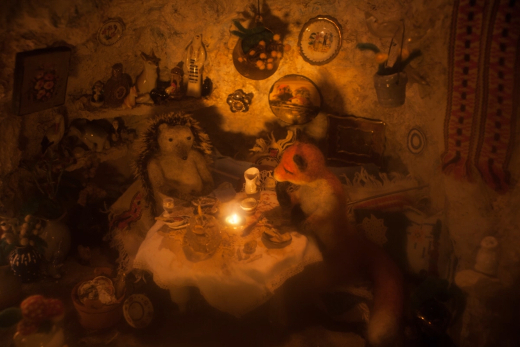 The film premiered at the 2017 Berlin Film Festival, and soon Montreal-based animation director Eva Cvijanović became a festival darling.
With prizes both at Animafest Zagreb (Special Jury Award and Audience Award) and Annecy (Young Audience Award), stop-motion Hedgehog's Home (NFB / Bonobostudio, 2017) is one of those tales that stay with you long after the ending credits.
Nothing to do with the story itself, but mostly with the feeling that Eva Cvijanović brings into her films. It's not just technique, it's the passion of storytelling with images.
Watch Hedgehog's Home:
We met the director during the 2017 Annecy Film Festival.
 ZF: Why do you love making films?
EC: For many reasons. I love creating worlds, and I feel like each film is its own little world; I travel through it, and I hope to bring to many others this travel. Another reason is just my way of connecting with people. Some of us are very good with words or have a different ways of connecting. I feel that hope my films open up a conversation that I wouldn't otherwise have with somebody.
ZF: What is animation for you? Images, words, sound, music?
EC: A feeling. The collective feeling of the film is perhaps the most important element. Visuals, characters contribute to it. My own films are quite character-based, and have some kind of story. I grew up in the environment that had a lot of stories, expressed via all media available at the time (films, videogames, literature). It's like going on a journey, which I like a lot.
ZF: Hedgegog's Home is a very famous book by Bosnian Serb Branko Ćopić. What was the special feeling that led you into making this stop-motion film?
EC: For me it was a story that I knew since childhood, and was fermenting into my brain for a very long time. Once I read it as an adult, it had this distinct feeling of home. Home here being neither a territory nor a space but an environment, and something you do really, with love.
ZF:  Who illustrated the book?
EC: It had a very famous illustration by Slovenian Vilko Gliha Selan (1962, although the book itself was written in 1949), and was widely read through the 1970s. This is the reason I chose to do stop-motion, because I did not want to copy his own illustrations.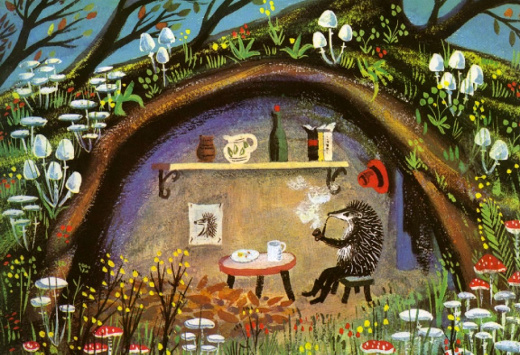 Vilko Gliha Selan book illustration

They have a pastel, watercolor style, and a very folk feeling, which can't really pinpoint it in a specific era, that's why it's so popular. But I didn't want  it to be "moving version" of what everybody already knows. I wanted to get deeper into this world, step out into the third dimension; stop-motion uses tangible materials and could convey (something which is harder with 3D) this folk feeling of the book.
ZF: Is the hedgehog in the book also standing upright, as it does in your film?
EV: Yes, all animals do. They are also clothed as well. In the book, the fox has a dress and boots. In the film, I took off the clothes from all the animals, because I wanted to bring them more into the forest, and also take away the cultural references that can bring people into different interpretations. So, I designed the characters that way.
ZF: How did you choose the felted-wool as a material for your film?
EV: I discovered it through other works of colleages, and surfing through arts and crafts websites. I hadn't seen by that time Oh, Willy [by Emma de Swaef and Marc James Roels,which used the felted wool technique]. Now, I see more films coming out in this technique -also Špela Čadež made the trailer for the Netflix drama Orange is the New Black .
ZF: How difficult is to work with this kind of material?
EV: I really like it, it suits my sensibility. It's very close to oil painting, you can make mix the colors, and use the needle to make very fine details, both in animation and design. It also conveys  warmth; I wanted to get the feeling of people covered up with a warm blanket on a cold, winter night. For me, that's the feeling of home. Wool had also a very tangible element, a folk side to it, and the colors we used were vibrant and beautiful, so it was a way to reference the book -without directly referencing it.
ZF: What about the scenery?
EV: Everything that is living is wool; for the trees I was inspired by Chris Lavis and Maciek Szczerbowsk technique. I worked on their Higglety Pigglety Pop! (2010) as an intern. We used mostly acrylic and paper, and we got some real stones for the stonehouse - and I picked the stones from all over Croatia, actually.
ZF: So, you did go to Croatia to make the film?
EV: I spent a whole year there. We had a team of 5 people making the sets and 2 animators (Ivana Bošnjak, Thomas Johnson); stop-motion is not my specialty, but I wanted the film to be beautifully animated.
So, I spent each second of the day with the whole team guiding them in the acting and the style we were doing for the animation. Iva Kraljević (who did the editing at Nighthawk for Špela Čadež) was the editor here as well, along with me.
ZF: How did this idea get off the ground in terms of production?
EV:  Surprisingly, the book had not been done into an animation film before (only as a storybook).  I talked to Jelena Popović at the National Film Board (Canada), and she loved the idea.  When my film Seasick entered intto Animafest Zagreb, we thought it would be great to try a co-production in Zagreb. So, we found Vanja Andrijević (Bonobostudio), and production started.
 ZF: But you've worked with NFB before.
EV: I did two very short films. Within the NFB Hothouse programme, a 3-month crash course on filmmaking, I completed my first film, Kiss. I also  worked in other projects as an animator, and I was also part of the Naked Island project, very short films with socio-political messages; it was done before Hedgehog's Home, but released afterwards.
ZF: What about your film Seasick? Was it an NFB film as well? And are you yourself seasick /homesick?

EV: It was an independent film, but they did help me with sound recording and post-production, which can be really expensive for independent fimmakers. jMy home is where my friends are. I don't want to choose a country or a land as my home. I grew up between Sarajevo and the Croatian coast. My mum is from the peninsula Pelješac, near Dubrovnic -the village of almost  300 residents is called Viganj. So, I spent my childhood summers there. I left Croatia when I was 11 years old, and moving to Canada, which is winter 6 months of the year, I had definitely a sense of nostalgia for the sea .
ZF: Hedgehog's Home is situated in the summer?
EV: It's late summer. It's my favorite season, and lighting was very important in the film as well. We had a great DoP (Ivan Slipčević), who also works on documentaries and live-action films. Lighting conveys a feeling, and gets the different settings of the negative characters as well. I like to play with color a lot. Ivan was able to convey the light that comes through the leaves as something magical.
ZF: You're quite fond of the sky as well. I've seen at least two or three shots pointing at the sky, as if the earth itself was our home.
EV: I do think that the earth is our home. I  spent a lot of time gazing at the sky, which is so different in different parts of the world. Last year I was in Rome, and I understood why Romans had this God-complex; the sky is so epic. So, yes, it 's important.
 ZF: Panning shots of Hedgehog when he goes on to meet his opponents, and this Ennio Morricone-like score remind me of Sergio Leone's Once Upon A Time in the West.
EV: I wanted this kind of score. Darko Rundek is a famous Croatian rock star, and his music has a wonderful storytelling element. I imagine Hedgehog as this lone cowboy-type. They always have this kind of epic, classical-hero presence. I was very much inspired by spaghetti western, also in the lip-sync.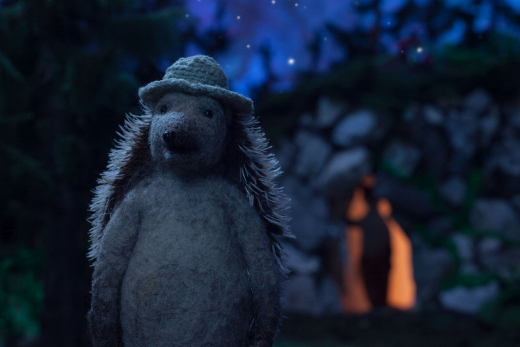 We knew from the start that we had to have the film in three languages (Croatian, English and French), and  I remember dubbing of films in those old Italian westerns was never accurate. So, we animated the character in order to be a little out-of-sync with the Croatian and English version of the text.
ZF: How did you convince Rade Šerbedžija (Eyes Wide Shut, Harry Potter & The Deathly Hallows Part I),  to be your narrator?
EV: He was hard to find, but it was great when we actually found him. Like everything else in the Balkans, you need a lot of friends. He read the book to his children, and I had the puppets already made when we did the recording. We also recorded him in Sarajevo, my hometown; it was fine to bring Sarajevo a little bit to the making of this film. The way the book was written, in decasyllables, also fits in the mood of the hero going on a quest.
ZF: A lot of hard work to translate.
EV: The English translation started in pre-production; we worked with Toronto-based translator Amela Marin, and she's experienced translating poetry.  In a way, we also translated the culture, the humour. The French translation was done by two of the best French translators in Croatia, Vanda Mikšić and Evaine Le Calvé-Ivičević. This was much quicker; the French looks more poetic in relation to Croatian, whereas English seems more straightforward.
ZF: So, do you think this is a children's film?
EV: I hope this is a film for everyone, that's how it was made. I hope children can relate, and the feedback has been positive. At the film's world premiere at Berlin Film Festival, we had straightforward questions from the audience about the story -for instance, what happened to the fox. (This is the question that Michael Fukushima, executive producer for NFB, asked me as well).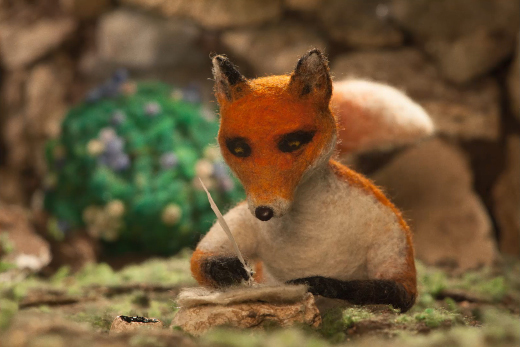 This is not a question being answered in the poem itself, but I put a subtle answer in the film. I was really happy that kids could actually grasp the story and put themselves in it. Maybe adults perceive it at a different level, but you need to kind of travel with the same character in different ways.
ZF: What are your Annecy expectations and next plans?
EV:  No expectations It's my first time here, and a big festival -trying to get a grip on the whole thing.  I'm working now as an animator in a feature film Ville Neuve by Félix Dufour-Laperrière (hopefully at Annecy next year).
ZF: What kind of animated films would you like to take with you on a voyage?
EV: I like films that confuse me a little. I like slightly absurd films, humour; films that connect on a deep level.


INFO & TRAILER
Hedgehog's Home (2017)
In a lush and lively forest lives a hedgehog. He is respected and envied by the other animals. However, Hedgehog's unwavering devotion to his home annoys a quartet of insatiable beasts. Together, they march off towards Hedgehog's home and spark a tense and prickly standoff.
Scriptwriter and director: Eva Cvijanović
Based on the short story by Branko Ćopić, Narrated by Rade Šerbedžija (Croatian), Kenneth Welsh (English), France Castel (French)
Music: Darko Rundek | Director of photography: Ivan Slipčević | Animators: Ivana Bošnjak, Thomas Johnson | Puppets: Eva Cvijanović, Ivana Bošnjak, Thomas Johnson | Sets and props: Ivana Bošnjak, Thomas Johnson, Kata Gugić, Dina Karadžić, Marko Meštrović
Design and animation consultant: Tim Allen | Assistant director: Miroslav Šimeg | Optical effects: Elise Simard
Clean-up: Mario Kalogjera | Editors: Eva Cvijanović, Iva Kraljević | Sound design: Olivier Calvert
Technical director: Eloi Champagne | Translation: Amela Marin (English), Vanda Mikšić, Evaine Le Calvé-Ivičević (French) | Producers: Jelena Popović (NFB), Vanja Andrijević (Bonobostudio) | Executive producer: Michael Fukushima, NFB
SIGN UP: Want to read more free articles like this? Sign up for Our Newsletter
Read More About: