Shorts
Imbued Life by Ivana Bošnjak and Thomas Johnson (Online Premiere)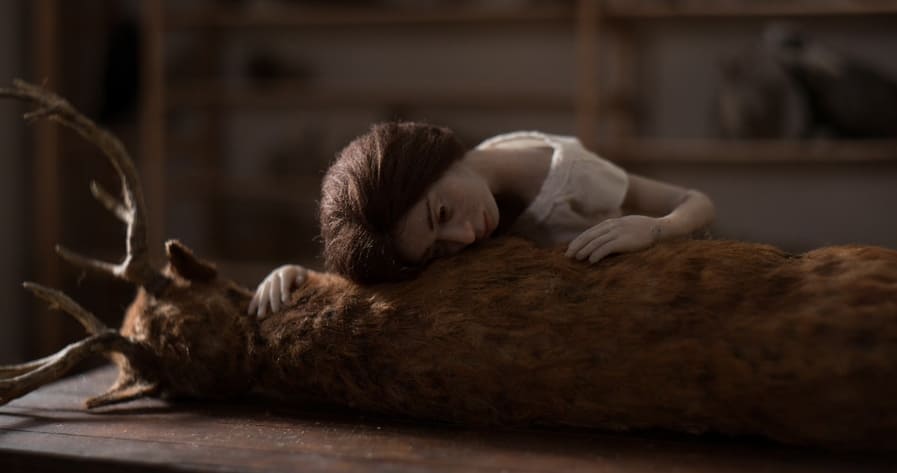 Thomas Johnson and Ivana Bosnjak have established a reputation as highly technically skillful stop-motion animators. Their previous work is recognizable due to its haunting atmospheric qualities, underpinned by superb character animation. They are drawn to serious storytelling aimed at adults, making deeply affecting short films.
'Imbued Life' talks about a young woman's connection with the life force of nature, and her own use of taxidermy that borders on obsession. 
ZF: The young woman's empathic yearning to connect with Nature feels both mysterious and very timely, in the context of mass extinction. The use of film inside the animals seems to function as a kind of empathic memory bank of Nature. How did these ideas develop?
TJ & IB: We collect subconscious thoughts gathered over time; once the imagery becomes clearer we then dig further into their possible meanings and construct a narrative. Humankind's ignorance towards the natural world definitely had an impact on our subconscious weaving of the film's concept. Initially, the inspiration for this film came to us as a reflection upon taxidermy animals. For several months we had a pine marten sitting on our shelf in our apartment in Zagreb. The animal was preserved in a moment; a still life staring down as if it were expressing a part of itself but we were unable to communicate a response. This is the point where we began to develop a concept dealing with our empathy with the natural world. The photography film rolls inside the animals can be considered this way. We deliberately chose those images to be abstract thus enabling the audience to interpret this as an intangible part of nature.
ZF: The young woman appears to be quite isolated, as though she has given up on the world of people. The scenes where the plants have grown up around her at home are highly emotive and suggest possibly an urge for a personal rewilding and a re-naturing of personal space. What were your motives in developing this type of symbolic imagery?
TJ & IB: This is a beautiful reflection of our film. Animation, particularly stop-motion techniques, requires long periods of time spent in closed spaces with artificial light. We both have a strong yearning to spend more time personally 're-wilding' ourselves into the natural world but instead, we get consumed by our created miniature worlds. There is something very addictive in the creation of animated films. Clearly, a synergy between the process of animation, and the growth of nature is present. The animated object becomes imbued with life, growing over the course of time. Considering our motives these desires to be closer to nature were imparted to the protagonist.
ZF: What were your key influences in the development of the idea? Are there specific theorists that you are informed by, or fiction and fairytale writers?
TJ & IB: It is very hard to say that this film was informed by any particular source. Our ideas of course have had subconscious influences but there isn't any specific theorist which we worked from. We are inspired by many of our peers and live-action film directors, more by science fiction rather than fairytales.
Watch 'Imbued Life':
ZF: In comparison, your film 'Simulacra' follows a man stuck within a maze of filthy mirrors. As he walks through the maze, his woolen sweater unravels, seemingly tethered to an unknown origin. Each film portrays an isolated individual, who seems to be lost and looking for a way out of disconnection. Is this aspect of contemporary alienation a factor that you feel informs your ideas?
TJ & IB: Unlike 'Simulacra' we present the protagonist in 'Imbued Life' in a more grounded world and exaggerate the contrast between her inner turmoil and the self-orientated photographer character. Anxiety towards this flawed contemporary world definitely impacts our creative process. Through the creation of 'Imbued Life,' we sought hopeful resolutions for our protagonist which could direct her towards inner peacefulness. We believe that our third film, 'Remember How I Used to Ride a White Horse' exemplifies this topic of contemporary alienation even further.
ZF: Simulacra re-works strong symbolism from traditional fairytales; the unraveling thread is a guide out of the maze, and a strange witchlike woman sits naked behind the mirrors at her spinning wheel. A recurring trait in your work is that of reworking traditional fairytales, bringing a weirdness and contemporary malaise to the story. Can you expand on your narrative approach and how you develop the symbolic flow?
TJ & IB: The symbolism in 'Simulacra' can be seen to contain similarities to fairytales or Greek mythology, however, we were more focused on expressing the emotional journey and introspection of our character. Our starting point for all of our films thus far has been centered more on the inner journey of our protagonists. Atmosphere and emotion, therefore, are more imperative to us than traditional narrative. The stillness of the animation style that we choose to employ, creates realism and this sense of malaise in the characters of our films. For us, it is a delicate balance incorporating symbolism in our works. In 'Imbued Life' we chose to disperse the frequency of the abstract imagery so that there remains a grounded visual landscape connectable with modern reality. This unreal is more subtle and hidden in a world to which we can relate. A key symbolic element that we were interested in exploring was the uncanny, and unnerving sensation that taxidermy can impart. Parallel sensibilities can be found in stop-motion animation forms, and also, the borders between the animate and inanimate, living and dead.
Ivana Bošnjak and Thomas Johnson now have a third film ready 'Remember How I Used to Ride a White Horse', currently on its way around the festival circuit ('the completion of a personal collaborative triptych'). Their minds are set on individual shorts in the future -and, perhaps feature films as well.
Film Review (Joseph Norman):
This powerful and evocative short film follows a young woman who is drawn to explore her connection with Nature through a kind of animal empathy. Whilst working as a taxidermist, she begins to discover a roll of film inside the brain of each of the creatures that she treats. The directors, Bosnjak and Johnson, bring her world exquisitely to life through the mobilization of atmosphere and materiality, resulting in a tactile and unsettling story. As the young woman removes the pelts, she caresses their skin and fur. There is a clear sense of empathic touch and connection. She is not engaged in an industrial act of stuffing the animals but rather is personally giving them back a sense of animal agency. The young woman appears to be isolated, as though despairing of human interactions she now seeks solace through animal connection. The use of film in the animals' brains functions as a device that marks subjective memory and experience, an animal trait linking humans with Nature. This is a very powerful film, unsettling and deeply poetic in its exploration of what separates us from Nature.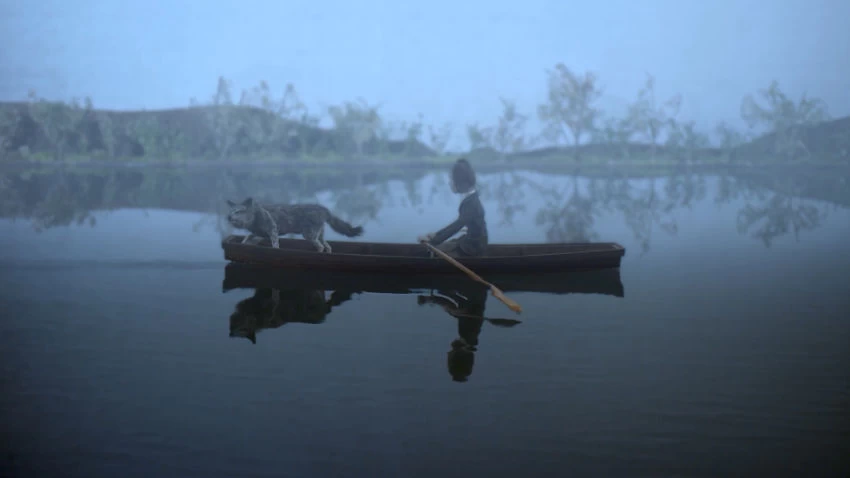 Credits:
'Imbued Life', stop motion, puppets, 2019 (12'15", Croatia)
Script, direction, design, animation, puppets: Ivana Bošnjak, Thomas Johnson | Director of photography: Ivan Slipčević | Editing: Iva Kraljević | Music and sound: Andrea Martignoni | Voice: Rakan Rushaidat | Sound mix: Michał Krajczok | Sets and props: Ivana Bošnjak, Thomas Johnson, Kata Gugić, Nenad Laktašić, Martina Meštrović | Abstract animation: Ana Hušman, Ivana Bošnjak, Thomas Johnson | Clean-up and compositing: Mario Kalogjera | Colour grading: Iva Kraljević | Poster design: Željko Serdarević | Producer: Vanja Andrijević
About Ivana Bošnjak:
Ivana Bošnjak (1983) graduated from the Graphics Department of the Academy of Fine Arts in Zagreb and Animation at the University in Volda, Norway. Since 2010 has been working on a number of stop-motion projects as a model maker, animator, and film director.
About Thomas Johnson:
Thomas Johnson (1984) graduated Time Based Media from the University of Wales Institute, Cardiff, and the New Media Department of the Academy of Fine Arts in Zagreb. Aside from making animated films, Thomas creates stop-motion performance artworks featured at numerous festivals.
Contributed by: Joseph Norman
SIGN UP: Want to read more free articles like this? Sign up for Our Newsletter