Shorts
In the Distance by Florian Grolig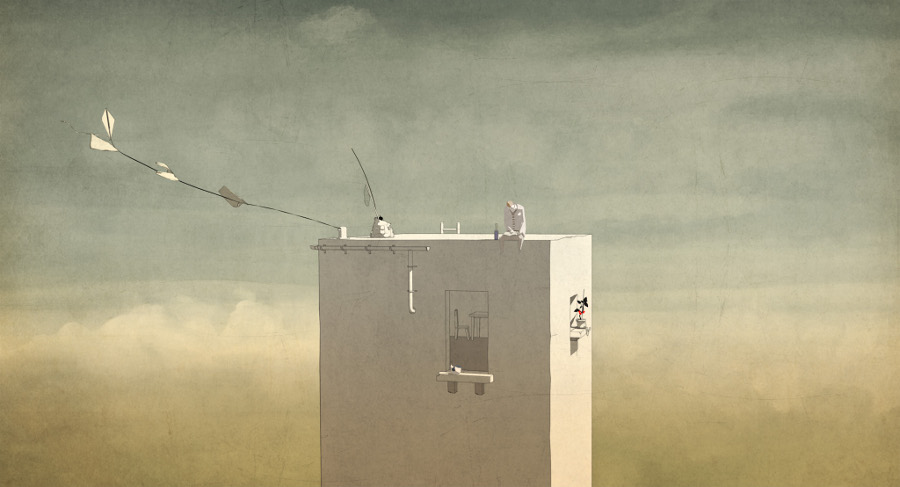 Berlin-based animation director and game designer Florian Grolig, graduated from the School of Arts and Design in Kassel. His distinctively articulated, no-dialogue In the Distance was nominated for European Short Film at the 2016 European Film Awards (and it also made our Top 2016 Animated Shorts list).
It's calm and peaceful above the clouds. But chaos lurks in the distance and each night, it draws closer - Film Synopsis
Static and distant camera (not a single close-up appears in the film) was always on board from the very expressive nevertheless film. "I like limitations and a strict aesthetic ruleset", Florian Grolig tells Zippy Frames. "In the first sketch for the film, the idea of only a rectangle (the house) in another rectangle (the frame) immediately excited me. For me from those early limitations come new ideas and interesting questions like if its actually possible to create emotions while avoiding close-ups or using dramatic music. I also wanted (and needed) a simple concept that i could realize with a small team and very limited financial resources".
Sequence breakdown is carefully thought of In the Distance, and even though the film has only two main characters (the character and his chicken), viewer is always alert about what happens to them, from natural phenomena to hostile actions. "The war scene was added later, and i initially put much further elements in the background. But while developing the script, it just wouldn't stay there".
In the Distance started out as a funnier film altogether. "I already had a collection of small and partially funny episodes that could happen to my main character, before I started developing the actual storyline" Grolig elaborates.  "Some of them stayed in the film until quite late in production; however,  as the film turned out to be more serious, I eventually cut most of them".
For a film that looks so much like a drawn handicraft of sorts, it is actually quite a deal to learn that is made in 3D computer animation -which in turn secured a fast turnaround in terms of schedule. "I usually try to have a very fast 3D workflow with short render times that allows me to try scenes fast, and makes it less painful to to change and cut stuff", Grolig explains.
The main hero finally decides to step down and face the unknown, and much of the festival audiences have conceived this as an open-ended film. "I was happy to experience that the ending is clearly open ended for the audience, and they might come up with rather optimistic conclusions". But Grolig himself, even though he is content to admit that the main character's ideals have failed, and 'he's not leaving as a happy person', he  has no idea what will happen to him down in the wild crowd.
Perhaps he could tell his own experience to the others, in an animated form. In any case, In the Distance is a film that won't let you move away from your screen for too long -whether you watch it from a distance or not.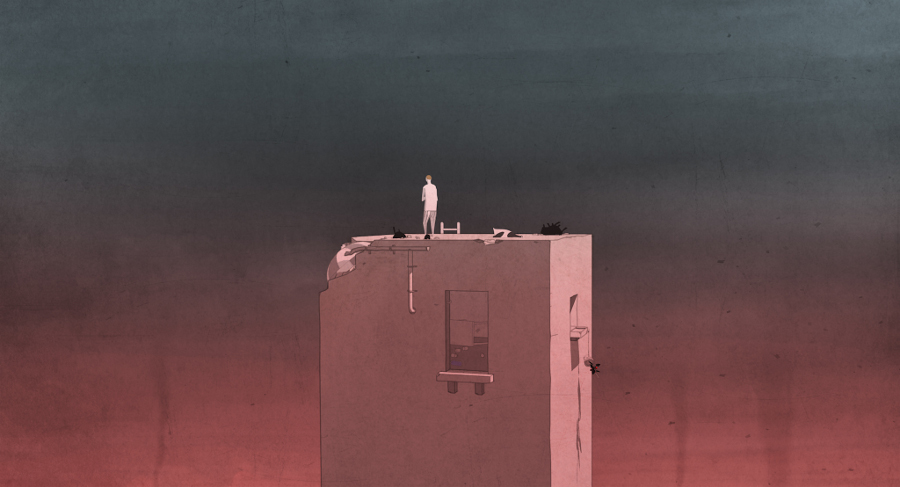 Credits:
In the Distance, 2016
Director, Ardesign, Script - Florian Grolig
Animation - Julian Vavrovsky
Sound Design - Christian Wittmoser + Tobias Boehm
Re-Recording - Tobias Boehm
Music - Thomas Hoehl
In the Distance was nominated at Clermont-Ferrand Festival for the European Film Awards;  Grand Prize - Animasyros 8.0, Grande Prêmio Curta Cinema 2015, Audience Award - DOK Leipzig, among others.
SIGN UP: Want to read more free articles like this? Sign up for Our Newsletter
Read More About: