Shorts
5 Indie Animation Shorts On Bullying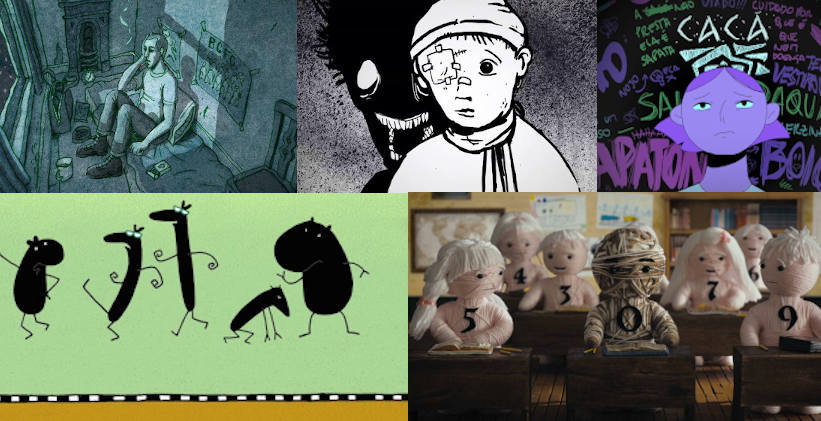 When we first published at Zippy Frames our review of Jonathan Hodgson's animation short Roughhouse (find it here), we got a warning message from Google that "this is shocking content" (the film, not the review). As a consequence, we tried to investigate a little further into contemporary independent animation shorts that talk on bullying, its actual genesis, process and consequences.

It's a fitting to start with Roughhouse in many ways. It's a story specifically located in the 80s, but it still resonates today. Hodgson describes the escalating mechanics of the abuse in a coherent, utterly shocking manner (without resorting to screen violence, an easy -but too easy- trick to go for animation).
Janet Perlman in her Bully Dance explores the rituals and the genesis of the bullying mechanism; by watching the film, you feel as if you were yourself a bully in the making. Conformity and trying to fit in as a bad prerequisite for societal happiness as the bullying itself.
Pavel Soukup's Class of Death may not be about bullying per se, but here metaphysics (one child from a single class dies mysteriously each year) supplies the background for the dynamics of relationships to be processed. Here bullying becomes almost as a metaphysical weapon -and no explanation makes its effect more powerful.
Zero  by Christopher Kezelos moves from metaphysics to the science and maths, to show us in a very rational -and affective- manner how the impossible can become possible, if your antennas are open enough.
The final film in our collection, Cacá by Ana Rocha is a short, colored film, shot in such a way as to frame the central LGBT character apart from the others - and demand the final word attitude "Respect" from everyone involved.
1. Roughhouse by Jonathan Hodgson
Roughhouse explores the themes of leadership, adult bullying and in particular how changesin a person's status can radically alter the way his peers behave towards him. Hodgson contacted psychologist and adult bullying expert Peter Randall; he explained that strangely enough the victim is perceived as a strong force than the combined members of the bullying ring.
2. Bully Dance by Janet Perlman
When a bully picks on a smaller member of his group, the whole community becomes involved. The bully, they learn, is himself a victim at home.
3. Class of Death by Pavel Soukup
Rybnicka Grammar school has a new tradition – one pupil dies in Miss Zimova's class every year. Is it some kind of a morbid coincidence or are those pupils really cursed? If so, are they cursed by some supernatural power or does human cruelty play a role?
4. Zero by Christopher Kezelos
Born into a world of numbers, an oppressed zero discovers that through determination, courage, and love, nothing can be truly something.Born into a world of numbers, an oppressed zero discovers that through determination, courage, and love, nothing can be truly something.
5. 
Cacá by Ana Rocha
This animated short addresses the issue of LGBT prejudice in the high school environment in Brazil through the narrative of a day in the school of an LGBT teenager, Cacá, who's been dealing with the awakening of new feelings and some rough times at school.
With thanks to Michał Bobrowski and Kropka  for their contribution and help.
SIGN UP: Want to read more free articles like this? Sign up for Our Newsletter
Read More About: