Shorts
It Starts With by Laura Nasir-Tamara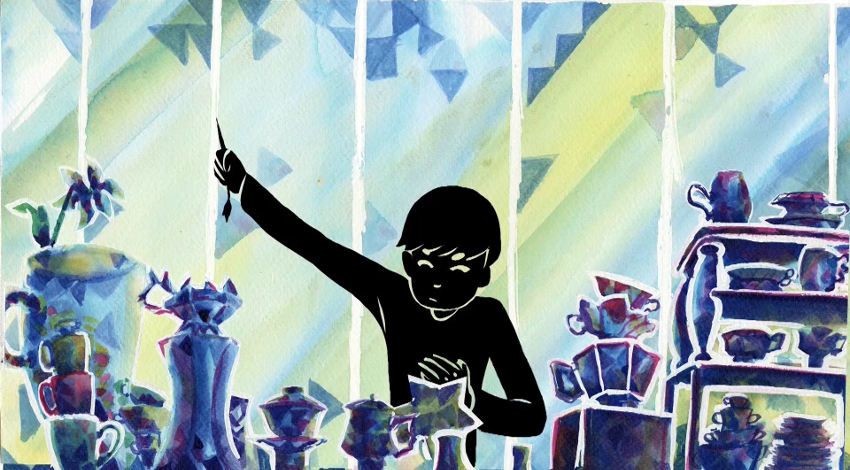 It Starts With is a mixed media animation short about characters making tiny teacups and also falling in and out of love by Laura Nasir Tamara. The director talks to Zippy Frames.
The history behind It starts with
It starts with was finished and first screened as part of Season 6 of Channel 4 Random Acts. However, it is a film I first started developing in 2014, soon after I finished my BA, as a means to process emotionally some events. So, I somehow consider it a first film. 
I was trying to find my voice as a filmmaker when I first started writing it. I kept developing it in my first year at the Royal College of Art but due to external circumstances, I had to put it aside and only finished it in 2018 with some funding from Channel 4 Random Acts. By then, I had an animatic, some sound and 50% of the film done, I just needed a little help to complete production. 
In this 4-year gap, I actually made a few other films (The Witch's Mask my RCA graduation film, Two Minutes another Random Acts Film, The Last Mosque with the Visible Poetry Project, the music video Fool for Antis) but the final version of It stars with is largely based on storyboards from 2015.
It starts with is inspired by a time when I felt broken like never before. I clearly remember a day feeling like I was literally made of broken glass, trying to hold the pieces together like a mirror that is trying not to crack. At the same time, the presence of my friends and loved ones was an absolute lifeline. This all felt both extremely mundane and extremely important. So in a way, this film was a question for me: "Can I make a film that's just about a feeling? And has anybody else felt like this?" But I also felt a bit embarrassed at this selfish premise for a film, so made sure there were at least some nice colours to look at.
The story
This is not a love story. This is a personal observation on the moment you fall in love. It starts with is a mixed media animation short about characters making tiny teacups and also falling in and out of love. It's about those moments when, under pressure, someone else's presence and kindness enables you to move forward. The tiny teacups represent the characters' growing sense of self. Emotions are expressed visually, through the characters' physical changes and the backgrounds' colours.
The film crystallises a moment when someone else's touch makes a difference - and while offering no promise of the characters' future and relationships - I wanted to pay hommage to these small moments of empathy that have been so helpful and precious. It's also about the awkward language of love and care and the difficulty of putting yourself or your work out there.
When I approached Channel 4 Random Acts to see if they wanted to give me some funds to finish this film, the production was actually about 50% completed. I had previously worked with them as animation director on a short film called Two Minutes with writer Yero Timi-Biu and artist Adebanji Alade, which was a joy to collaborate on. Because of this existing work relationship, I felt more comfortable approaching them with my personal work. 
While I painted all backgrounds and did most of the animation myself, I did enlist the help of some animator friends for a few shots and some clean-up. My sound designer Jake Williams and my composer Narae Chung are people I've worked with before and were brilliant too. In truth, Random Acts are very accessible and we are really lucky to have them supporting short films and a lot of experimental, new work. They were very trusting and let me finish my film, but also had some really good feedback towards the end of the project.
My technique
The technique is actually quite straightforward and it is also my favoured one: hand-painted backgrounds in inks and watercolours with 2D Digital animation  of the characters on TVPaint. There is, however,  one simple design principle I stuck to in order to help the two techniques blend well visually: it's the white outlines that are present both in the backgrounds and on the characters, and create visual cohesion.
In the transformation sequence, there is also some hand painted abstract watercolour animation in the back, to echo what's happening with the digital animation - I found it important for both techniques to respond to each other to create a sense of visual unity in the same frame.
Film Review (Vassilis Kroustallis):
If something is broken, can it be now fixed? Laura N-Tamara makes it the case that nothing is fixed by itself in this strong but also caring short, where sheer power alternates with human altruism. The director uses solid human figures in black and white, and then makes her own objects and artifacts of the same material, as if humans are the artifacts we need to take care of. A concise story on artistry and human vulnerability.
CREDITS
Director: Laura N-Tamara | Music: Narae Chung | Sound Design: Jake Williams
Animation/clean help: Matthias Cucciniello, Kenn Garcia, Sanz Dangol, Alexis Turchet, Deandra Asara
About Laura N-Tamara
Laura N-Tamara is a London-based, French-Indonesian animator/art director with a keen interest in painting, drawing and printmaking. She blends watercolour and monoprint with digital 2D animation, play with both traditional and digital techniques. Folktales, mythology and their modern renditions, such as Cocteau's Orpheus or Pasolini's Oedipus Rex, are a big source of inspiration to her.

SIGN UP: Want to read more free articles like this? Sign up for Our Newsletter
Read More About: