Shorts
Jolie Bobine by N. Deruy, S. Simao, S. Riviere, & S. Burnet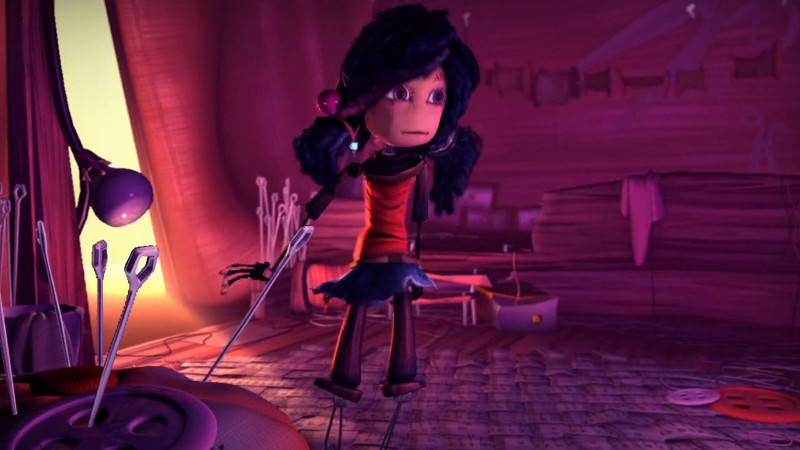 Set in a colorful childish universe, "Jolie Bobine" is a short film which tells the story of a small doll with the gift of life, who will be enthralled with a ballerina.
This Coraline-style film tells eloquently of the need to succeed, destroying everything in the process. The handmade feel of puppets is only the entrance to the deadly (but enchanting) construction works; these the small doll is able to procure in order for her dream to come true.
Jolie Bobine is a graduation project for Bellecour School's of Art, France. Inspired from an original idea of Alexandra Latour, the project is directed by Nicolas Deruy, Sylvain Simao, Samuel Riviere and Stephanie Burnet.
See the people involved and the making of the film.
CREDITS:
Directed by:
--- Nicolas DERUY : nicolasderuy (at) hotmail (point) com
website : wix.com/NicolasDeruy/nicolas-deruy
--- Sylvain SIMAO : sylvain.simao (at) gmail (point) com
website : sylvain-simao.fr
--- Samuel RIVIERE : samuelriviere (at) hotmail (point) fr
demoreel : vimeo.com/30068591
--- Stephanie BURNET : steffanie.burnet (at) gmail (point) com
demoreel : youtube.com/watch?v=q4tzoxzffss
------------------------------------------------------
Original Idea by:
--- Alexandra LATOUR : latour.alexandra (at) gmail (point) com
website : alexandra-latour.ultra-book.com
------------------------------------------------------
Music Composition by:
--- Damien DESHAYES : damiendeshayes (at) damiendeshayes (point) fr
website : damiendeshayes.fr
------------------------------------------------------
Sound Design by:
--- Julien BEGAULT : julien.begault (at) gmail (point) com
website : julienbegault.com
------------------------------------------------------
Acting Model by:
--- Malina Ioana
--- Alexandra Bialy
SIGN UP: Want to read more free articles like this? Sign up for Our Newsletter
Read More About: