Shorts
Roughhouse by Jonathan Hodgson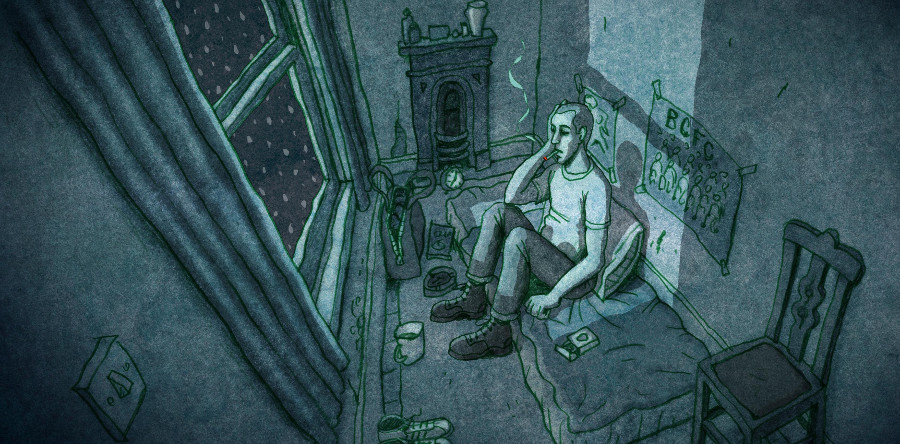 UK animation director Jonathan Hodgson  knows how to cause a stir without really showing that he's trying. The BAFTA-awarded director of The Man With the Beautiful Eyes [watch it here] returns with his new animation short, Roughhouse, a French/UK co-production.
Three friends embark on a new adventure in a strange town, but when a manipulative new member joins their gang, their loyalty is torn apart with terrifying consequences.
The French Papy3D production company is behind the film, along with Hodgson Films and Arte France. Hodgson writes the script and makes the backgrounds for the 15-minute short,  while Gabriel Jacquel (animator in The Ogre, Edmond Was A Donkey) is the short's animation director.
Roughhouse explores the themes of leadership, adult bullying and in particular how changesin a person's status can radically alter the way his peers behave towards him. Hodgson contacted psychologist and adult bullying expert Peter Randall; he explained that strangely enough the victim is perceived as a strong force than the combined members of the bullying ring.
Bullying is more difficult to be done in isolation (a coalition of the 'willing' is to be formed),  and, in certain situations, good-natured banter can insidiously degenerate into abuse and intimidation. 
Watch Roughhouse by Jonathan Hodgson
Sneak View (V. Kroustallis):
Roughhouse is a ticking bomb which lets you sit and relax until it finally goes off. Along the way, you get treated with excellent characterization, a kaleidoscope of limited color palettes and the sense that is somehow all this looks too familiar to you -keeping thinking whether you played the part of the victim or the perpetrator. A nuanced, honest and direct film on situations getting slowly out of control.
Roughhouse is supported by the CNC, Pictanovo and the Hauts de France region (Procirep and the Angoa), and Arte France . The film had its world premiere  at the 2018 Edinburgh International Film Festival.

SIGN UP: Want to read more free articles like this? Sign up for Our Newsletter
Read More About: