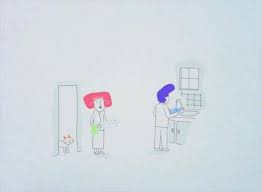 Paul Cabon and Canal J à l'Ecole de la Poudrière offer a short tale of talking and disappearing heads. Watch below:
 A woman does not stop talking, and suddenly her husband's head disappears. See what happens afterwards
 Paul Cabon is an independent animator based in Valence, France. His 2009 film, Sauvage, won the Jury prize in the graduation competition of Annecy Film Festival.  Have a look at his blog.