Shorts
Leaf by Aliona Baranova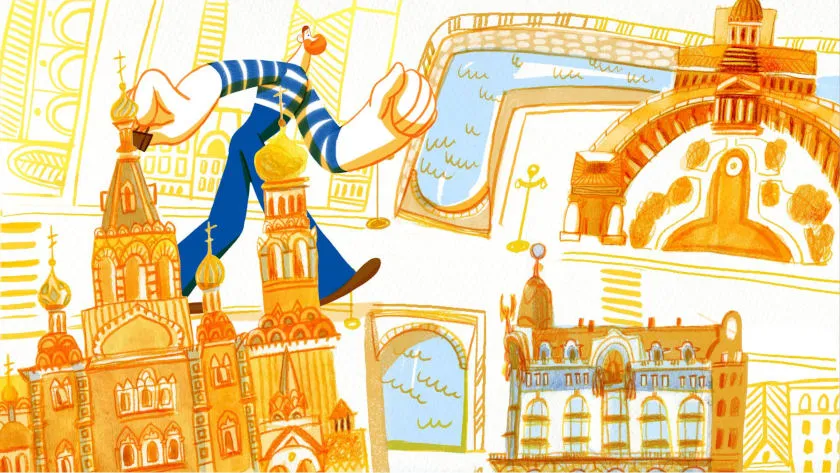 A huge sailor gets an autumn leaf from a small girl. It reminds him of his home. How long he has not been there? He runs to meet his old parents. What will he find there?
The University of Tomas Bata in Zlin animation student Aliona Baranova has released her 2D animation student film 'Leaf'. The film premiered in Berlinale Generation in 2020, and has more than 170 festival selections and many awards.
Film Review (Vassilis Kroustallis):
'Leaf' is a matter of proportions, the big and the small. The big (giant sailor) and the small (leaf, girl, gift), and all the other small things we forget in between. Unashamedly evocative, the film lingers on its soft monocolored backgrounds and the warm, thick stripes to present a familiar, but still inviting story of parental longing. The homely feeling is reflected in the orange-brownish hues, which contrast with the blueness of the giant sailor's color; while our character's wholesome movements (as if to embrace all the world around him) reveal a desire still to be fulfilled. A genuine nostalgia-tinged film.
Watch 'Leaf':
CREDITS:
Original title: Lístek (Leaf) | Direction: Aliona Baranova |  Animation: Aliona Baranova  |Scenario, Script: Aliona Baranova | Production: University of Tomas Bata in Zlin | Set: Aliona Baranova | Image: Aliona Baranova  | Film editor: Jan Saska  | Rendering: Aliona Baranova | Sound engineer: Jiří Gráf | Sound editor: Jiří Gráf Mix: Jiří Gráf | Soundtrack: Petr Mazoch Year: 2020 | Distribution: MIYU Distribution
SIGN UP: Want to read more free articles like this? Sign up for Our Newsletter
Read More About: