Shorts
Library of Paradise, Garden of Pain by Christopher Childs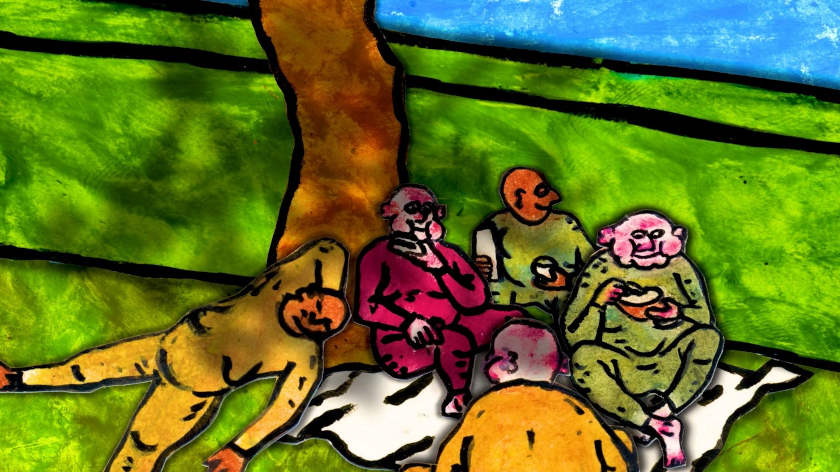 In a luscious garden, a sickly man is cared for by a group of strange librarians.
Bristol-based animator Christopher Childs' latest film, Library of Paradise, Garden of Pain, uses a paper cut-out approach to set a strange and at times uncomfortable scene. The film opens with a mysterious and almost abstract image of a scanner, which becomes clearer later on. A helicopter then flies out from behind a tower-like house, to reveal a garden below: a group of middle-aged men, sit outside, gathered around a tree as they munch noisily on a picnic. Whilst others dig holes to plant new trees scattered in the landscape, framed at the front by a naked man huddled in a foetal position with our view to his derriere. Another man carries a child/man on his shoulders, playing a toy trumpet in a carnivalesque parade around this 'garden of pain'. 
In a tower, a man sits busily sketching the view from the window, as another runs fleetingly past him up the stairs. As the helicopter returns, shaking the house, two men sit reading on the floor of the library. Another man lies naked in a hospital bed, watching the scanner screen as his testicles are checked by a doctor. Later, the naked man sits outside and is embraced by others. Then a group of men remove one of the windows of the tower/house, launching it missile-like to bring down the helicopter. This results in damage to the house, allowing for a sudden release of insects from inside. Through voiceover setting the scene for a release from bodily/physical pain, there is a sense of human frailty, possibly the end of life through testicular cancer, though this is never made clear. And this extends to the escaping insects and snails, operating as a sign of human connection to Nature through bodily function and decay.
Watch Library of Paradise, Garden of Pain
ZF: What were your original intentions in developing the story and making the film?
CC: I was enjoying reading the work of cultural theorist Mark Fisher, especially his criticisms of popular films that present future dystopias. Fisher argues that dystopias, while appearing to critique the establishment and status-quo, create a sense of apathy and hopelessness in viewers, suggesting the future is fixed to a doomed trajectory. Within this argument is the implication that fictional utopias could have the opposite effect, allowing the viewer space to consider positive outcomes to modern struggles.
Reading Fisher's theories compelled me to make a utopian animation. Within this utopia, I inserted autobiographical elements: using buildings from my hometown as the visual inspiration for the library, and structuring the narrative around hospital visits that led to my chronic pain diagnosis.
ZF: Can you describe the technical processes used in making the film.
CC: I use replacement animation, where I make a paper puppet for each movement/frame. I then scan them in and composite everything using After Effects. It's essentially a form of camera-less animation. I saw animator Anna Firth using the term 'Scanimator' to describe their work, which I really like.
ZF: Can you describe your conceptual process in developing the ideas?
CC: I began to drift away from the production process I'd been pushed towards at university: where precise planning was emphasised through the making of animatics and storyboards. I felt this sacrificed the spontaneity I wanted for my work. I began making the film using an intuitive method of animating. I used a shot-list which was purposefully loose, ordered non-chronologically, and filled with opportunities to add new scenes as I progressed. I was aware that these shots might not result in a refined film, or make the process of editing impossible. I was surprised that a structure appeared as I progressed, producing a film which felt quite cohesive.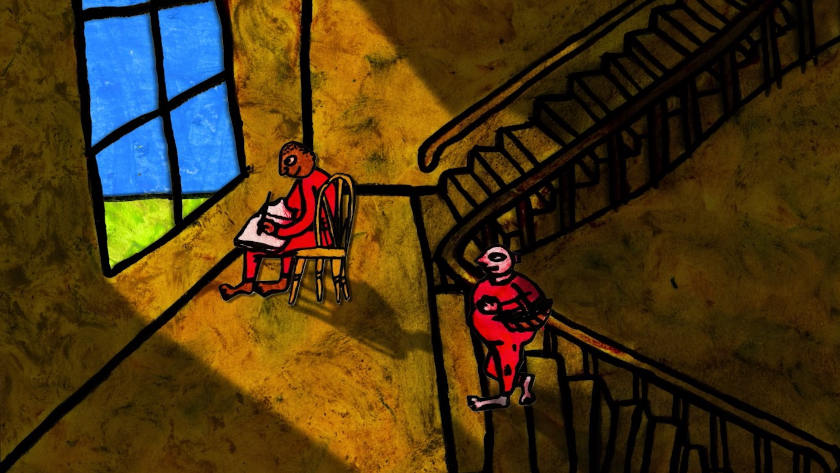 ZF: There is a strong sense of human frailty and physicality in the film; can you expand on how these ideas developed and what were your key influences?

CC: I wanted to imagine a community structured around caring for another person. At the same time, the carers have their own lives. They aren't defined by their emotional labour. They read, relax, and mess around. It's an environment of emotional intensity, and a sort of platonic intimacy. Conservative Britain is brutal, competitive and alienating, so I wanted to form an escape using fiction. For influences, I looked at Claire Denis' feature 'Beau Travail' (1999) and the rural paintings of David Inshaw.
Film Review (Joseph Norman)
The film deploys a highly wonky and disjointed visual approach, through roughly drawn characters and heavily applied painterly mark making. There is a lineage to Bosch's Garden of Earthly Delights, where the film revisits the sense of dirty bodies and decrepitude as that which ties humans to nature. The film extends Childs' ongoing interest in exploring the bizarre through characters' behaviour en masse revealing human nature as grotesque. Looking again at Childs' films, there is a clear sense of using multiple characters, animal, insect, human, plant, to explore a sense of landscape come alive, and through humorous animation (strange bodily functions and jerky twitching) we experience an imaginative and playful world of interconnection.
Contributed by: Joseph Norman
Credits:
Library of Paradise, Garden of Pain | 2D animation short, cut-out | 3:25 (2021, UK) | Director: Christipher Childs
About Christopher Childs:
Christopher Childs is an animation filmmaker based in Bristol, UK. His work has screened internationally at film festivals such as POFF Shorts, Kaboom Animation Festival and the BAFTA-qualifying Flatpack Festival. He has also curated animation film screenings for The Barbican Centre and Bristol School of Animation, UWE.
SIGN UP: Want to read more free articles like this? Sign up for Our Newsletter
Read More About: