Shorts
Mascot by Kim Leeha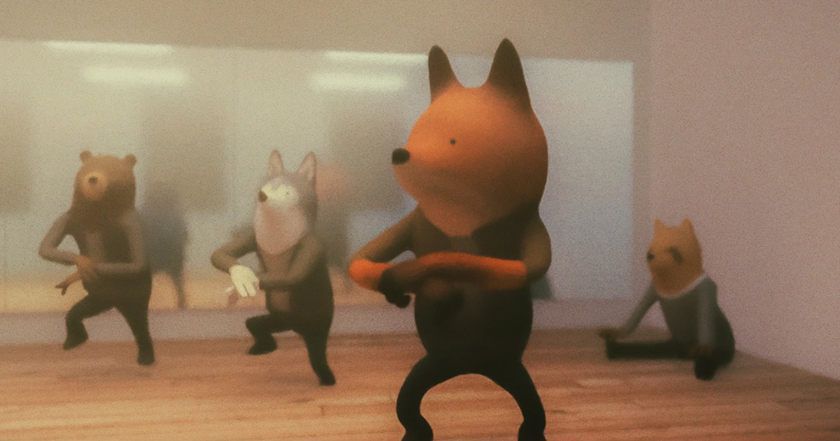 The Korean animation short Mascot by Kim Leeha  won the special mention at the 2020 Clermont-Ferrand Film Festival, plus a lot of other festival awards and screenings.
The fox who wants to be a mascot for the city goes to a mascot training academy. He lives in a very tiny house and works many part-time jobs. He is still getting many Mascot auditions with taking loans at high-interest rates for undergoing plastic surgery - Synopsis
If one saw only the visual style of Mascot, they would be forgiven for imagining it to be a fable set in a city, judging by its pastel tones, pretty colors, and images of the fox and other animals. But by the end of the animation, they might feel betrayed by that assumption. Director Kim Leeha had no intention to abide by the pastel tone and pretty colors. He refuses to create a bright atmosphere and instead sustains a feeling of enervation, using melancholy pastels throughout the film. The film shows a dimly lit city in the pale, early morning hours near the beginning of the film. Anyone in Seoul who has had somewhere to go at the break of dawn will recognize the cold, damp feeling of the hour that Kim Leeha is showing us. 
Moreover, the fox and other animals that appear in the film are far removed from the naive characters seen in fables. The only voice that is heard in the film belongs to the fox narrator, and his long monologue offers a view of the breathless pace of life for young people trapped in the modern-day rat race. Despite appearances, he is not one to be easily taken in, just as Mascot tells a world-weary story that belies the cuteness of its title.
I want to express the despair and pain of ordinary young people at the present day - Kim Leeha
Watch Mascot Trailer:
In order to pass the mascot exam, the fox attends a hagwon in the district of Noryangjin. The animal students look absurd as they practice moving their bodies to imitate popular mascots with big heads. But anyone who criticizes them for working part-time and studying hard, just to become a mascot, hasn't been confronted with the harsh real world. Decades ago, some people mocked the increasing numbers of fresh college graduates who applied in droves for low-grade civil servant positions. But today, who would mock the people seeking such jobs? The fox and the other animals must become mascots if they are to live as equals among human beings. A wily fox must make himself look like a friendly dog instead as a matter of survival. The young fox, who has thrown himself into the competitive world, shares the story of his everyday life in a clear voice.
But as we listen to the narration, it becomes harder to recognize just whom he is speaking to and for what purpose. It is evident what kind of work he is doing to make money, and what kind of test he is preparing for, even without hearing his voice. Nevertheless, the fox clearly relates each small detail, one after the next. In fact, he's not trying to relay information. Instead, he is trying to convey his feelings of rage and frustration. His voice is the voice of those who suffer daily trials and hardships, directed at the mascots' audiences who enjoy lives of comfort. Still, the fox is forced to maintain a cute and friendly voice, ever mindful of his ultimate goal of becoming a mascot. 
contributed by: Yong-Cheol Lee
Credits:
Mascot (2019, Korea, 6:50) | 3D, colour
Director: Kim Leeha | Producer: Kwak Kihyuk | Animation: Kim Leeha | Character: Kim Leeha | Editing: Kim Leeha | Sound designer: Lee Haenee | Music: Shin Seungmin
About Kim Leeha:
He was born in Daegu, South Korea in 1980. On February 2008, he graduated from the Visual Image Design Department of Hansung University. He graduated from the Department of Animation at the Korea National University of Arts in February 2017. He is currently producing short animation in Studio LEEHA.
The article benefited from the help of Korea Independent Animation Filmmakers Association (KIAFA).
SIGN UP: Want to read more free articles like this? Sign up for Our Newsletter
Read More About: