Shorts
Mimi by Lisa Fukaya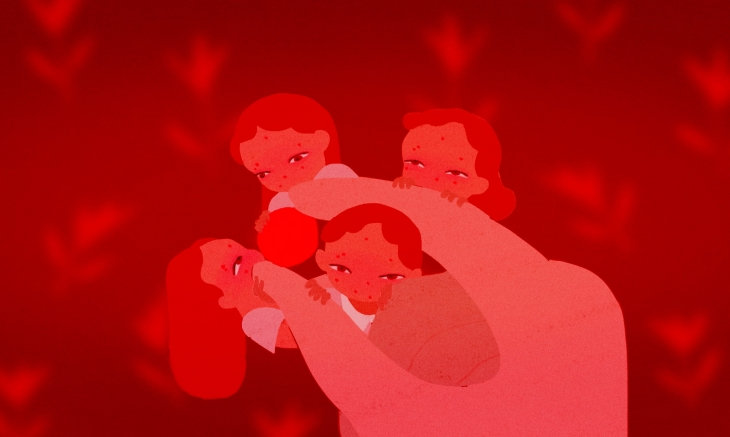 MIMI has a pimple for the first time. She is afraid of being different from other girls and is uncomfortable around those who are different from herself. Because of this, she begins to mimic other girls around her.
Here's the film from Japanese animation director Lisa Fukaya, which approaches puberty body transformation and its social consequences. Produced by The Open Workshop, it has been selected in a number of festivals, including  Annecy International Animation Film Festival and Odense International Film Festival.
Watch Mimi by Lisa Fukaya:
:
Film Review (Vassilis Kroustallis):
Here's a film that narrates in visual terms the attempt to define your personal space among hazy surroundings. Lisa Fukaya uses a very limited color palette to gradually unveil scales of independence inside conformity. Pimples here become the symbol of both worry, distress and acceptance in a journey that mixes the natural with the cultural. Mimi looks and feels like a personal, imaginative journey of discovery which just doesn't look 'nice': it feels true and dramatic at the same time. Add to the mix the dramatic violin chords, and you have an intimate drama to be resolved -in one of the most intimate places, where you start discovering your own body. Mimi is a delicate reminder of how we need to get along with our bodily selves -even in hazy surroundings and at times of distress.
CREDITS:
Animation: Lisa Fukaya  |  Sound design and editing: Studio Olga  |  Music Studio Olga, Sena Oshima Image: Lisa Fukaya Montage / Edit : Lisa Fukaya
Production: The Open Workshop | Distribution: Miyu Distribution

About Lisa Fukaya
Lisa Fukaya is an Animation director and graphic from Tokyo. She graduated from the Musashino Art University in Tokyo, where she studied stage design. After the graduated she studied motion graphics and worked at a motion graphic / video production studio in Tokyo. She later went on to study animation independently and began to create her first short films. After a year of studying animation independently she traveled to the Open Workshop in Denmark where she began production of her most recent short film MIMI which was nominated at various festivals around the world. Lisa is currently studying animation direction at La Poudrière school of animation in France and is currently working on various short form animations. 
Lisa's film mainly feature a surreal and autobiographical nature which often features the childhood experiences of young girls, often drawing on her own past as inspiration. Her style tends to be naive and colorful bue the underlying themes are a sometimes dark and personal, creating an interesting contrast between style and storytelling. Her work mainly consists of 2D short animated films and occasionally motion graphics and even illustration. 

SIGN UP: Want to read more free articles like this? Sign up for Our Newsletter
Read More About: