Shorts
MPF (Movies) by Elly Stern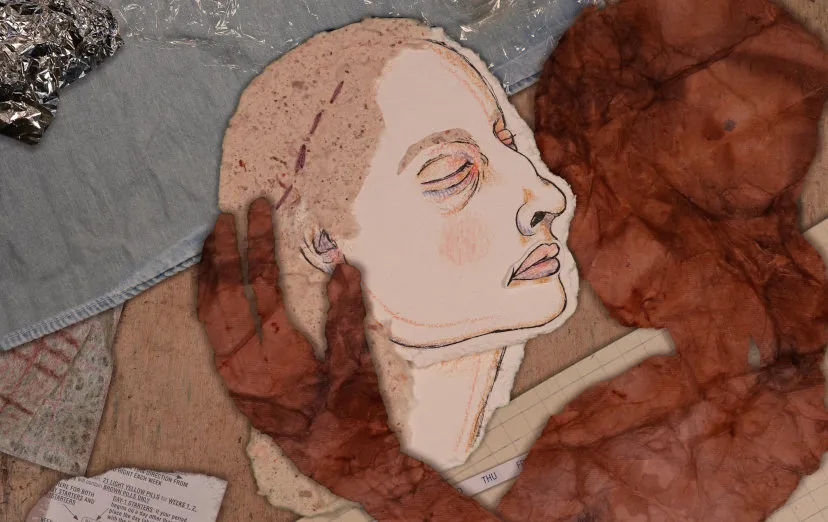 Vancouver-based animation filmmaker Elly Stern is not new to the stop-motion world. Her 'Waste Away' thesis from the Massachusetts College of Art & Design (also showcased at Zippy Frames) is a poignant story of sorts, in which stop-motion elements align with ordinary, unadorned subjects.
In her latest, music video, effort 'MPF - Movies'song by Eliza Niemi, she visualizes an ideal, movie-like relationship of her main female character. 'I discovered Eliza Niemi's music during the early pandemic.  Her songs brought me much-needed comfort during those early isolated months', Stern tells Zippy Frames. One thing led to another, and Elly Stern started working on this 50-second music video.
'It was quite exciting to figure out how to create a solid narrative in just under a minute', she continues. That was also a creative challenge for Stern, who utilized the shorter attention span people have in our social media world to her own advantage.
But let's not confuse brevity with ease of execution -we're still talking about stop-motion animation. A streamlined process was already in place from the start. 'The song is such an intimate portrait of sensuality, so I wanted the character and background design to be authentic to Eliza. I asked her to send me pictures of her tattoos and any sentimental objects that hold importance to her'. Stern used her own objects in addition to creating the video in cut-outs.
'The cut-outs are created with paper and wire joints, and I animated them against a green screen practically and in-camera in Dragonframe', she explains. Sterns adheres to the rawness of the stop-motion process, but still hails the easiness and effectiveness that the digital brings. 
In her own words:
All the background assets (trashy treasures I've collected over the years), I photographed against a green screen as well, but I shot each object individually so I could experiment with the design and composition of the backgrounds after the character animation was already in place. All the compositing was done in After Effects, including any non-character animation that happens, like the swirling objects around the couple making out, or any camera moves.
The main character's love interest, the silhouette figure, was also a practical cut-out paper puppet, but I used blending modes in AE to overlay the texture and colour of a rust-dyed paper on top, to add some dimension and life to the design of the figure. 
On the other hand, lyrical honesty and vulnerability in Eliza Niemi's work are what initially attracted Elly Stern to this project. Niemi's album 'Staying Mellow Blows' (of which 'MPF-Movies' is the opening track)  touches on themes of grief and death - a subject that become personally pertinent after Stern herself lost a formative mother figure. The musical honesty inherent in the project itself here helped the project's completion (4 months to finish the project on top of a full-time job for Stern). 
'I think that in a way, visual content has always been second nature to us as human beings', she further elaborates. 'The need to create visual narratives has always been around, from cave drawings, to early shadow puppets, to celluloid films, to music videos on YouTube'. She certainly welcomes the unlimited connecting possibilities that our Internet world invites, and that locks with her self-described 'active mind's eye', which attaches visuals to ideas.
Watch 'MPF (Movies):


Stop-motion animation might not be the first technique that comes to mind when depicting sensuality, yet Elly Stern makes it pertinent, and her characters' movements are both familiar and in their own way enchanting. She encircles everything around her main character, but she also leaves way for her partners and their various joints to connect in a circle of intimacy -suggestive and earthly at the same time.
Vassilis Kroustallis
About Elly Stern:
Elly Stern is an animation filmmaker and artist with a BFA in Animation from Massachusetts College of Art & Design in Boston. Elly has a passion for experimental stop motion filmmaking, specializing in mixed media narrative animation created using repurposed trash. She is inspired by alleyways, trash (treasure) collecting, surrealism in the real world, and the relationship between people and cities. Her thesis film, Waste Away (2020), has screened at festivals internationally and received numerous awards and recognitions. Elly currently resides in Vancouver, Canada, where she spent two years working for stop motion studio Spotted Fawn Productions, and is now a freelance animator and artist.
Elly Stern on the web.
SIGN UP: Want to read more free articles like this? Sign up for Our Newsletter
Read More About: