Shorts
New Year by Diana Gradinaru and Rory Waudby Tolley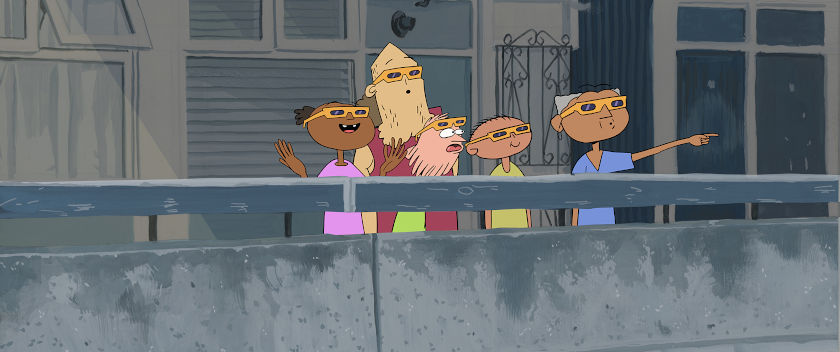 New Year' is an 9-minute animated short set over two time periods. In 1999 a boy becomes obsessed with the Y2K bug; In the distant future a girl is learning to be a priest in a religion based upon the 'artefacts' left behind by the boy.
Ravaged by millennia of climate breakdown, Britain is underwater. But Simon's ramblings and football stickers inspire a faith where the heat of the earth is respected and 90s Man United midfielder Nicky Butt is worshiped as a God.
The Year 2000 was simultaneously the beginning of the future, and the end of world.
Watch New Year by Diana Gradinaru and Rory Waudby-Tolley:
We caught up with the directors Diana Gradinaru and Rory Waudby Tolley to talk about their work.
ZF: Why a story about Y2K that happened almost 20 years ago? And how did the two of you come together?
DG-RWT: We met whilst studying for an MA in Animation Direction at the Royal College of Art in London and we have been sharing a studio since. In 2000 we were both old enough to remember the hysteria unleashed by the Y2K bug, but young enough to not fully understand it. The fear at the turn of the millennium was a zeitgeist moment that has never really left us and we forget that behind the irrationality, there were many people working behind the scenes to avoid the impending 'Y2K apocalypse'. This collective anxiety around technology, politics, climate change is still with us, as much as people want to turn the Y2K into a joke. 
ZF: Did you always have the concept of the two worlds? I was curious to know how it evolved in your creative process. For instance, the Nicky Butt cult was always there or was a later element added? And any changes you made in the story during the process.
DG-RWT: First off. 'Nicky Butt' has a really good ring to it...especially in a chant.  We knew from the get-go that there had to be a deity to ground the two time-spaces. We did a lot of research about 'cargo cults' and the religion of John Frum (an American GI who is worshiped in parts of Vanuatu). 
Initially we had a more convoluted story about islands and Britain splitting into thousands of tiny floating bits of land due to climate catastrophe. The whole thing became too scatter-brained, so we decided to draw a nice funny line between  the year 1999 and a future shaped by the anxiety (and the footballers) of the turn of the millennium. It might seem like a wacky far-out story, but cults of personality are defined by very banal, kitschy paraphernalia (eg. soviet parades of thousands holding up the airbrushed dictator's portrait, gilded religious icons, military fashion, gaudy pom-poms and commemorative biscuit tins) or...football stickers.
ZF: How did you concoct the language the new inhabitants speak? English, Latin and what else?
DG-RWT:  The language on this island is a reinvented bastardized English which incorporates elements from indigenous British languages (Gaelic, Welsh, Cornish, Old English) and medieval French, Patois and Irish. Contemporary English is constantly absorbing the lingo of immigrant diaspora and we genuinely wanted to create a language that sounded organic and familiar, yet distant. 
ZF: Unlike other films, your post-apocalyptic Britain is very green; it's not gloomy or dreary - but still isolated and in danger to get lost. What was the concept in creating this world?
DG-RWT: It's not a Utopian future, but a post-dystopian one. Civilization has already ended, nature has reclaimed the land, society is rebuilding with a different mindset (they understand their ancestors f-ed up and are therefore more respectful of the earth and its power). It is not a gloomy or dreary world, but it's still too hot. The unease is there, but they have found Jesus. Uhh, I mean, Nicky Butt. 
ZF: Did you have any challenges or difficulties in creating the film? Usually, deadlines and funding are a standard thing to worry about, but I was also thinking of any particular challenges here. Perhaps, finding your characters, script or animation things to take care of, crew that needs to be assembled.
DG-RWT: The film came about as we had an unsuccessful pitch for a different brief from the BFI. We were then invited to submit an idea for a short film so we got together, and tried to come up with a story that we would both be interested in. It came out fairly naturally, we just had to lose a lot of story ideas to get the idea down to something manageable. It was our first time collaborating but it became a nice back and forth of ideas. Rory would have a bash at the script, then Diana would add new bits then we would sit down and edit together. The same process worked well for character designs, Diana taking a bunch of Rory's doodles and using them to come up with pose sheets for the characters for each shot.  It's great because the result is something neither of us would have come up with by ourselves.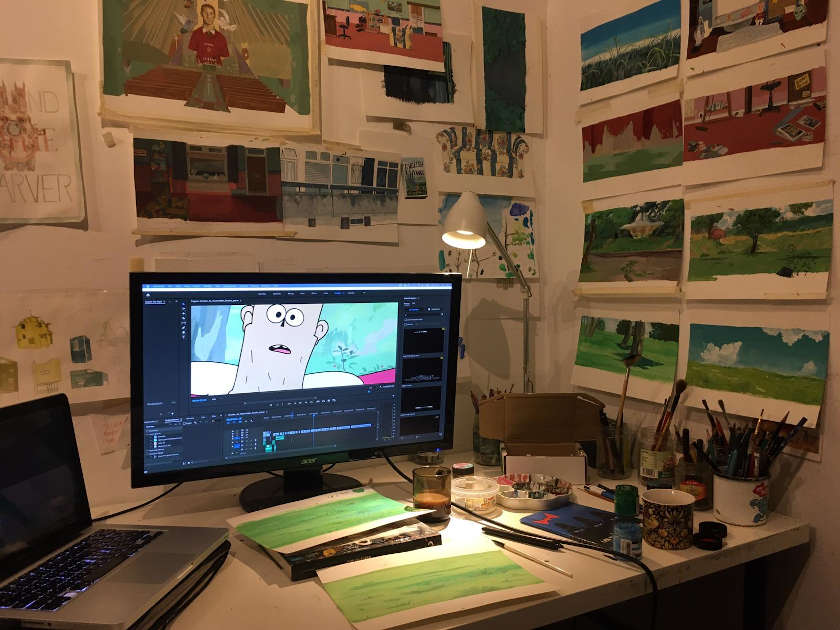 We were lucky to have our producer Becky Perryman, sorting us out. After securing half the budget from BFI NETWORK we were matched by Phil Davies who came on board as Executive Producer. Collaboration was very important to the project. We had the incredible animation help of Chiara Sgatti and Ala Nunu Leszynska - who tackled the future religion's 'origin story', illustrating the climate breakdown of the previous generation. We worked with Skillbard from the beginning on the sound and music as we knew there would be a bunch of goofy songs in it. We worked with a casting director for the first time (the brilliant Leanne Flinn) and it was real fun recording the cast and getting to work with such a great bunch of actors whose work we admired (Thea Gajic, Jason Forbes, Javone Prince and Lorna Gayle).
ZF: The film is eerily predictable of this pandemic situation. Of course, you did not predict it like this, but how do you feel about it?
DG-RWT: We wrote the film in 2017 as a response to the feeling that everything was shit. We both probably spend an unhealthy amount of time following the news which makes it seem like only bad things happen. A global pandemic is, as far as bad things go, quite bad. It has probably taken a toll on many people's mental health, but also allowed corrupt wankers to take advantage of the chaos for financial gain. All the worst people have made more money. I have to say, I don't love it.
One observation is the growth of conspiracy theories, which I suppose comes back to cults. The internet has accelerated the spread of mad bullshit on climate denialism, anti-vax, COVID-hoax, QAnon hoo-hah, but in turn has made it much more bearable to stay connected through quarantine and create vital community-based support networks. 
ZF: What do you think about cults and idols in general?
DG-RWT: We are not religious or spiritual ourselves, but we understand the instinct to parcel the chaos of life into a guy called Jesus or Budhha or John Frum. What interests us is the manifestation of cults/religions. Diana grew up  as an Eastern Orthodox Christian, a religion that thrives on excess with megalithic ornate churches dripping in gold. The reasoning behind it seems to be that something as transcendental as a higher being should be manifested in Liberace architecture on Earth, because people are shallow and simple-minded and will only respect an all-mighty force if the god has a lot of flashiness to show for it (or so she was told by her priest age 11). Rory had a pretty liberal Church of England upbringing but genuinely believed in Jesus as a kid and especially liked the songs. It's all just stories and stories are important.


Film Review (Vassilis Kroustallis):
On the one hand, it is quite something to be in a post-apocalyptic world and have your religious rituals quite intact. On the other hand, it is quite hilarious. There is tempo, energy and good-willed animated attack on our all kinds of idols and cults in the 9-minute New Year. Fittingly moving between the post-apocalyptic future and the past of the Y2K, 1999 New Year's Eve, the film works like an archival store for all 20th century things cultural; no surprise that the recording device is the connecting tissue.  Diana Gradinaru and Rory Waudby-Tolley want to portray their clearly defined characters, with solid lines and full-colored faces that still make them at unease with their hazy surroundings; still their protaganists want to investigate what is solid (artefacts for one) in an everlasting flux of the before and the after. And if that sounds too serious for you, there's still one thing that is both solid (ball) and fluid (movements). It's called football. Grandiose visually and musically when it fits so, bittersweet and visually relaxing at other times, New Year is a deilightful sum of our expectations, wishes and desires which are meant to be terribly wrong and we know it. But we don't care -as long as we have NIcky Butt.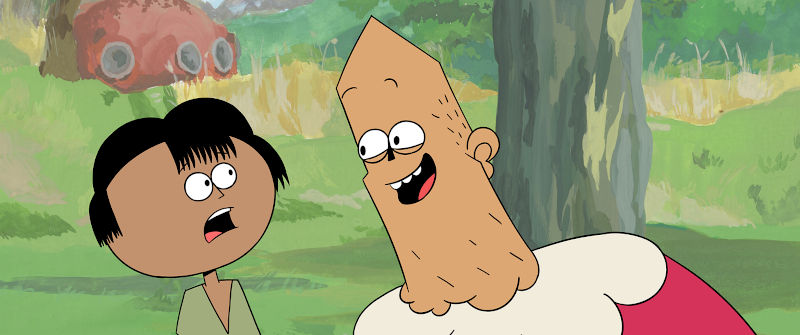 About Rory Waudby Tolley

Rory WT is a writer, director and animator from London, whose films have played at many festivals around the world. His RCA graduation film Mr Madila has won prizes at Palm Springs, Fantoche, Flickerfest, Premier Plans Angers and the RTS Award for Best Post Grad Animation. It also qualified for the Academy award for Best Animated Short. Two new Mr Madila shorts were later commissioned by Adult Swim. His latest shorts include the animated documentaries Art For Lawyers (2017), There's Something in the Water (2018) and Powerwash (I Love You) (2020). He is a tutor at the Royal College of Art.
About Diana Gradinaru
Diana is a freelance London-based animator and illustrator with a background in Fine Art. She studied animation at the Royal College of Art. She has worked on independent documentaries and projects for clients including the BBC, the RSA, the Royal Institution and King's College. Her style blends the hyper-detailed and the naive to surreal effect.
SIGN UP: Want to read more free articles like this? Sign up for Our Newsletter
Read More About: