Shorts
Ouroboros by Madisyn Dell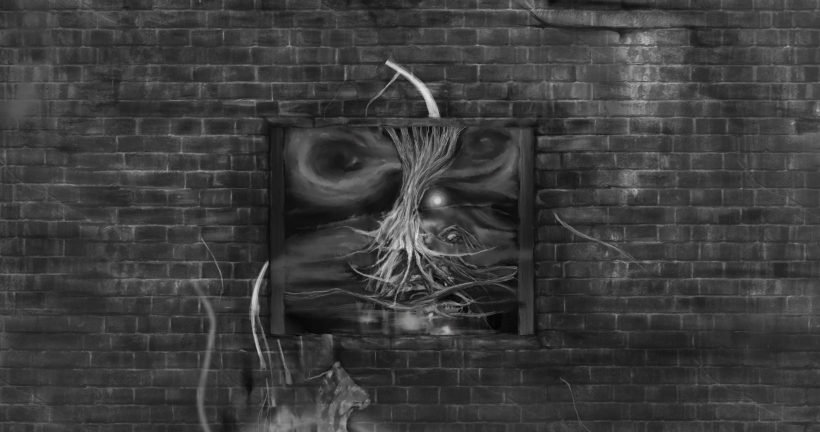 A bird flies through a desolate land and awakens a sleeping force. This is the premise of the very short (and very suggestive) animation film by Madisyn Dell, Ouroboros. The film is now selected at the Canadian student competition of the 2020 Ottawa International Animation Festival.
Watch Ouroboros:
We caught up with Madisyn Dell to learn more about the film's process:
ZF: What is the film's origin? 
MD: It was my first year film at Concordia University with The Mel Hoppenheim School Of Cinema. It was completed at the start of 2019, so before the quarantine period.
ZF: It looks obvious to ask why you picked up this subject with so many cinematic / cultural references for your film, but I will still ask this. You could have picked up a simple idea, but you chose this instead. 
MD: I was very into this style at the time, I had been working on a series of paintings when we were asked to start making our films. I chose this one because I felt it had something deeper to it I wanted to explore. I was listening to a lot of atmospheric music at the same time which influenced the imagery in my mind a lot. I didn't really have much reference other than my own images and how they made me feel. I tried to stay true to a specific feeling I had at the time and transfer it as closely as I could into film.
ZF: The idea of a small disturbance causing great havoc is very environmental, but did you actually have these thoughts in mind when making the film?
MD: I wanted to use the bird as a source of direction to guide the viewer through the world. Something you feel you can trust like a light in a dark passage. I was very focused on evoking a specific mood but I did feel a lot of dread at the time for the future of the planet. The images I was creating seemed to be a result of thinking about this post environmental catastrophe. I was searching for some hope in that future, which is what the sleeping force is about. Nature returning from the ashes.
ZF: How did you prepare the artistic direction for your film (background, character design)? Did this come first or after the story was written? And did you write with an early script finalized or were you moving along with the animating scenes?
MD: I had a series of acrylic paintings that I wanted to bring into motion. I began developing stills from this world I was picturing until I felt like I had gotten the mood down. I began the animatic, piecing the images together to create some continuity and there it slowly formed. I ended it with the bird that strung everything together.
ZF: Is this the work of a single person or you had help as well? And how long did it take you to make the film.
MD: Everything was done by myself including the sound. The only aspect I didn't do was the sound mixing which was done by Tim Horlor, the sound engineer for the cinema. It took me about 2.5 months to finish it.
ZF: How different is to move from the world of the still image to the world of the moving image? I think you do both
MD: I think bringing the image into motion creates a lot more possibilities with the direction because there is a lot more to consider. It is quite amazing to me how much depth you can create with movement. The still image is suddenly breathing and taking on a life of its own. There is always mystery with both.
ZF: Your film was selected at Ottawa International Animation Festival (Canadian student competition). How do you feel about this (OIAF is a big festival), and would you like to pursue a career in independent animation -or perhaps it's too early to tell?
MD: It is definitely a big leap in the right direction, I feel very fortunate to have been picked for the festival. It is the first time I've made a film and been in a festival so it is all very new. Though I am planning on pursuing a career in independent animation.
About Madisyn Dell
I am a 23-year-old artist living in Ottawa, Ontario! I began experimenting with visual art when I was around sixteen and have been doing it ever since. I decided after high school to pursue a career in illustration and graduated from Algonquin College's Illustration & Concept Art program in 2017. Shortly after I moved to Montreal, Quebec to find work but ended up deciding to study Film Animation at Concordia University. After a year in the program I fell in love with it and have decided to pursue independent film making as well as traditional animation.

SIGN UP: Want to read more free articles like this? Sign up for Our Newsletter
Read More About: