Shorts
Palmipedarium by Jérémy Clapin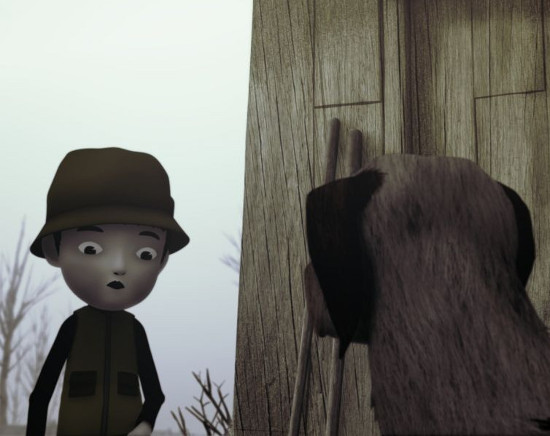 Simon knows about ducks quite well. They make noise, fly, swim, some even roll. Sometimes, it's a bit confusing and Simon gets lost.
The new film by the director of Skhizein won't employ a mental disorder, but still finds itself in the murky atmosphere of childhood. With lips sealed as if being forever oppressed, the central character in Palmipedarium is a boy dreaming of adventures while learning to go hunting with his father - and watching his mother pluck the feathers of dead birds.
The extremely tall and strange-looking bird is an anomaly in the kid's world, saturated with earthly browns and foggy colors. Yet, whatever the boy's good intentions are, he cannot escape his environment and learning -up to the very shocking end.
A masterful film in subdued violence, Palmipedarium tells a lot about not being ready to live with the different other.
CREDITS:
Papy3d productions.
Thanks to the BLENDER foundation
Scenario, Art direction and editing : Jérémy Clapin
Producer : Richard Van Den Boom
Executive producer : Jérémy Clapin
Music : François-Eudes Chanfrault
Technical director: Jean-François Sarazin (VANILLA SEED)
3D Modeling, Texturing, Rigging and 3D rendering : Alexandre Louvenaz, Hélène Emain, Floriane Hétru, Fabien Weibel, François Carrobourg, Quentin Piq
Setup Rigging: Fabien Weibel, Quentin Piq, Jean-François Sarazin
Animation and compositing : Jérémy Clapin, Alexis Artaud
Sound design and mix: Eric Lonni (DIGITAL SALADE)
Foley : Bertrand Boudaud
Supported by : le CNC, Arte, the Procirep/Angoa-Agicoa and the Val de Marne Council.
Read More About: