Shorts
Pineapple Calamari by Kasia Nalewajka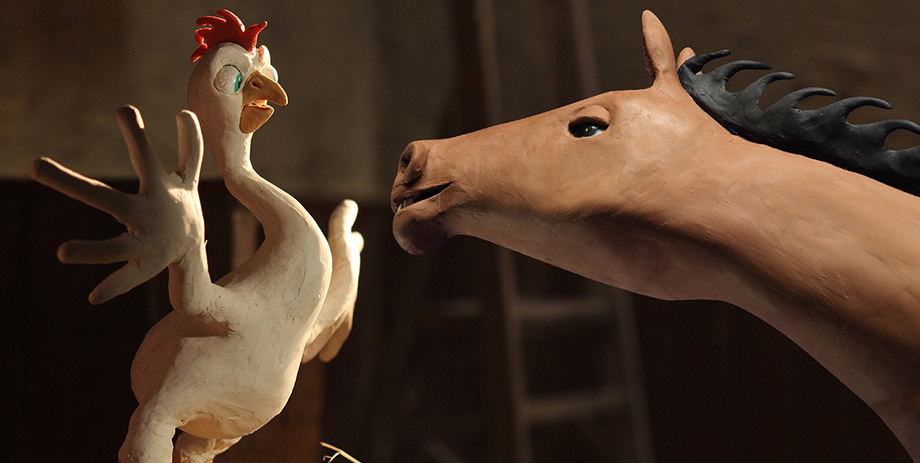 Pineapple Calamari is a little horse who dreams of becoming a racing champion. He is taken care of by two sisters, who share a very special connection. When tragedy befalls this happy family, their social life takes a dramatic turn into the unexpected.
Having grabbed the Best Short Animation at the 2014 Sitges Fantastic Film Festival, Pineapple Calamari  by Kasia Nalewajka is more homely than it sounds. Yes, it shares the grotesque plot of the Triplets of Belleville (watch for those frogs), but its main sister duo are more sympathetic and surrely less sinister than the similar couple in The Pearce Sisters.
What Pineapple Calamari proposes is that an exchange of roles (including cross-dressing with perfectly made-to-wear garments) is never substitute for a loss. It can only be conceived as a joke and nothing more.
Poking fun at the endless time stop-motion takes with its multiple similar shots, Pineapple Calamari perfectly supports its three-act structure. Puppets are fun to watch (lipstick makes the difference here), and the exuberant joie de vivre characters project results to an inspired film.
Kasia Nalewajka is a Warsaw-born, London-based artist. The short was made at NTFS (London, UK) as part of her postgruaduate studies.
CREDITS:
Directed by Kasia Nalewajka
Produced by Daniel Negret
Written by Kasia Nalewajka & Daniel Negret & Manuela Lupini
Edited by Manuela Lupini
Cinematography: Stewart MacGregor
Sound desing: Adam Layland
Music: Matthew Kelly
Production design: Paul Savulescu
Production manager: Carlos Ciudad
VFX Supervisor: Boyko Stankov
SFX Supervisor: Daniel Neeson
Online editor and colorist: Boyko Stankov
Supevising Art director: Sanne Houwing
Art director: Steven Nanson
Lead set designer : Veerle Koldijk
Costium designer: Natalie Jayne Hall
Lead puppet makers: Kasia Nalewajka, Maria Maloy
Animation assistant: Dana Tasker
Model makers:
Sanne Houwing
Steven Nanson
Maria Maloy
Caroline Walotka
Elena Canizares
Jay Roberts
Adam Roberts
Jamie Franklin
Kaleish Mohammed
Raquel Algaba
Alina O'Donnell Pina
Elena C. Galindo
Hashim Gaad


Read More About: