Shorts
Rabbitland by Ana Nedeljkovic & Nikola Majdak jr.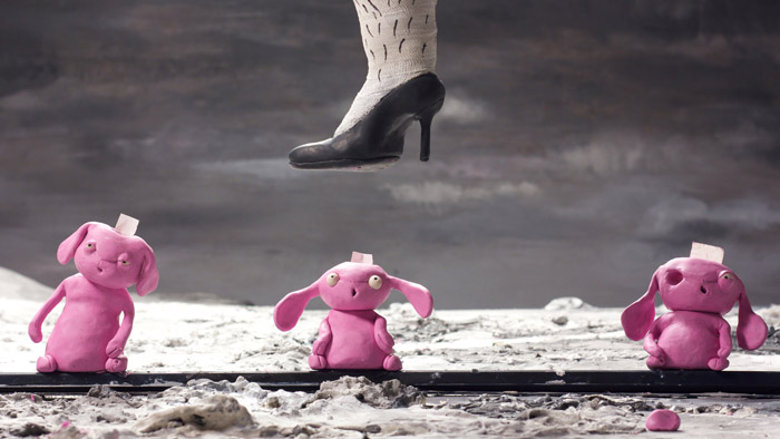 The deeply political film by Serbian animation directors Ana Nedeljkovic & Nikola Majdak jr. won the Crystal Bear for Best Short FIlm - Generation at the 63rd Berlin Film Festival.
Brainless Rabbits live in Rabittland, a perfect world ordered according to the most successful examples of war zones, ghettos and slums. They are intensively pink, have holes in their heads instead of brains, and they are happy regardless of what happens to them. They are the highest stage the evolution has ever reached. Their everyday life is completely fulfilled. The Rabbits spend days voting on free and democratic elections, which take place in Rabbitland once a day, because Rabbitland is an ordered democracy. Nevertheless, it gets disclosed that the elections are organized by the Evil Girls, just for their fun and laughter. - Film Synopsis
Watch Rabbitland:

Film Review (Vassilis Kroustallis):
Both directors state their want their characters to hypnotize people on screen, in the same way they themselves (the characters) are hypnotized. In a way, this could be the essence of the awarded film, a 7-minute parable, which feels like a long tracking shots (despite all its cuts and close-ups). There is a distanced relationship with our characters, with a third-person narration and an ominous music making them really clay puppets waiting for their doom. The clever thing, of course, is that this doomsday never really comes, but it is repeated -again and again. Part of a trilogy itself (the second part is Untravel, and the third part is the upcoming Money and Happiness), the pink-infested Rabbitland bring us in the unhappy position of contemplating whether we ourselves are clay puppets walking around with an empty hole and a ballot in our head. The meticulously contrasted color palette (pink rabbits vs. Evil Girls and their ruined grey surroundings) and the long, arduous process to become a voter and a citizen carries the burden of inescapability. There's no way out of Rabbiltand -unless, perhaps, if you can buy money and happiness.
CREDITS:
Director/Animator: Ana Nedeljkovic & Nikola Majdak,jr. | production: Jelena Mitrović | script: Ana Nedeljković | director of photography: Nikola Majdak, jr. | editing: Srđan Radmilović | animation: Ana Nedeljković, Nikola Majdak,jr. | sound: Vladimir Janković | music: Dušan Petrović | cast: Maša Mileusnić, Natalija Gajić, Vladislava Đorđević
Produce by: Bas Celik
SIGN UP: Want to read more free articles like this? Sign up for Our Newsletter
Read More About: