Shorts
Random Walks by Borbála Tompa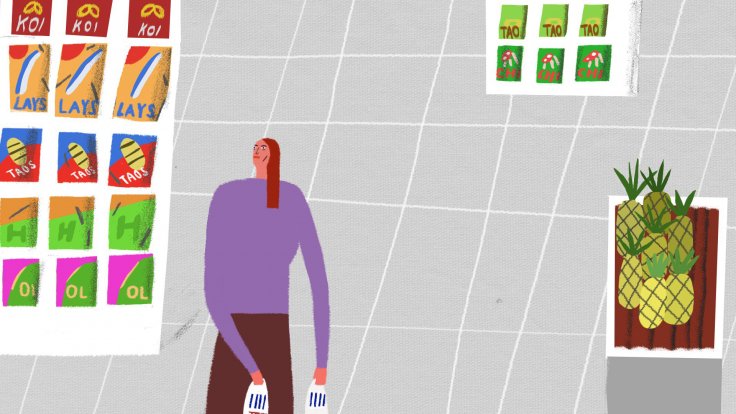 Taking into account the persistent moves of Hungarian Prime Minister Viktor Orban against immigration,  an animation documentary about immigrants in Hungary couldn't be more relevant. Budapest-based animation filmmaker  Borbála Tompa enlisted the support of journalist  Lucia Udvardyova (conducting and recording interviews) and made her own Random Walks.
Refugees Omer (Pakistan) Fartun (Somalia), Tehila (Isreael), Aref (Iran), and Claudio (Mexico) tell their own story.
We follow the story of five immigrants in Budapest, two of whom still live here as refugees. / We touch upon various levels of their life - from the banal to the serious.
In economic theory, "random walk" means that stock market prices cannot be predicted.
Each time, the price has a fifty-fifty chance of closing higher or lower than the previous day.
It means that we don't know how - or where the life of these people going further.
Broad-shouldered characters look awesome and impressive, but they are always in fences. Chequered patterns in basket boxes, rooftops and even T-shirts ensure that slogans like "sport", "universe" truth simply have a hard time to apply here. Trees become bars for people to walk among them, and pass from one cultural difficulty to another.
Even though it looks like cut-out, all character design and backgrounds were made in Photoshop (animation was conducted in TVPaint Animation Pro) .Random Walks narrates successfully the life stories of its characters, without imprisoning them in an overarching 'social' message, unlike both their home country and hosting environment.
Borbála Tompa is a Budapest based animation filmmaker and illustrator, and  a graduate of  Moholy-Nagy University of Art and Design Budapest. She've been working in many children shorts and series, and to clients as TED-Ed and The School Of Life. She was the member the Animation Sans Frontières program in 2017-2018
CREDITS:
DIRECTED BY: Borbála Tompa
PRODUCED BY: József Fülöp / SUPERVISOR: Tibor Bánóczki
ANIMATION: Csaba Zabos, Zoltán Koska, Olivér Hegyi, Balázs Rónyai, Judit Orosz, Fanni Németi , Anita Kühnel Szabó , György Lovász, Júlia Farkas, Anna Katalin Lovrity , Soma Sebesvári , Borbála Tompa
 COLORING :Anna Tőkés, Éva Darabos, Fanni Szilvási, Judit Orosz, Anita Kühnel Szabó , Olivér Hegyi, Csaba Zabos, Júlia Farkas, Anna Katalin Lovrity , Borbála Tompa
CHARACTER and Background DESIGN: Borbála Tompa
BG and Character LAYOUT :Borbála Tompa
COMPOSITING: Balázs Fekti, Bálint Gelley
EDITOR: Judit Czakó
ORIGINAL MUSIC BY: Bálint Szabó
SOUND POST-PRODUCTION: László Zizics , Gergely Buttinger
SCRIPT: Zsófia Ruttkay, Borbála Tompa / TEXT EDITING: Borbála Tompa
LEADER INTERVIEWER: Lucia Udvardyova
PRODUCTIONS MANAGERS: Krisztina Holló Leleszi, Orsolya Sipos
KREATÍV ASSZISZTENS / CREATIVE ASSISTANCE OF: Júlia Farkas
SZEREPLŐK / CAST: Omer , Fartun , Tehila , Aref , Claudio
CONCEPT CONSULTANTS: Tibor Bánóczki, Judit Czakó , Réka Gacs , Rita Domonyi
IN COOPERATION WITH:  Migrant Solidarity Group Hungary , ARTEMISSIO foundation
SIGN UP: Want to read more free articles like this? Sign up for Our Newsletter
Read More About: