Shorts
Riga's Lilac by Lizete Upīte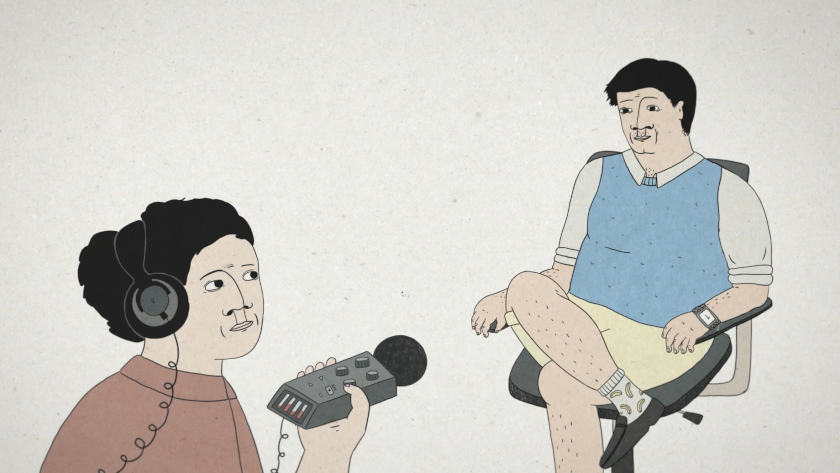 After a run of successful festival screenings, Riga's Lilac by Lizete Upīte is now online, with a very unique subject matter, and the form of fictional animation documentary
In Riga's public transport you can call the police, if someone smells bad and disturbs your ride. But would you call?  Lizete, an amateur interviewer, tries to figure out  - do we have the right to stink - Film Synopsis
Watch Riga's Lilac:


Sneak Review (Vassilis Kroustallis)
Deadpan humour and a pseudo-scientific attitude taken to its extreme are the virtues of this inviting animation short, which asks the fundamental questions whether empathy (and the sense of smell invites all kinds of feelings) can be scientifically measured, controlled and patrolled. The isolated interviews offer an authoritative (but mocking) viewpoint to a subject matter that seems another taboo to discuss in public. The down-to-earth character design enhances the feelings of people being concerned about things that should be as natural as anything. It is to its kudos that the film won't try to visualize smell and its consequences; it is what is always discussed (and sometimes in a really funny mechanical fashion), and is always elusive. As this enticing film is.
About  Lizete Upīte
Born in 1987, Lizete Upīte is an animation film director from Latvia. Lizete begun her studies in audiovisual media in Baltic Film and Media school, Estonia, but after Erasmus exchange studies in Portugal, changed her major to animation. In 2013, after finishing school of directing animation La Poudrière in France, she's been working on several animation projects as well as directed her two animation short films "Night Walks" (2018, produced by Atom Art (Latvia)) and "Riga's Lilac" (2019, co-produced by Papy3D (France) and Atom Art (Latvia)).
CREDITS:
Scenario and dialogs : Lizete Upīte | Translations : Sarah Van Den Boom, Laura Kampenusa, Titouan Bordeau | Art Director : Lizete Upīte | Voices : Ieva Segliņa, Gatis Gāga, Liena Šmukste, Edgars Samītis, Jana Čivžele, Ģirts Krūmiņš, Baiba Broka, Guna Zariņa, Toms Veličko, Juris Strenga | Voice recording : Ģirts Bišs " Animation : Louise Cailliez, Lizete Upīte | Animation Assistants : Kristīne Zvirbule, Jānis Upītis | Colour Assistant : Kristīna Šmite | Compositing : Izù Troin | Editing : Lizete Upīte | Sound Design : Loïc Burkhardt | Producers : Richard Van Den Boom (Papy3D Productions), Sabine Andersone (Atom Art) | Studio animation 2D : Ciclic Animation | Supported by : the CNC, Ciclic, la Procirep et l'Angoa, Nacionālais kino centrs, Valsts kulturkapitāla fonds
SIGN UP: Want to read more free articles like this? Sign up for Our Newsletter
Read More About: