Shorts
Riviera by Jonas Schloesing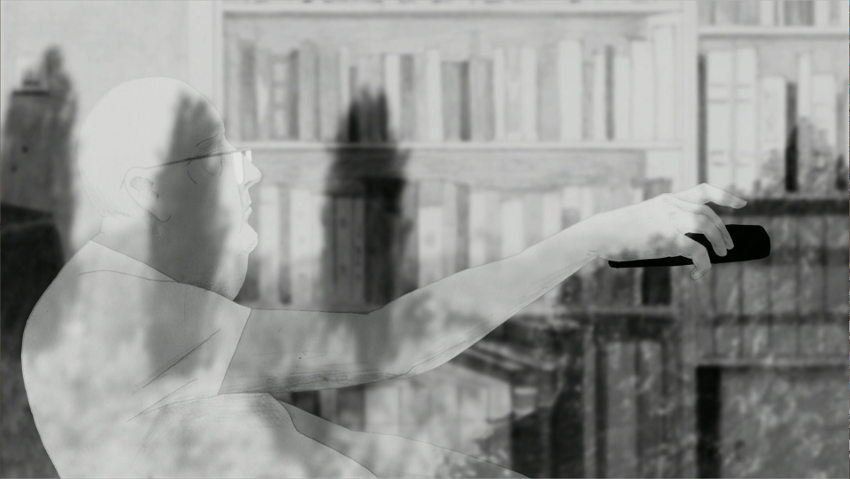 Jonas Schloesing's Riviera has been both Oscar-qualified and Cesar-shortlisted for the upcoming US and French awards respectively. This almost meditative study of an old man in Riviera attracted a lot of attention in festivals as well.
The film is an Ikki Films production, in co-production with Alpaga Films and Novanima Productions.
In the Riviera residence, it's siesta time. It's unbearably hot, but Monsieur Osganzi and Madame Carmen stick to their routine and bask in the sun beside the swimming pool. In the shade of his living room, Monsieur Henriet tries to entertain himself by watching his neighbors and the slightest sign from the outside world. On the surface, everything seems calm - Film Synopsis
ZF: What kind of research you had to make for the film?
JS: The film feeds in large part on quite specific childhood memories. However, I am still going back to the place, in the house of my grandparents, which actually adjoins a residence very close to the one shown in the film. The topography of the places is therefore quite "realistic". The initial desire was to make feel a particular atmosphere, the hours of nap time. But the film's plot, though minimal, is nurtured by deeper, more intimate and underground things that remain absolutely implicit to the viewer. I realized very late what this film was exploring. On the other hand, it draws quite directly from my two grandfathers, and questions the way I look at them.
ZF: How long was the procedure from development to finish, and which were your collaborators?
JS: After the writing and the search for funding, and several successive reworkings, which spread out over two or three years, the filming itself took a year and a half or so. I was surrounded by a fairly small team: one extra animator, several trainees, and then a second animator to finish to film
ZF: It's difficult to portray a character with an illness. You don't want to be sentimental, but at the same time you have to make him interesting. How did you approach him?
JS: The feeling that governed the construction of the character, and what I decided to show, was the almost contradictory fact that one can be convinced that they have known someone (your own grandfather in this case), while at the same time whole areas of his existence and his personality totally escape us. The simple idea that you never know anyone "fully", with all their complexity, contradictions, their secrets and experience. The character here is an elderly person, who is obviously bored. The decoration of his living-room gives us gradually, in a fragmented and progressive way, what he is or has been, and his condition. 
ZF:Sometimes, the backgrounds were so detailed that I had the feeling they were photographs over-imposed. Did you do the whole film in 2D?
The sets are entirely hand-drawn. The only digital effects are quite light, and almost only concern the treatment of the pool water.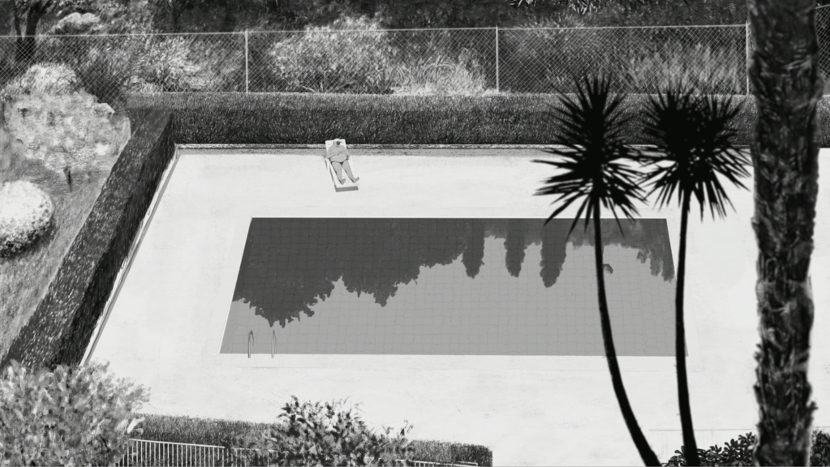 ZF: Were there any creative decisions you had to make that you didn't know before starting the film?
JS: Overall, I had a pretty clear idea of the kind of image I wanted to get. I took advantage of a certain black and white, and quite realistic style of drawing, before I started animating. However, some script elements have been moved, added, or abandoned while animating began. It was a question of finding the right mix between explicit and implicit, between what must be understood without ambiguity and what I wanted to leave more floating, to the free interpretation of the spectator.
ZF: Is the black-and-white look a way to talk about your character's own world or the general feeling of something boring and uninteresting?
JS: The choice of black and white is primarily aesthetic, but participates in the ambient drought, and allows enough games of contrasts, shades and reliefs. Color was an interesting option, but would have also required much more research and animating time.
ZF: You chose not to use music at all. Why?
JS: In general, I have nothing against music in films, provided it is used in a relevant way, and not too demonstrative or invasive. But once again, I opted for a description rather crude, rather dry and "realistic", more able to account for a stifling atmosphere, which leaves plenty of room for surrounding sounds, accentuates the sensory side of the film. The absence of music also reinforces, I believe, the impression of real time, a slice of life extracted almost "as it".
ZF: Riviera looks like a very intimate story indeed.
JS: Yes, I became aware of the "hidden" springs of this little story while I made the film. However, nothing deep or intimate meanings are explicitly reflected. My unconsciousness and my modesty have no doubt turned confused questions and feelings into a simple and linear story. The plot is minimal, but I hope that we feel that things are beyond our comprehension, that not all answers are given.
Film Review (Vassilis Kroustallis):
This is a layered film of time moments, presented as an uninterrupted long take on human futility. Bordering between inactivity and mystery, Riviera makes you feel that sensations and feelings are richer than what meets the ordinary movements (represented as canva dissolves, one inside the other). Sexuality, parenthood and memory are all mixed in this intriguingly affectionate short, which not for a moment sacrifices its own mystery to gain our own sympathy. It's daring to have an off-season Riviera on screen, but here it succeeds all the way through -the beguiling fact of the human presence, unadorned and nude from external details and facts, but still a figure to care about.
CREDITS:
Riviera by Jonas Schloesing (15' - 2D animation, 2018) | Animation: Jonas Schloesing, Leo Bruyat, Rosalie Loncin  | Compositing: Jonas Schloesing, Rosalie Loncin  | Editors: Catherine Aladenise, Stéphanie Sicard, Eric Mauger | Sound editor: Mathieu Z'Graggen | Foley artist: Daniel Griès | Sound mixer: Régis Diebold | Grader: Yves Brua | Voice: François Small, Laura Fix
About Jonas Schloesing:
Jonas Schloesing was born in 1983 in the south of Paris. After severals attempts in university, he finally get into the ENSAD (École Nationale des Arts Décoratifs), a french public grande école of art and design and choose animation. In 2011, his graduation short film Je ne suis personne (« I am Nobody »), a fragmented portrayal of Fernando Pessoa, is selected in a dozen festivals (in France and abroad). Riviera is his second film.
The film is supported by CNC - Aide à l'écriture and Aide avant réalisation, Région Nouvelle Aquitaine, Région Grand Est, Ciclic - Région Centre-Val de Loire (postproduction fund), Procirep and Angoa, and distributed by Varicoloured.

SIGN UP: Want to read more free articles like this? Sign up for Our Newsletter