Shorts
Sausage by Robert Grieves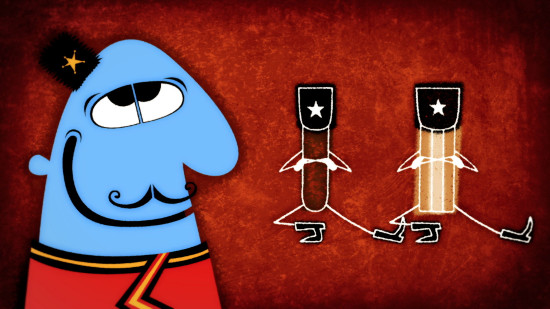 The idyllic world of two artisan stallholders is invaded by a devious fast-food vendor. The ferocious turf war that follows provokes life changing events that result in one delicious discovery!
After a successful festival circuit accumulating 8 international prizes (including Amsterdam Film Festival and the NYC Independent Film Festival), the retro-styled, self-funded Sausage by UK-based animator Robert Grieves qualifies for Oscar consideration (Best Animated Short). Watch it below:
 Even though its main theme of individual struggle against corporatism has been worked to exhaustion, Sausage reinvents its area with an acceleration of comic episodes in a constant, energetic battle of sausage survival. Its fresh, UPA-like, colorful and flattened figures adds style to a food topic that would otherwise be deemed too vulgar to this approach, and sexual innuendos are always well-placed.
 Music by Dan Radclyffe never misses a beat in this battle between good and evil (sausage).
 With a degree in Illustration and MA in Moving Image, Robert Grieves regularly works with the BBC and ABC, as well as other major broadcasters such as Disney and the History Channel, collecting two Gold Promax/BDA awards along the way.
He also created interactive animations for Madame Tussaud's and Cirque du Soleil, animated backdrops for Hairspray the Musical, the London Olympic Ceremonies, as well as Adidas'  animated World Cup highlights for Brazil.
The film's release coincides with 'British Sausage Week'. More film info at Sausagefilm.net.
Read More About: