Shorts
Sent Away by Rosa Fisher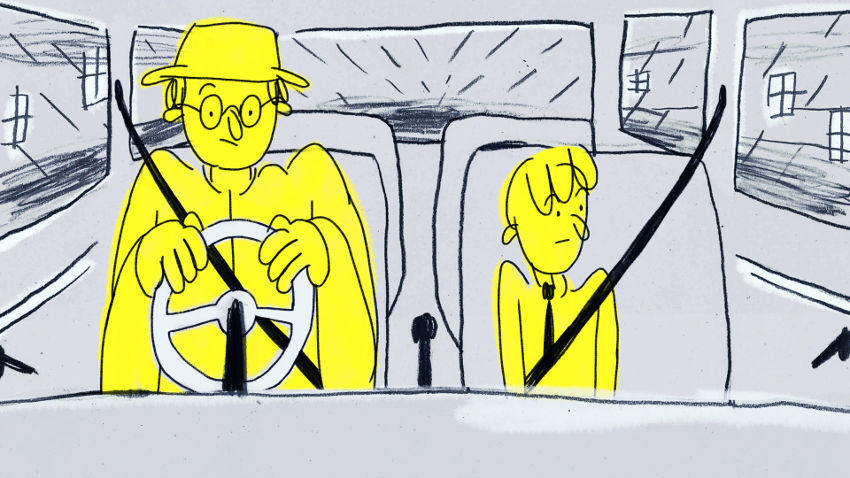 Sent Away talks about the experience of Rosa Fisher's father being sent away to boarding school when he was 8. Apart from this personal angle, it also speculates at how the cultural tradition of sending children to boarding school has shaped the UK, as so many of our politicians have been moulded through these institutions. 
Using a combination of humorous drawing and visual metaphor, Sent Away explores themes of masculinity and how children are institutionalized  and hardened through the boarding school system. Sent Away has recently won best documentary at FAFF festival in London, and has been at a variety of other film festivals around Europe. 
Watch Sent Away
ZF: How did you get with the idea for the film, and how easy it was to interview your dad?
RF: My Dad has spoken about his experiences of being sent away to school throughout my life, and this made me really invested in showing the kind of damage these institutions can bring. It was such a nice thing to talk to him about it in more detail and he said things in the interview that I'd never known about before. Dad has all of the letters that he sent home to his parents whilst he was at the school as well so we looked through these whilst he was talking, and this was really great, as it helped spark memories and stories. I then ended up with 3 hours of interview footage! So it took me a very long time to edit it down.
ZF: I imagine there are more things which were said that didn't make it to the film. Also, how did you construct your research? Did you want a strictly first-person story (Tom Fisher) or you checked out other testimonies, records, archives?
RF: At first I couldn't decide between approaching it through multiple people's stories or just sticking to my Dad's experiences. I decided, however, after interviewing Dad, that there was almost too much to go on just with his story alone, and that there was so much I wanted to say just with that. I also realised it might be easier to empathise and identify with one person's story rather than many different ones. There was so much that I wanted to include that would have just made the film way too long and I had to get rid of it. Dad told such a touching story about mistaking someone for his Mum on his first day and thinking she'd come back to take him home before realising it was actually someone else. I really wanted to include that but it just didn't fit in the end.
ZF: Did you stick closely to 'facts' or you make up the stories? I really liked the segment about masculinity and the father accompanying the son to the boarding school -just like taking him to the army.
RF: I did actually stick quite closely to what Dad had said and the stories he had told me in the film. I'm very glad you liked that segment, the masculinity aspect was something I wanted to really focus on as it was a big theme in conversations I'd had with Dad, and also something that really interests me a lot in general.
ZF: I was wondering how strong this tradition of boarding schools in UK remains. Is this the case that in order to ascend in social status you need to have finished a boarding school? It seems now, with the success of Harry Potter films, they have become a sweet nostalgia issue - contrary to your own film.
RF: It definitely is still a tradition and it is seen as a privileged education. They have changed since my Dad was there, and obviously things that I included in the film like the presence of the cane have gone, but the principle remains the same that children are separated from their parents at a young age, and this is at the core of what is so psychologically damaging about it. 
ZF: Why the students in the boarding school write with their left hand? Are they forced to write with the left hand?
RF: In those scenes I was focused on them all writing in unison together as the main important element, but no that is not something that happens.
ZF: Was it really a practice for school directors to read the pupils' own personal letters and correct them?
RF: Yes, how crazy is that! Their letters home were marked and given a score out of 20. I found this such a disturbing thing too, because even that one personal connection to your family is being manipulated by the school. It would surely make it feel like you have nothing of your own not even that. The letter in the film is based on a letter which was kept by my Dad's Mum and the real version of it is shown at the end of the film.
ZF: Your character's design looks like being borrowed from a comic strip or children's sketchy drawings. How did you go with that?
RF: I really enjoy pairing this light hearted aesthetic with dark subject matters and I'm really inspired by UPA animation where it's very stripped back and they give a sense of space through only including necessary elements with very limited colour palettes.
ZF: The yellow colour is not usually associated with positive feelings, but here you have it to get more warmth really in your characters; the world surrounding them is gray and ugly. Can you tell us more about your color palette and aesthetic choices you made?
RF: I chose the grey colour to reflect the coldness of the institution and then yellow to show the bright, confidence of the characters that stands out and seems at odds against the grey. The longer the children are at the school they start to get enveloped by this grey as they become the rock covered, hardened characters. The yellow though is still shining out as the little inner light inside.
ZF: Sound design had a tricky job: to balance the musical sounds with the sounds coming from spanking etc. Did you and your collaborators have a plan for that, or it came naturally?
RF: I am extremely lucky to be able to work with the very talented musician Martino Gasparrini who elevated the sound and score to a whole other level. He wrote all of the music and we worked closely on the sound design and decisions. I wanted to have the sound of French Horn running through the film, and use it both musically and in more abstract, distorted ways. The French horn also mimicked the rhythmic sound of the cane at certain points. This was referencing an integral part of the film which was that learning the French horn was the thing that helped Dad survive the experience and connected him to himself whilst being at the school. The beating drums were also used to bring in militaristic connotations whilst also building tension. 
ZF: You pose conformity worries in your films (also in Conformity Juice). Is it something that really fascinates you as a subject matter? And would that reflect the status of an independent animator, who needs to create outside the dominant US studio tradition?
RF: That is really true! My work often has a running theme of being anti institutional and talks about themes of conformity and competition and how these implicate on individuals. I find that really fascinating as a theme and have noticed it is almost always there in some way in my work. You definitely can draw a comparison between that and the way my work stands in comparison to more dominant, commercial animation too. 
Film Review (Vassilis Kroustallis):
If Gerald McBoing-Boing had to go to boarding school, how would he feel like? Spontaneity and revolutionary attitude expressed in sketchy but potent drawings and movements make Rosa Fisher's animation documentary a delight to watch. Its subject-matter, of course, bears no charm; children away from home to become even more masculine in those boarding schools, a dream that was certainly not boys' dream at all. Fisher directly links the case for masculinity with physical abuse and a society mania for conformism. Yet the most impressive section (and the one that should have been developed further) is an experimental-like sequence in red, which tells that malnutrition (and physical exhaustion) seems to be the sole result of adhering to these values. At the same time, he film's sound never fail to alert of the dramas unfolding, even if the main character won't experience abuse at first hand. The film's narration comes up to reveal Tom Fisher in the end, at ease with his past, in a film as much informative as empathetic.
About Rosa Fischer
She is an award winning animator and has just finished an MA at the Royal College of Art in Animation. Her work often has a running theme of being anti institutional and talks about themes of conformity and competition and how these implicate on individuals. She really enjoys combining a jokey, light hearted aesthetic with darker, serious topics.
CREDITS:
Sent Away, directed by Rosa Fisher 
Music, sound mix, live action footage | Martino Gasparrini
Voice over, horn playing | Tom Fisher
Colouring Assistance | Laura Carter, Jill Gibbon
Special Thanks to | Sylvie Bringas, Tim Webb, Bunny Schendler, Ed Foster, Katerina Athansopoulou, Joe King, Rory Waudby Tolley, Edwin Rostron, Suzanne Buchan, Nick Duffell

SIGN UP: Want to read more free articles like this? Sign up for Our Newsletter