Shorts
Sog by Jonatan Schwenk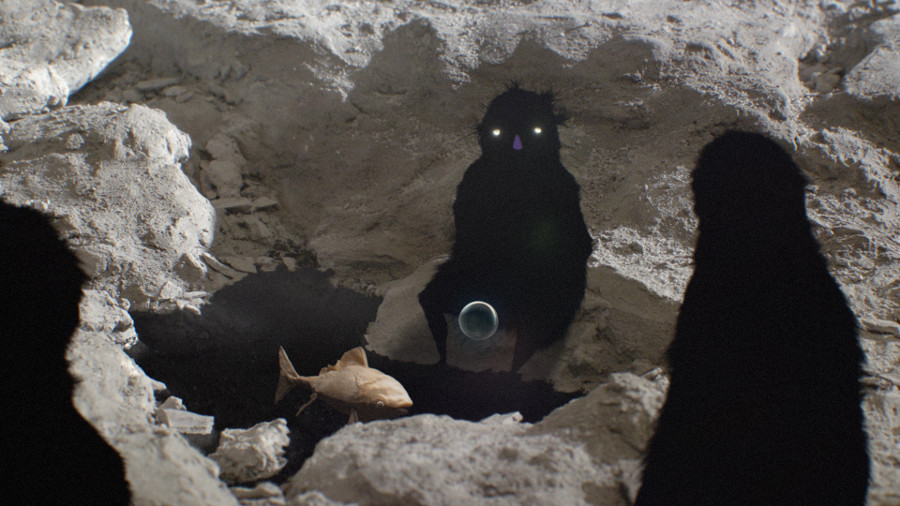 Armed with 40 festival awards, and a distinctive mixed-media technique, Sog by  German director Jonatan Schwenk tells the following story:
After a flood, some fish got stuck in old trees. In danger of drying-out they scream sharply. Woken up by the noise, the inhabitants of a nearby cave don't feel happy about the unintended gathering - Film Synopsis
According to the Collins English Dictionary, "Sog" means a piece of boggy land. It is most of all, this place and its ruthless power of decay and destruction, which defines the exquisite and haunting 3D/stop-motion/2D effort of Jonatan Schwenk. Based on an idea by Schwenk and Merlin Flügel, the boggy cave of Sog  has its own powers, quite apart from the intentions of the main characters. It almost  brings to mind Roberto Rossellini's Stromboli, another instance of nature avenging humans who are too busy first eliminating themselves.
It was a wise decision to first shoot the whole set (a 12sq m. wood and plaster constructed set) without the 3D cave characters, for the camera flows in and out of the cave as if it needs to penetrate into the intentions of the mouthless, silhouetted cave dwellers, and lighting and shading is phenomenally used to bring shades of characters. Conceived before the recent refugee crisis,  Sog presents clearly the cause of 'irritation'. It is not the puppet fish out of water (and onto the tree branches) that cause the disturbance of the cave dwellers; it is the sounds they make -more like wounded bears than cute little goldfish in a jar.
Perceived menace brings action and reaction, and it is indeed distressing to view a physical object (a puppet fish) get kicked by a 3D character, as if overarching  computation dominates the not-so-perfect (but still desperate) reality of a creature in danger. Community dynamics differentiate between the hapless helper, the bully, the children who feel unaided; still, the pace of community action accelerates from scene to scene, and it is this which gives Sog its anxiety feeling - how much further can you get in being inhuman?
Sog is a film which tells that, all mixed media techniques notwithstanding, we are all at the mercy of the same ingrate environment - so, we had better start working together to do something about it, or just kill each other in the process.  But the message is told with an adroit command of its cinematic tools -and also clear enough as well.
Learn more about the film's making of different media and techniques in the Making of Sog:

Credits (excerpt):
Sog, 10' 14'' (2017), directed and animated by Jonatan Schwenk
idea/screenplay: Jonatan Schwenk, Merlin Flügel
secondary stop motion animation: Marc Rühl / secondary 3D animation: Florian Maubach / 2D animation: Florian Maubach, Marc Rühl
cinematography: Iván Robles Mendoza /gaffer: Maximilian Reimann / sfx set supervisor: Marc Rühl / sfx: Nils Wildegans
3D character modelling / rigging: Jonatan Schwenk / 3D environments: Ferdinand Kowalke
cave destruction scene vfx: Mikola Debik / matchmoves: Valentin Oellers / compositing: Jonatan Schwenk, Maximilian Wagener, Daniel Maaß
sound: Jonatan Schwenk / set builders: Teresa Rinn, Lynn Weyrich, Aleksandar Radan, Marcus Morgenstern
mentoring / advice: Prof. Rotraut Pape, Prof. Alex Opperman, Prof. Thomas Meyer-Hermann, Prof. Martina Bramkamp, Erika Surat Andersen, Urte Zintler, Anne Breymann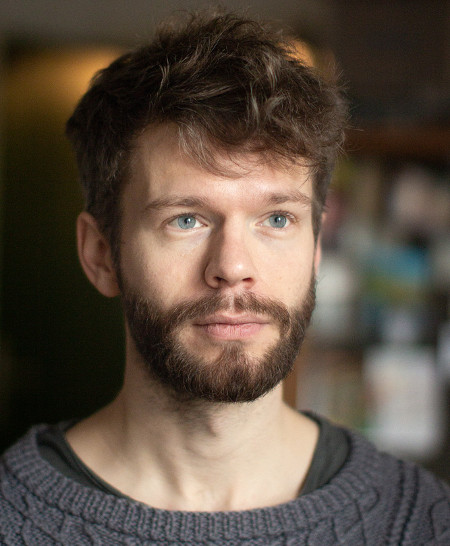 Jonatan Schwenk was born in Germany in 1987. He is an independent filmmaker and animator, currently based in Kassel and Berlin. His animated short "Sog" received almost 40 awards and mentions (including the Annecy Cristal for a graduation film) and has been screened at renowned film festivals around the world, including SXSW, Palm Springs ShortFest, Annecy, Ottawa, Zagreb, Flickerfest and many more. As an animator and sound designer he already made it twice into the selection of the Berlinale.
Schwenk studies visual communication at the University of Art and Design in Offenbach and is guest student at the Kunsthochschule Kassel.

SIGN UP: Want to read more free articles like this? Sign up for Our Newsletter
Read More About: