Shorts
Solar Walk by Réka Bucsi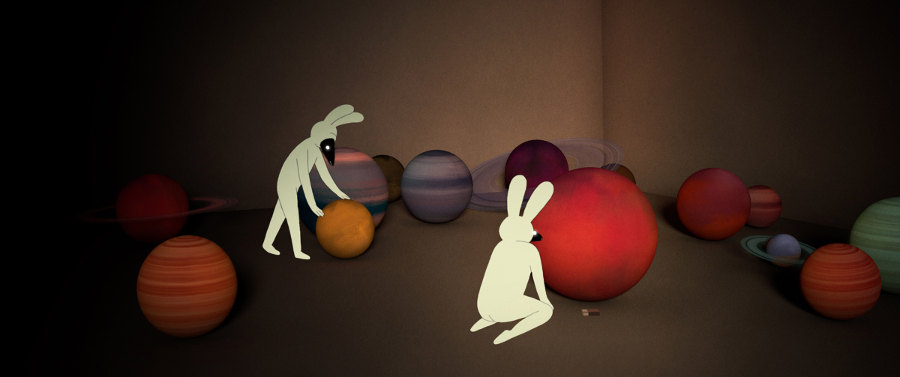 The 21-minute film Solar Walk by Réka Bucsi ,recipient of many awards (among those the Audi Short Film Award - Berlinale Shorts Competition 2018,  Grand Prize - Ottawa International Animation Festival 2018 and others) now comes to Vimeo On Demand service.
It's there / It isn't / It's nothing / It is everything / Invisible / surrounding / you now
Our Film Review:
To get a glimpse of Réka Bucsi's (Symphony No. 42, Love) new animation short, Solar Walk, you need to take into account that both nothing is fixed and nothing is in chaos either. Less than a Symphony but more of an animation Lied to space existence, the film evokes thoughts and feelings without even trying.
Psychologist J.J. Gibson described the most powerful relation between the man of the world as one of affordances; they are not what the environment gives to us, and certainly not what we aim to get, but they are present in what the environment affords to us. Ready to be taken (as a chair waiting to be sat upon, and a tree ready to be climbed); but without our presence, nothing is the same.
Solar Walk provides plenty of those affordances, especially in its early sequences, when geometrical space shapes turn to human wheels -with a nod to 2001: Space Odyssey famous match cut between bone and spaceship. When early animation tricks become the tools for space travel, it is easy to assume that the primary tools of animation, shapes and movement will play a great part here as well.
But Solar Walk is not an 'experimental animation' film per se; shapes and mechanics go along with both animal and human figures, who determine its structure. Divided into concrete chapters, it uses the narrative of a human journey to describe genesis, growth and decay in a single day.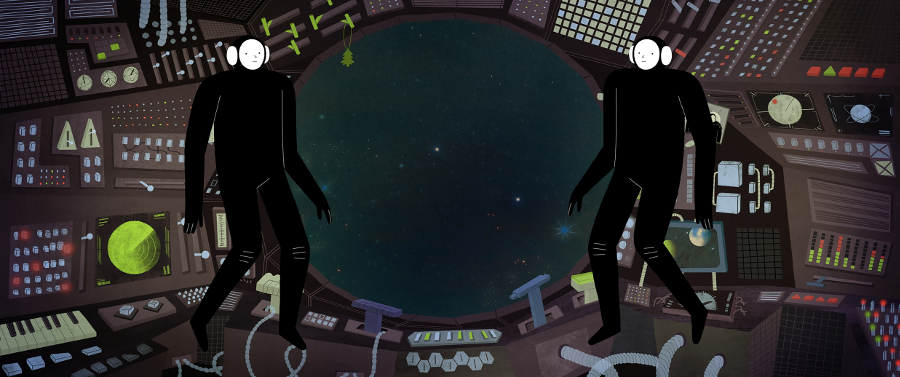 Humans are the toyboys of rabbit-shaped animals; however, unlike the Ohms in Laloux's Fantastic Planet, these animals are benevolent indeed. And they allow humans both the quest for knowledge and adventure. Human sensitivity (a kiss makes your astronaut helmet grow) and the thirst for knowledge (a wise man who tries to do the improbable) are the marks of this Rubik's cube called Earth.
Giving her characters time to develop and learn, Bucsi proceeds at a leisurely but steadfast pace to meet more characters along the way -including a girl who knows how to write and is close to water -the source of life. Sound not only complements the image, but sometimes it even stands as a child's carousel bell toy: all kinds of individuated sounds make up for each galactic body in the compass.
Without a wicked development in order, Solar Walk makes a potent case for a universe that really can be recreated at will -if you really try. Its results are not, of course, expected, but this is what we can afford. Réka Bucsi has crafted a thoughtful and immensely heartwarming, animated storytelling of our universal walk.

Credits
Director: Réka Bucsi
Screenwriter: Réka Bucsi
Animation: Nicole Stafford, Jason Reicher, Cyrille Chauvin, Pernille Kjaer
Music: Mads Vadsholt
Producer: Morten Thorning
sales: NEW EUROPE FILM SALES
Festival distribution: DAAZO
SIGN UP: Want to read more free articles like this? Sign up for Our Newsletter
Read More About: