Shorts
Suit Up! by Jiamin Wu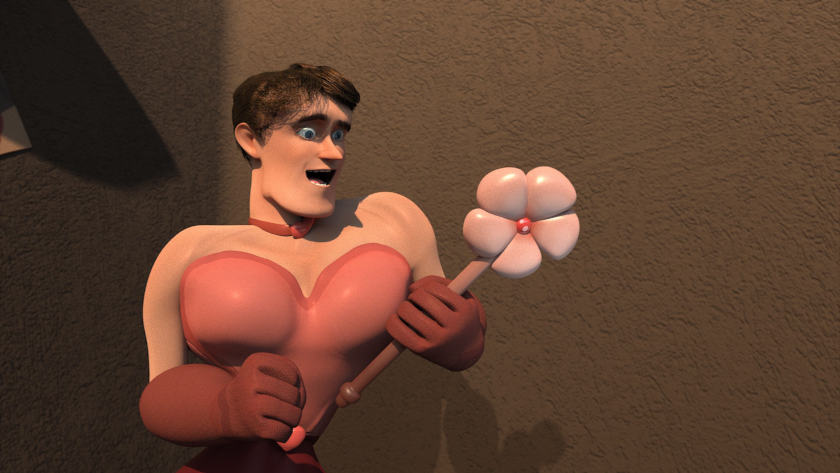 Ringling College of Art and Design student Jiamin Wun presents her animation short, Suit Up!
A sleeping superhero is abruptly awoken by an emergency phone call in need of his expertise—a monster is invading the city. In the morning rush that ensues, our hero equips himself with the gear needed to save the day. As he and the monster begin to face-off, it's only then that he realizes he is woefully ill-equipped with the wrong suit. He is bewildered. Our hero is wearing his wife's magic girl costume and he has no idea how to use it...
Watch Suit Up!
Jiamin Wu talked on her film at Zippy Frames.
About the gender-twist idea
It was there from the very beginning. I would even consider it as the most interesting part of the short film. I enjoyed both "magical girl" anime and the superhero genre a lot. Back when I was in school, the superhero films were always at the center of a conversation. Being that the most popular kind of superhero was a good-looking middle-aged man, they're often portrayed as tall, strong and tough. So, I really wanted to challenge the superhero genre.
On the different ways to portray masculinity and femininity
In my childhood, I watched anime all the time. So, when I was working on my film, I found a lot of my references from the anime that I loved. The ideas were mostly inspired from Sailor Moon, Cardcaptor Sakura and Saint Tail. "Magical girl" is a very specific genre in anime, and it tends to emphasize how the "feminine" can be just as powerful to defeat the bad guys, and that the characters often wore cute outfits while equipped with a nicely designed wand. I think it shows the possibilities that powers can be shown differently, away from masculine; strong muscle and aggressive armors.
On the practicalities of a student animation project

It was definitely a lot work for me because not only did my classmates and I work under a really tight schedule, but we had a lot of unexpected technical issues. These often took a very long time to solve. I also find myself being procrastinating at certain steps, since I'm in charge of every single aspect except music. I had also enjoyed doing the character design, storyboarding, animating and layout. In terms of texturing and rigging, I had a quite hard time to finish those because those processes tend to be really technical, and I'm not as best equipped for those roles.
However, my production manager, Suzie Fumin van de Ven, helped me with my daily work load and file organization -also reaching out to the composer and sound designer. She even did the crowdfunding campaign page for me. I owe her so many thanks!
 On keeping yourself safe and sound
I think the biggest challenge was mental health. When the workload has you sleep-deprived, it directly affects your mood and impetus to work. My classmates and I constantly received criticisms from different professors, and sometimes it can get very overwhelming and confusing. I didn't know how to find the best solution among all of these different, unaligned voices, and I was also questioning my own decisions. I started to doubt my own abilities while working, and I had hard time focusing on the project because of this.
Since I'm working on the film on my own while most of my classmates had partners, I often sought mental support from my friends; we would stay up all night in the library together, look after one another, encourage each other, and sometimes even cry together. And I'm really glad to say that we all made it.
On the film's general statement
I see it as more of a way to challenge the masculine stereotypes. Instead of following the societal ideals, men and women should be able to choose the way they want to live or dress how they truly want to. I had moments where I was questioning my film's theme, and it's obvious that the trope where a man wears "girly" things is still considered funny by many people. But later on, I realized my ending shows that the hero enjoyed the way that he carried himself, and that he was willing to use that again with no hesitation against the monsters. I wish my film brings some positive conceptual takes to people after they're done laughing.
On being an independent animation director
My school was really pushing the students to make their thesis films in a style that aligned with the major American market (like the Disney and Pixar works). There will be people who consider those animation styles as being more mature or developed than anime. But I know a lot of the younger generations grew up on both of them, and even Disney and Pixar are looking for inspiration from other countries right now. The audience's tastes are changing and it will keep changing.


Film Review (Vassilis Kroustallis):
Suit Up!  it is a funny, 2-minute twist on the macho superhero genre. We would certainly welcome a more detailed character development here, but still the main character is a delight to watch in his pink female suit; the film itself, in its very short duration, serves the function it set up from the start. With its brief glimpses of rainbow power (and an ugly beast to contrast with), it is engaging and playful in its pink superhero story suit.
About Jiamin Wu
Jiamin "Kino" Wu grew up in Ningbo, China. She received her Bachelor of Fine Arts after studying Computer Animation at Ringling College of Art and Design in Sarasota, Florida. She currently works on major motion pictures as a previs artist in Los Angeles.
SIGN UP: Want to read more free articles like this? Sign up for Our Newsletter
Read More About: