Shorts
Tabook by Dario van Vree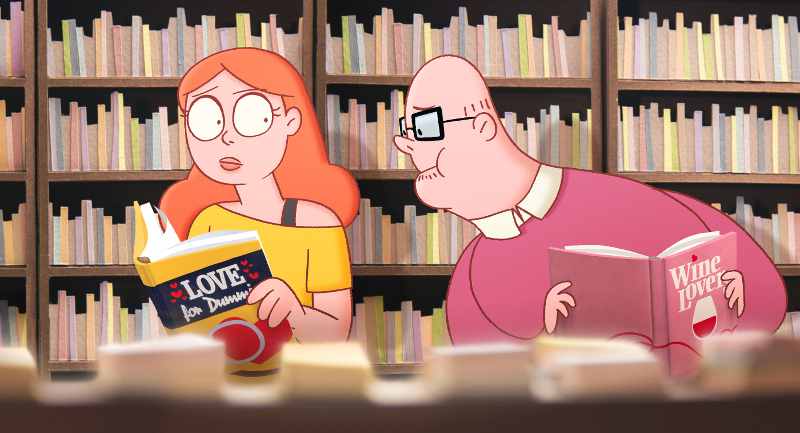 Dario van Vree's and producer Tünde Vollenbroek's recently released animation Tabook vibrantly highlights the deeply rooted society taboo around embracing sexuality.
While browsing the bookstore 19-year-old Gwen is unexpectedly drawn to a volume of kinky erotica, earning her disapproving glares from the other customers.
The main character's ridiculously red face, her feeling of awkwardness and her desperate struggle to hide what kind of books she has been checking out in the bookshelves, give us a strong parallelism of how societal  norms and religious ethics have been trying to stifle the act of sex and sexual pleasure thus creating an unconscious feeling of guilt. The curious and loveable young woman for a moment seems to be embracing this guilt and convincing herself that she shouldn't be doing this, "it's not proper", finally giving up and realizing that sexuality, sexual expression, and sexual pleasure should be personal and private and not commented or judged upon.
Dario van Vree's work, having a specific eye for the weird, the inventive and the power of character performance, is characterized by clarity, humor and a love for paradoxes.
Reineke Jonker helps the humor come alive with the priceless vocal performance from lead character Gwen while animators Michael Sewnarian, Bonnie Mier and Tom Mourik created the colorful animated world Gwen inhabits.
The short has been traveling in festivals all over the world, having been selected for 32 film festivals and winning the Best Animated Short at CineKink 2017. Tabook was also included in the Selected Dutch Shorts 2017 and the Korte Film Poule 2017.
Crew:
Director: Dario van Vree
Producer: Tünde Vollenbroek
Production coordinator: Iris Frankhuizen
Creative consultant: Johan Klungel
Animation studio: Studio Pupil
Screenplay, storyboard: Dario van Vree
Design: Bonnie Mier, Dario van Vree
Paper art: Vera van Wolferen
Background photography: Dario van Vree
Typography: DB Creative Works
Animation: Tom Mourik, Michael Sewnarain, Bonnie Mier
Clean-up: Myrthe Raasveld
Coloring: Daniel Visscher
Compositing: Studio Plumeau
Technical research: Colin Dassen
Lead voice (Gwen): Reineke Jonker
Additional voices: Annegeer Konijn, Oscar van der Heiden, Dario van Vree
Music: Nik Phelps
Foley, sound design, mix: Jeroen Nadorp
Foley recording engineer: Robin van der Heiden
Sound studio: Bob Kommer Studios
Festival distribution: Ursula van den Heuvel (KLIK! Distribution Service)
Production consultant: Jantiene de Kroon
More info: tabook.nl
© Studio Pupil 2016 studiopupil.com
Director Dario van Vree has been directing animation since graduating from his studies at the KASK academy in Belgium. Besides directing, he also teaches animation at the Willem de Kooning Academy and is co-founder of the KLIK Amsterdam Animation Festival.

Tünde Vollenbroek is an animation graduate from the HKU and Animation Sans Frontieres and is a producer at Studio Pupil.
SIGN UP: Want to read more free articles like this? Sign up for Our Newsletter
Read More About: