Shorts
Taurobolium by Galen Pehrson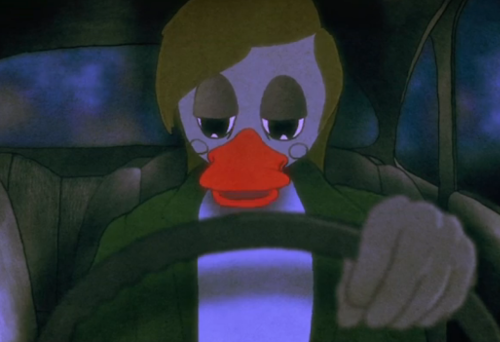 Conceived in the tradition of Mondo—the 1960s sub-genre associated with exploitation, death and taboo—Mondo Taurobolium uses the eponymous track "Taurobolium" from avant-folk singer-songwriter Devendra Banhart's latest album Mala as a backdrop.
The experimental narrative takes dark and existential turns into the murky underbelly of Hollywood fame and finds the duck-like character Mondo at its center, reeling in a state of disillusionment following a wave of torrential success.
Mondo's counterpart is Gale, voiced by cult favorite Rose McGowan as the beaked female lead who accompanies him through back alleys and night crawls of Los Angeles.
Galen Pehrson uses 2D hand-drawn animation in a task that took the animator almost 4 months (and 2,140 hours) to complete.
The result is a mesmerizing experience in color, symbolism and imagination - the Hollywood trip was worthwhile.
Read More About: